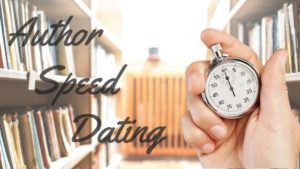 I love discovering new authors, so I wanted my blog to be a place where readers and my author pals could come together. Only we like to do this Speed-Dating style. Check out a new author and her work here every Wednesday, and if the spark is there, you'll have a match.
This week's guest: Angel Smits

 
15 Questions
1. Name the best New Year's Resolution you have ever broken, and how quickly did you fall off the wagon?
I'm really not much for resolutions.  I can't think of any I've broken, since I've made so few.  Probably when I decided I wasn't going to bite my nails anymore.  I wanted long pretty nails.  I did it.  I was fifteen, I think.
 2. Hottest "The Avengers" actor: Robert Downey Jr. (Iron Man), Chris Evans (Captain America), Mark Ruffalo (The Hulk), Chris Hemsworth (Thor), Scarlet Johansson (Black Widow) or Jeremy Renner (Hawkeye)?
Thor!  The body.  The story—that voice!!  (Fans self)
3. What are the highest and lowest moments you've had as a writer?
The highest moment so far was when I won Romance Writers of America's Golden Heart Award.  Such glamour and fun!  An affirmation that I really needed.  The lowest…the announcement this past summer that the Harlequin Superromance line was closing.  I love Super!  (As a reader and a writer.)
4. Please let us in on a few of your writing plans for the brand new year 2018. Any new books in the pipeline?
I'm busy.  My last Superromance is ADDIE GETS HER MAN, which will be in June, #6 in the series.  It's a bittersweet honor to be one of the final 4.  I'm working on a proposal for the next book I have contracted with Harlequin, though it won't be a Super.  Love new things!  And I've just put out a book on Alzheimer's care.  (My day job popping up!)  It's part fiction and part fact.  It was really fun to write. 
5. If you could only have one type of candy for the rest of your life, what treat would be satisfying your sweet tooth?
Oh, man, that's a tough one!  I love sugar in any form really—but honestly if there were no more M&Ms in the world, what would be the point of going on? 
6. Which is your preferred writing location: home office with favorite music, coffee shop with white noise or library in total silence?
For rough draft I do best with my little pink (yes, pink) laptop at a coffee shop near my house, my IPod playing the latest country tunes!  Editing I have to do on my big desktop.  Need the bigger screen.
7. What's the worst piece of advice your mother ever gave you?
Technically it is the worst and the best.  Never quit on something you've committed to.  Definitely gives me drive to finish things—but sometimes I have a hard time letting go. 
8. In which sub-genres are you published, and what does the wide or narrow focus say about you?
My last few novels have been contemporary romance.  My Golden Heart was in the Single Title category.  But my first two books were paranormal romance.  I love ghosts and psychics! I think it says that I have a very weird and varied imagination.  Some might call it overactive…but I love it!  It's never dull.
9. Name two of your favorite authors, one living and one no longer with us. How have their books impacted your writing?
Just two? There's so many.  One of my favorite living authors is Jean Brashear.  Beautiful stories!  I get lost in them.  And the author I think who really impacted my writing early on was Emily Bronte.  I've read WUTHERING HEIGHTS multiple times.  Heathcliff!!   
10. When you are starting a new book, what are some of the activities you do to get know your characters and develop your plot?
I have a box where I've cut out pictures of people I think look interesting or like characters.  I'll sit and go through the box, hopefully finding people who resonate with the people in my head.  I'm terrible about visualizing people.  I need the help! And I love to play with my characters.   
11. Preferred winter activities: ice skating, ice fishing and anything involving snow or Couch Potato Olympics?
I am most definitely the couch potato type.  I love to watch ice skating and even football sometimes, but from the comfy spot on my couch, with a cup of coffee, my fluffy blanket and a book—just in case!  
12. Which character from one of your books is most like or most radically different from your significant other?
My husband is SO alpha.  And the hero in my book, THE MARINE FINDS HIS FAMILY, is probably the one most like him.  But thinking about it now, I kinda think each one has a little bit of his characteristics.  Hey, I know what I like! 
13. What is your most ridiculous fear?
I do not like anything that slithers or crawls.  Snakes and spiders…ewww…  When we were first married we had cockroaches in one apartment, and I got up in the middle of the night once and turned on the bathroom light.  My poor husband woke up to his new wife's blood curdling scream.  I'm not sure he's forgiven me yet. 
14. What is your favorite social-media activity: watching cat or dog videos on Facebook, Tweeting #amwriting when you're not or Snapchatting your face with kitty whiskers?
I LOVE Twitter.  It's so fast and furious, but it's really difficult to keep up with!  I just let it drag me along.  The challenge of putting everything into a few characters fascinates me.  It's almost disappointing when they expand it.  Like they're taking away the challenge.
15. Who were some of the other authors who helped you on your writer's journey, and how did they make a difference for you?
If I started listing them, you wouldn't have any more room on your blog for anyone else!  I've been lucky that so many writers have supported me, and guided me along the way.  Early on, people like Jasmine Cresswell, Pam McCutcheon and Heidi Betts inspired me by writing great stories as well as encouraging me to keep going.  Writing is fun, but when you turn to the publishing world—it can be rough.  Without support, I can see why people give up.  Believe me, there were times I've wanted to.  But it always seems like when I reach a point of feeling defeated, some story came along and reminded me why I write, and it's back.  Or a writer friend will write or call and ask what I'm up to.  Their interest inspires mine.
Since writing for Superromance, I've gotten to know the women who are my "Super Sisters."  They really have made me want to write better.  It's not a competition, but I sure want to feel like I'm worthy of hanging with them. 
***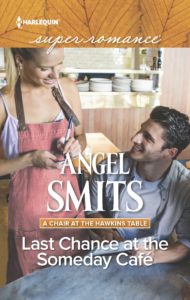 Last Chance
at the Someday Cafe
By Angel Smits
"Hunk alert," Wendy called out in a pseudo whisper.
Tara wasn't sure when the staff had started this ridiculous behavior.  Whenever a good-looking guy came by the restaurant, one of the waitresses would make this announcement.  She knew she should stop it, but with a brand-new staff, she was going to allow anything that helped them become a cohesive team.
"You really should see this guy."  Wendy passed Tara and whispered in her ear.  "He's perfect for you."
Not only was her staff getting involved in the life of the diner, they'd started to make their feelings known about her life–specifically, her lack of a love life.  Love was in the air everywhere–and her staff thought she should join in.
"Not interested," she said, focusing on the biscuit dough.  "Told you that already."
"This one might make you change your mind."  Wendy's voice came out all sing-songy as she wiggled her eyebrows.  "You never know."
Wendy disappeared out into the dining room as Lindy, the hostess, came in.  "You gotta see this guy," Lindy said as she carried a stack of dishes to the sink.  The girl was a ditz at times, but she knew when to chip in and help.
"You girls need cooling off."  Gabe lifted the water spray and sent a brief blast of water at Lindy, who squealed.
"All right."  Tara needed to stop them now.  "Everyone get to work."  Her voice was soft, though, so while they stilled the horseplay, the glances and snickers continued.
Shoving the tray of biscuits into the oven, she stepped back and dusted off her hands.
Suddenly, hands cupped her elbows, and she found her waitresses on either side of her, each taking an arm.  "Hey!"
"You'll thank us later."  Wendy laughed.
The laughing trio had to angle awkwardly through the swinging doors, and the thump of the doors falling back into place barely broke the din of the dining room.
Tara didn't have to ask.  The man at the counter, on the end.  Blond short-cropped hair.  Broad, body-builder shoulders.  And muscles.  His arms were huge, stretching the fabric of his black T-shirt tight.  She didn't dare look in the direction of his faded blue jeans.
"See?"  Wendy didn't even bother to try and hide her pointing hand.
Tara froze.  And stared.  "Oh.  My," she whispered and spun on her heel.  She scurried back into the kitchen before he could look up and see them all gawking at him.
But that man…  He was exactly what she'd normally be attracted to.  He was the opposite of her brothers, so different from her normal reality.
Which was why she'd turned around.  She'd made more than her fair share of bad choice in men.  She did not have time for any kind of relationship right now.  None whatsoever.  Not even a wishful one.
Even if those arms could make any girl feel safe.
***
LAST CHANCE AT THE SOMEDAY CAFE, Book 5 in the A Chair at the Hawkins Table series  and a November 2017 release from Harlequin Superromance, may be purchased through these retailers: Amazon, Barnes & Noble and Harlequin.
***
About Angel
Angel Smits shares a big yellow house, complete with gingerbread and a porch swing in Colorado with her husband, daughter and Maggie, the border collie mix.  Winning the Romance Writers of America's Golden Heart Award was the highlight of her writing career—until her first Harlequin book hit the shelves.  Her social work background inspires her characters, while improv writing allows her to torture them.  It's a rough job, but someone's got to do it. Learn more about Angle through her website, www.angelsmits.com, and connect with her on Facebook and Twitter.