Written as Dana Nussio:

Colton's Nursery Hideout
The Colton's of Grave Gulch #3
Paperback/Ebook, March 2021
A stalker threatens the family he never knew he wanted
Travis Colton finds that a passionate night with his co-CEO, Tatiana Davison, rocks his world. Not long after, his life changes further when Tatiana confides her pregnancy…and the fact that her life is in danger! To the surprise of the relationship-averse Travis, he quickly develops undeniable feelings for the family he must keep safe. But when a stalker homes in, Travis must risk it all.
---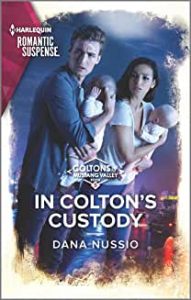 In Colton's Custody
The Coltons of Mustang Valley Book 5
Paperback/Ebook, March 2020
A Colton must solve a DNA mystery…
…and save his family from ruin.
One phone call suddenly upends Asher Colton's life. He discovers his baby daughter might have been switched with single mom Willow Merrill's. Worse, the day care owner vehemently hates his family. But for the babies' sake, they work to uncover the truth about the births as threats to the Colton family—and Willow's business—mount. But can the truth set free a love-scarred rancher and his harshest enemy?
---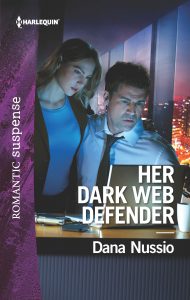 Her Dark Web Defender
True Blue miniseries #2
Paperback/Ebook, November 2019
How can he protect her from a predator
When she'll risk everything for vengeance?
State Trooper Kelly Roberts joins Special Agent Tony Lazzaro's task force, determined to bring down a cyber-criminal preying on young victims. Solving this case is a chance for redemption. If Kelly catches the killer, she'll be one step closer to solving her best friend's abduction. She never expects to fall for Tony. But trusting him means risking everything she holds dear…
---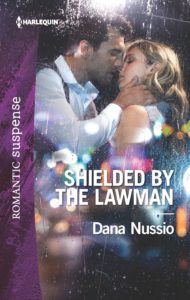 Shielded By the Lawman
True Blue miniseries #1
Paperback/Ebook, February 2019
One conflicted cop must protect a woman living a lie
A riveting True Blue story
Trooper Jamie Donovan suspects there's more to Sarah Cline than the waitress reveals. And Sarah, on the run with her son from an abusive ex-husband, won't trust Jamie with the truth. But when danger—greater than she realized—catches up to Sarah, Jamie confronts the biggest dilemma of his life: uphold his oath or aid and abet the woman he loves?
---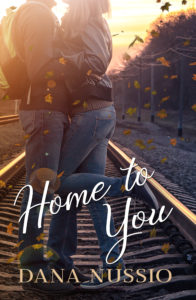 Home to You
Paperback/Ebook, August 2018
A Taste of Home
Six years ago, Lily Monroe couldn't leave from her hometown fast enough…or run far enough from a certain guy. But in the wake of her mother's passing, this prodigal daughter, who once chased Hollywood dreams, is drawn back to Michigan to face her ghosts and regrets. As Thanksgiving looms, she plans to atone for her mistakes by preparing an amazing holiday meal for her whole family.
The only problem?  Lily can't cook.  At all.
She must plead for help from C.J. Grayson, an up-and-coming Boston chef who also happens to be the one she let get away. C.J. believes he has finally moved on from Lily, who dumped him without explanation, until she disrupts his life again with her harebrained plan. He agrees to help, but only if he can use photos from their holiday cooking lessons for promotion on his restaurant's website blog.
So, the countdown to Thanksgiving Dinner is on. Can these exes, one who deserted her family while the other only dreamed of having one, pull off an amazing holiday meal together without killing each other and cook up a second chance at love at the same time?
---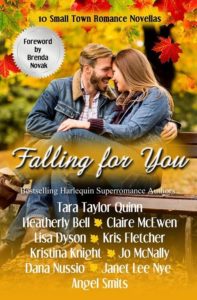 "Home to You"
Falling for You
E-book only, September 2017
This autumn, warm your heart with ten fall-themed novellas from some of your favorite USA Today bestselling, national bestselling, and award winning Harlequin Superromance authors.
When the weather cools down, hearts heat up…
"Home to You": When a prodigal daughter with scant cooking skills returns home to prepare Thanksgiving dinner for her grieving family, she must enlist reluctant help from a chef, who is also the love she left behind. Can two wounded souls bake away their fears and cook up a second chance at love?
---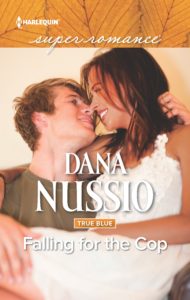 Falling for the Cop
True Blue #2
Harlequin Superromance
Paperback/E-book, March 2017
The first step is the hardest…

Everything can change in an instant, police officer Shane Warner learns when he's shot in the line of duty. And his tough—pretty—physical therapist, Natalie Keaton, also knows it all too well. She wants to help Shane get better, but it's hard to see him as any different from the reckless cops who ruined her life. As they work to get him walking again, he's determined to change her opinion of him. If he can show her who he really is, his most important step will be the one that ends with Natalie in his arms.
---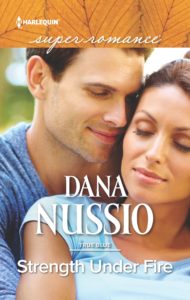 Strength Under Fire
True Blue #1
Harlequin Superromance
Paperback/E-book, Feb. 2016
From Hero to Zero
One day lieutenant Ben Peterson's single-handedly stopping a bank robbery and the next he's being accused of tampering with evidence. Ben needs to clear his name, fast! His only ally is straight-shooting rookie Delia Morgan.
Involving Delia is the last thing Ben wants. But he needs her help to figure out who's setting him up. As their investigation intensifies, so does the temptation, and they open up to each other in ways neither expected. However, when it becomes clear that Delia still doesn't trust Ben completely, it puts more than just their careers in jeopardy…  
Praise for Strength Under Fire:
"Taut Drama. Pure chemistry. Dana Nussio's characters always shine." – Ruth Ryan Langan, a.k.a. R.C. Ryan, NYT best-selling author of The Malloys of Montana series
"A satisfying, emotion-layered beginning to a new Must Read series." – Nancy Gideon, best-selling author of the "Touched by Midnight" and "By Moonlight" series
---
Written as Dana Corbit: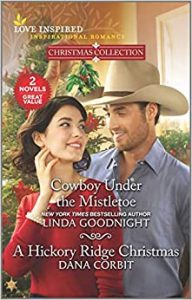 Cowboy Under the Mistletoe
&
A Hickory Ridge Christmas
Linda Goodnight/Dana Corbit
Harlequin Love Inspired
Paperback/E-book, September 2020
A minister's daughter and unwed teen mother: five years ago Hannah Woods had been the talk of Hickory Ridge. Her little girl was the light of her life, though Hannah was unable to forgive the one who'd loved her €"and then left.
Todd McBride had left town a boy and returned a man with a quest: to find the woman he still adored and ask for a second chance. But Hannah's secret child he'd never known about €"threw his plans into a tailspin.
With Christmas rapidly approaching, it seemed the time for love and forgiveness was at hand….
---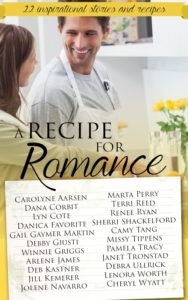 "Baking Memories"
A Recipe for Romance
Paperback/E-book, Dec. 2014
From Our Hearts (and Kitchens) to Yours
New York Times best-selling authors Lenora Worth and Debra Ullrick and USA Today best-selling author Janet Tronstad headline as 22 authors from Harlequin Love Inspired, Love Inspired Historical and Love Inspired Suspense lines join to bring you an anthology of sweet and inspirational short stories and tasty recipes. Divided into three sections – Salads/Sides/Soups, Main Dishes and Desserts/Treats – A Recipe for Romance features contemporary and historical stories as well as sweet tales with a touch of suspense.
All proceeds from the sale of this book benefit children's charities.
---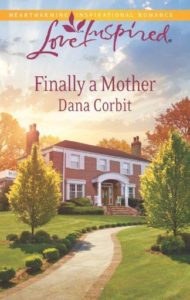 Finally A Mother
Harlequin Love Inspired #846
Paperback/E-book, April 2014

A Mother's Second Chance
Working at a home for teenage moms is a constant reminder for social worker Shannon Lyndon of the baby she gave up. When state trooper Mark Shoffner shows up at her door with a troubled teenage boy, Shannon knows she's looking at her own child. Temporary custody is given to Mark, but the handsome officer is more than she bargained for. She has another opportunity to be a mom, and Mark's rugged good looks and charisma are a distraction she can't afford. But as Shannon gets to know her son, and the man who's stealing her heart, she realizes that this makeshift family could be the happy ending she's always wished for.
---

Safe in His Arms
Harlequin Love Inspired #659
Paperback, Aug. 2011; E-book, 2011

Lindsay Collins can't remember the accident that injured her and took her sister's life six months ago—but someone can. Trooper Joe Rossetti can't seem to get the images of that night out of his head. Plagued with guilt for not being able to do more to save Lindsay's sister, Joe doesn't want to get close to Lindsay. But when he sees her struggle to relate to the orphaned niece she's now raising, he can't walk away. Lindsay and Joe will have to face their pain and doubts together in order to make a new family bloom.
---

Wedding Cake Wishes
Wedding Bell Blessings miniseries #3
Steeple Hill Love Inspired #582
Paperback/E-book, Aug. 2010
To save his mother's business, rugged outdoorsman Logan Warren has to learn about wedding cakes and keeping customers. A confirmed bachelor, he can barely handle the brides that come in wanting buttercream this and frosted that. Yet when family friend Caroline Scott offers to help out, Logan isn't relieved. Caroline is his polar opposite. He's motorcycles and wildlife–she's business suits and ledgers. The one thing they have in common? Not wanting to get married. Until everyone else's wedding cake wishes have them dreaming of their own.
---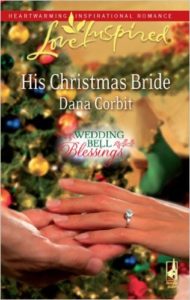 His Christmas Bride
Wedding Bell Blessings miniseries #2
Steeple Hill Love Inspired #532
Paperback/E-book, Dec. 2009; Reissued, Feb. 2014
The only gift Dylan Warren used to want was Jenna Scott's love. But his former childhood best friend broke his heart. Now, their matchmaking mothers insist the Warren and Scott clans celebrate the holiday together. Suddenly he and Jenna are paired on a mission to bring Christmas to a family who lost everything but each other. Jenna's kindness to the displaced little boys reminds Dylan why he loved her. Could joyful jingle bells soon be joined by the chime of wedding bells?
---

An Unexpected Match
Wedding Bell Blessings miniseries #1
Steeple Hill Love Inspired #508
Paperback, Aug. 2009; E-book, 2009

What does hardworking single father Matthew Warren want in a wife? Responsibility, practicality and a good rapport with his child. So why isn't he interested in the responsible, practical daughter of his matchmaking mother's best friend? Could it be that another Scott sister has gotten through to his guarded heart? He can't possibly be falling for Haley Scott, his daughter's new nanny, the very woman he almost fired for her free-spirited ways! Granted, his little girl is a lot happier lately. And so is he. Sometimes the best matches are the most unexpected.
---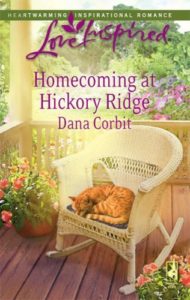 Homecoming at Hickory Ridge
Hickory Ridge miniseries #5
Steeple Hill Love Inspired #453
Paperback/E-book, July 2008; Hardcover, 2009

All eyes are on Kyle Lancaster. Recently released from prison, he is greeted in town with unease.
But not by everyone. Julia Sims is focused on his good heart, his hard work at the Hickory Ridge Community Church and their unexpected attraction. At first, Kyle thinks he's her new pet project: reform the bad boy. Yet he soon discovers how much firsthand knowledge Julia has of family problems, forgiveness and second chances. Maybe he'll get his own second chance in Hickory Ridge…and find a place to call home.
---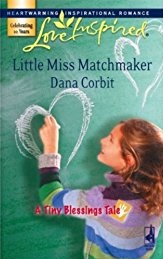 Little Miss Matchmaker
A Tiny Blessings Tale
Multi-author continuity #4
Steeple Hill Love Inspired #416
Paperback/E-book, Oct. 2007
To: Uncle Alex
From: Chelsea
Re: I think you should ask Miss Fraser on a date
She's my favorite teacher ever and she definitely likes you, I can tell. Everyone in town knows you're this brave firefighter. So why don't you be the hero of Miss Fraser's life? Maybe you could volunteer together at the Chestnut Grove Youth Center. Uncle Alex, I know you're pretty busy as guardian to my brother and me, but you need a girlfriend. So I came up with a plan. It's my secret, but I know it will be the best thing that ever happened to all of us!
---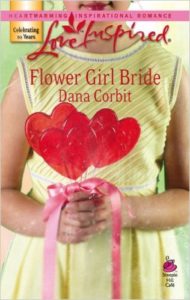 Flower Girl Bride
Steeple Hill Love Inspired Cafe #394
Paperback, April 2007; E-book, 2010

I always prayed for a happily-ever-after…
Then I, Cassie Blake, got divorced and lost my faith in men. Well, that isn't exactly true…my aunt and uncle are proof of love's enduring power. After a quarter century, they're renewing their vows and want the original wedding party to help celebrate. But I can't believe who's also been invited: Luke Sheridan, former ring bearer to my flower girl. He probably doesn't remember the kiss we shared under the reception table. Luke's a widowed single dad now. With several matchmakers on hand, the biggest question is, will we end up being the ones to tie the knot this time?
---
|
A Hickory Ridge Christmas
Hickory Ridge miniseries #4
Steeple Hill Love Inspired #374
Paperback, Nov. 2006; E-book, 2010; Reissued, Sept. 2012
A minister's daughter and unwed teen mother: five years ago Hannah Woods had been the talk of Hickory Ridge. Her little girl was the light of her life, though Hannah was unable to forgive the one who'd loved her €"and then left.
Todd McBride had left town a boy and returned a man with a quest: to find the woman he still adored and ask for a second chance. But Hannah's secret child he'd never known about €"threw his plans into a tailspin.
With Christmas rapidly approaching, it seemed the time for love and forgiveness was at hand….
---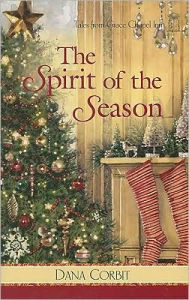 The Spirit of the Season
Tales from Grace Chapel Inn #21
Multi-author series
Guideposts Books
Hardcover, 2005; Trade paperback, 2008; E-book, 2011
The Howard sisters find out that Christmas doesn't always mean peace on earth. When a misunderstanding between Florence Simpson and her husband Ronald has Florence jetting down to Florida, feisty Aunt Ethel has only one solution: go to Florida with Ronald and Alice in tow, and bring the wayward couple back together. With Alice gone, Jane and Louise must handle a fully booked inn for the holidays—and there's only one week to go before Christmas! Hopefully everything will get done and Alice will be back in time to get into the spirit of the season.
---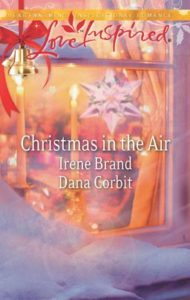 "A Season of Hope"
Christmas in the Air
Steeple Hill Love Inspired #322
Paperback, Oct. 2005; E-book, 2011; Reissued, Oct. 2012
Once again attorney David Wright found himself playing Joseph for the church's live nativity. And when his very pregnant friend Allison Hensley-Chandler had to bow out as Mary, David was paired with Allison's cousin, all-business Sondra Stevens. But holiday preparations and babysitting Allison's little girl forced David and Sondra to work together. Would they realize that Christmas truly is the season of hope…and love?
---

On The Doorstep
Tiny Blessings
Multi-author continuity series #3
Steeple Hill Love Inspired #316
Paperback, Sept. 2005; E-book, 2011

To: Meg, Rachel, Anne
From: Pilar
Re: My exciting day
¡Hola, amigas! You'll never guess what I found on my way to work today…a baby! His name is Gabriel, and he is certainly heaven-sent. And so is Zach Fletcher, the dedicated detective assigned to find the mother. This is the first time we've spoken, even though we attend the same church. I'm torn. I want the girl to be found but I also want to keep Gabriel for myself¿my biological clock has been ticking like crazy! And I've been fantasizing about Zach rounding out my dream family….
---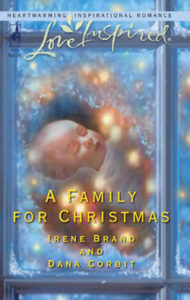 "Child in a Manger"
A Family for Christmas
Steeple Hill Love Inspired #278
Paperback, Nov. 2004; E-book, 2011;  Reissued, Feb. 2013
Finding an infant in the church nativity scene was a Christmas surprise for Allison Hensley! The social worker took the baby when no foster family could be found. But working with cynical detective Brock Chandler to find the unknown parents awakened unexpected feelings. Could this child be heaven-sent to make a family of Allison and Brock?
---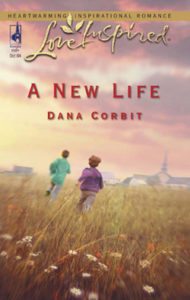 A New Life
Hickory Ridge miniseries #3
Steeple Hill Love Inspired #274
Paperback, Oct. 2004;  Hardcover, 2005; E-book, 2011
Widowed with three young children, Tricia Williams vowed never to get involved with another risk-taking man-ever. Her matchmaking friends thought she needed someone, and the blind dates began. No one could compare with her lost love-until she met Brett Lancaster, the quietly strong, handsome new man in town. Like Tricia's, Brett's emotional scars ran deep, and he too had lost his faith. They shared some quiet evenings, and her children grew to care for him as she did. But their budding relationship became strained once she learned that Brett was a state trooper. Another man with a high-risk job. Could she put her trust in God and find the strength to begin a new life with Brett?
---

 An Honest Life
Hickory Ridge miniseries #2
Steeple Hill Love Inspired #233
Paperback, Nov. 2003; E-book, 2011
A preacher. A deacon. That was the kind of man nurse Charity Sims planned to marry. Which is why her lovesick behavior around Rick McKinley, the contractor building a family center for her church, so confused her. He refused to go to church, let alone lead one. So what if he was handsome and charming? They couldn't be more different.
Infuriating as Rick was, Charity's mission was clear: Help him see the light of church. As a loner who depended only on himself, he'd be tough to reach. But Charity was determined, even though she knew she risked her own strongly built convictions-about the man who should have her heart.
---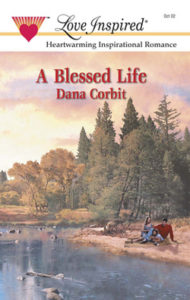 A Blessed Life
Hickory Ridge miniseries #1
Steeple Hill Love Inspired #188
Paperback, Oct. 2002; Hardcover, 2005; E-book, 2011
There are Angels Among us and Some Ride Motorcycles
Single mother Serena Jacobs stopped praying for miracles when a year of battling her daughter's illness took its toll on her spirit. But even though Serena's faith was shattered, she turned to the church for solace—and found a Harley-riding youth minister waiting with open arms and an open heart.
Andrew Westin was determined to restore Serena's faith and heal her troubled heart. But despite the growing love between them, the past still haunted him. Would their newfound love be enough to also mend Andrew's wounded soul?
Save
Save
Save
Save
Save
Save
Save
Save
Save
Save
Save
Save
Save
Save
Save
Save
Save
Save
Save
Save
Save
Save
Save
Save
Save
Save
Save
Save
Save
Save
Save
Save
Save
Save
Save