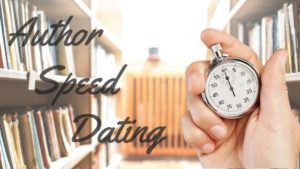 I love discovering new authors, so I wanted my blog to be a place where readers and my author pals could come together. Only we like to do this Speed-Dating style. Check out a new author and her work here every Wednesday, and if the spark is there, you'll have a match. 
This week's guest: Jo McNally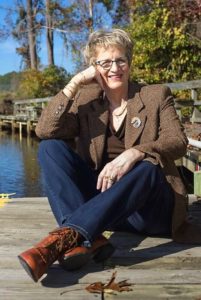 15 Questions
1. If you had to wake to one song on your clock radio or cell phone dock every morning for the rest of your life, what song would you choose and why?
I'm a music lover, but my tastes and favorites change weekly. I guess today's answer is "You Look Good" by Lady Antebellum. The upbeat rhythm and positive lyrics should help this non-morning-person get moving.  
2. Since one of our September guests is also the author of a nonfiction book on writing (Debra Dixon), name some of your favorite books to help writers.
ON WRITING: A MEMOIR OF THE CRAFT by Stephen King is the first book that gave me permission not to have twenty charts and outlines completed before I started writing – it set me free! I use THE EMOTION THESAURUS by Angela Ackerman and Becca Puglisi to really think about my character's motivations and body language. And, now that I'm writing to deadlines, I'm using GMC: GOAL, MOTIVATION & CONFLICT by Debra Dixon to help me do at least a little planning!  
3. Favorite TV hottie: Neal Caffrey (Matt Bomer) from White Collar, Jackson Avery (Jesse Williams) from Grey's Anatomy, Angel (David Boreanaz) from Angel or Derek Morgan (Shemar Moore) from Criminal Minds?
I'll have me some Derek Morgan, please! He's gorgeous, and I'd melt into a little puddle of swoon if he ever called me "Babygirl" in the same voice he uses when he says it to Penelope.
4. In which genres and subgenres have you been published, and what does your narrow or sweeping focus say about you?
My October release, NORA'S GUY NEXT DOOR is only my second book, so small town contemporary romance is my current niche. But I like pushing out of my comfort zone, and I'm toying with writing a military hero series with some suspense elements.
5. Is social media a bad habit for you, and, if so, what is your favorite time drain?
SUCH a bad habit! My favorite for interaction is my Facebook page. The biggest time drain is Twitter–so easy to get dragged into drama, but it's irresistible. 
6. Name the most embarrassing concert you've ever attended?
I'm not embarrassed by any concert I've been to, but I did leave a Marshall Tucker show at intermission back in the 80s (in my defense, I wasn't the only one!). They were in a small venue not made for rock concerts, and it was so loud my ears hurt for days. I was also getting a contact high from all the pot and hash being smoked around us!
7. Which is your preference to write: love scenes or murder scenes?
I always feel whatever emotion I'm writing about, so definitely love scenes. 🙂 
8. Name one thing you wish you could change about yourself.
I wish I was less easily distracted. Remember those dogs in the movie Up? "Squirrel!" That's me. I can't foc….wait–what was the question again?

9. Favorite autumn activity: roasting marshmallows by a fire, driving miles for fall-leaf tours or cuddling with a special someone for an indoor movie marathon?
I'll take marshmallows! I love the snap-crackle sound and smoky aroma of a bonfire. It's so relaxing to watch the flames and embers die down, especially if you're all wrapped up with someone you love. 
10. Name a theme you often see popping up in your stories.
Difficult past experiences don't have to define who we are – we can rise above them.
11. If you had no audience, and no regrets would follow, what midnight snack(s) would you be gorging on tonight?
I hope there's lots of tiramisu in the fridge! 
12. What was the lowest point in your writing career, and how did you recover from it?
I had a pile of rejections on my first writing attempt. They all said lovely things about my writing style, but didn't like the story. I was so discouraged, until a friend wisely pointed out that it was better than hearing the opposite ("your story's good, but your style stinks"). Personal writing style is pretty hard to change, but a story can be fixed. My next story was my debut novel with Harlequin Superromance, SHE'S FAR FROM HOLLYWOOD.
13. With no money limit, if you could construct the most perfect writing space, what would it look like?
The desk would be adjustable for sitting or standing. Room insulated for quiet from outside distractions. Soothing colors and a Bose sound system. A big, overstuffed chair to curl up in for editing/revisions (which I do with paper & pen). Big windows. And a door that locks (with a big doggy door for my dog to come and go)!
14. If a director made a movie about your life, which actress (living or dead) would you like to portray you, and which one would more likely be cast?
Like to portray me? Katherine Hepburn – tall, sassy and classy. More likely? People say I look a little like Ellen Degeneres and I love her, so maybe she'd get the role? 
15. When you're not writing (or working a day job), what are some of your favorite ways to spend your leisure hours?
We live in a tourist town near the North Carolina coast with great little shops and restaurants. Himself and I like to walk around downtown, and we usually end up at our favorite outdoor music venue for a nightcap. Just chilling on our back porch with a glass of wine, the dog and my Kindle is another favorite way to relax. And once in a while, he can coax me onto the golf course for a quickie…I mean, a quick round of golf.
***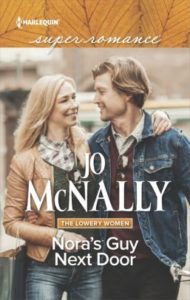 Nora's Guy Next Door
By Jo McNally
Nora turned to glare at him, knowing her annoyance was partially fueled by exhaustion and hunger, but she got no satisfaction from it. He was busy staring at the Dumpster with a great deal of concentration.
"You need a platform with a step or two to be able to reach the door." He kicked at the frozen ground, and his voice dropped as if speaking to himself. "It would need to be level."
"Yeah, well, until the garbage company decides to supply us with a trash bin with stairs, or even better, a door that someone under six feet tall can manage, I'll just have to make do."
"I could make something."
"You…why would you do that?"
He looked at her in surprise. "Because I can build something that will make it safer for you…"
"I thought you hated me?"
His hands rose in a frustrated gesture. "I've never once said that. Look, it wouldn't matter if it was you or if it was Carl at the liquor store. It's not a safe setup."
"So you don't hate me?"
His head dropped until his chin almost hit his chest. "I have definitely forgotten the joy of trying to talk logic with a woman."
"I beg your pardon?"
"Never mind. I'm just trying to be a good neighbor. Don't turn it into some evil plot."
Nora crossed her arms. "Says the man who thinks my pregnant daughter and I are plotting to trap his son into marriage."
Asher rubbed the back of his neck, his lips thinning in anger. "Let's leave our dumbass kids out of this, okay? Christ, I'm sorry I even came out here." He reached his hand toward her. "Why don't you get off that…"
Nora finished the sentence in her head. He was going to tell her to get off her high horse, just like Paul always used to say. Get off that high horse you're always on. Just because she was organized and liked things under control, didn't mean she was some kind of uptight snob. She slapped his hand away.
Which was a bad idea, because she was still standing on black ice. The quick movement sent her feet skittering, and she threw out her arms to catch her balance. Asher muttered something and grabbed her. Instead of being thankful for the save, she struggled to pull away.
"Get your hands off me!" She pushed him away, resisting the urge to stomp her feet like a child. The man made her completely irrational. "And don't tell me to get off my high horse, because I wasn't…"
"What?"
"Don't play dumb with me, Asher Peyton. Here, take your damn coat and good night." She whipped his warm jacket off her shoulders and moved to throw it at him, but, because this apparently was her life now, she stepped on the edge of the ice again and started to lose her balance.
"Careful!" The jacket hit him in the face and he tossed it off, grabbing her arm for yet another rescue. Could this night get any more embarrassing?
Flashing blue lights lit up the parking lot.
Yes, apparently it could get a lot more embarrassing.
"Oh, my God! It's the police!"
***
NORA'S GUY NEXT DOOR, Book 2 in the Lowery Women series and an October 2017 release from Harlequin Superromance, is available for purchase through these retailers: Amazon, Barnes & Noble, Books-A-Million and Harlequin.
***
About Jo
Jo McNally writes the kind of romances she likes to read – stories about characters facing real-life challenges with real-life consequences. The stories are emotional, but still have humor, and love always finds a way to pull the characters through together. She lives in coastal North Carolina with 100 pounds of dog and 200 pounds of husband – her slice of the bed is very small. When she's not writing or reading romance novels (or clinging to the edge of the bed…), she can often be found on the back porch sipping wine with friends while listening to an eclectic playlist. If the weather is absolutely perfect, she might join her husband on the golf course, where she always feels far more competitive than her actual skill-level would suggest. Stay in touch with Jo through her website, www.jomcnallyromance.com, or through Facebook, Twitter, Instagram and Pinterest.
***
Bonus!!!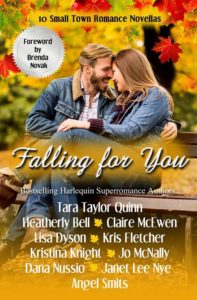 Jo's novella, "Meet Me in the Middle," will be featured along works by nine fellow Harlequin Superromance authors [including Dana 😉 ] in the anthology, FALLING FOR YOU, set for release Oct. 17, 2017. FALLING FOR YOU may be pre-ordered from these retailers:  Amazon, iBooks, Kobo, Barnes & Noble and Google.
Save
Save
Save
Save
Save
Save
Save
Save