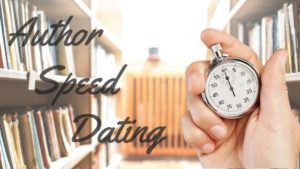 I love discovering new authors, so I wanted my blog to be a place where readers and my author pals could come together. Only we like to do this Speed-Dating style. Check out a new author and her work here every Wednesday, and if the spark is there, you'll have a match. 
This week's guest: Tracy Bilen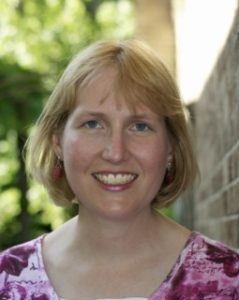 15 Questions
1. If you had to wake to one song on your clock radio or cell phone dock every morning for the rest of your life, what song would you choose and why?
Keith Urban's "Cop Car" because it's about teen love and a bad boy (although actually it's the girl who runs from the cops!) 
2. Since one of our September guests is also the author of a nonfiction book on writing (Debra Dixon), name some of your favorite books to help writers.
ON WRITING: A MEMOIR OF THE CRAFT by Stephen King
PAGE AFTER PAGE by Heather Sellers
REVISION AND SELF-EDITING by James Scott Bell
 3. Favorite TV hottie: Neal Caffrey (Matt Bomer) from White Collar, Jackson Avery (Jesse Williams) from Grey's Anatomy, Angel (David Boreanaz) from Angel or Derek Morgan (Shemar Moore) from Criminal Minds?
Definitely Neal Caffrey. I love that he paints! And his buddy Mozzie is adorable.
4. In which genres and sub-genres have you been published, and what does your narrow or sweeping focus say about you?
YA romantic thrillers – I love to be scared as long as I can fall in love too.
5. Is social media a bad habit for you, and, if so, what is your favorite time drain?
Social media isn't as much as of a problem for me as Yahoo News. I spend too much time on tragedies and celebrity gossip.
6. Name the most embarrassing concert you've ever attended?
A singer at a teacher conference singing super old and awful French songs.
7. Which is your preference to write: love scenes or murder scenes?
Murder scenes, of course! It's less cringe-worthy. 
8. Name one thing you wish you could change about yourself.
I'm too shy. I wish I didn't hate parties. 
9. Favorite autumn activity: roasting marshmallows by a fire, driving miles for fall-leaf tours or cuddling with a special someone for an indoor movie marathon?
A movie marathon with lots of Nicolas Sparks and "Anne of Green Gables."

10. Name a theme you often see popping up in your stories.
Overcoming a loss.
11. If you had no audience, and no regrets would follow, what midnight snack(s) would you be gorging on tonight?
Pizza, soft pretzels, M&M's, and 3 Musketeers.
12. What was the lowest point in your writing career, and how did you recover from it?
Lowest point: querying a book that didn't sell.
I recovered by writing a better book!
13. With no money limit, if you could construct the most perfect writing space, what would it look like?
A tree house in Switzerland with a window seat and a beautiful view of mountains, a river, and a waterfall.
14. If a director made a movie about your life, which actress (living or dead) would you like to portray you, and which one would more likely be cast?
I'd prefer Piper Perabo.  More likely: Meg Ryan.
15. When you're not writing (or working a day job), what are some of your favorite ways to spend your leisure hours?

Reading, biking, clogging (like tap dance but with jingle taps), hiking in the woods or the mountains.
***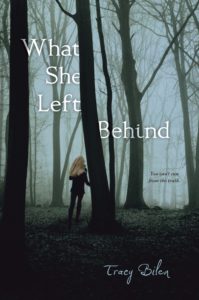 What She Left Behind
By Tracy Bilen
CHAPTER 1:  MONDAY
I sometimes have this dream that I'm drowning in a giant bowl of oatmeal. That's how I feel when I'm at home. When I'm at school, it's different. I hang out with Zach, sneak Ritz Bits crackers during class, and read horror novels in history. I like horror because it puts things in perspective. I mean, at least I'm not being chased by killer bees and no one's trying to hack off my arm.
First period is band. Right now it's marching season, which sucks because it's all about football. I hate football. Usually I stuff a copy of Soap Opera Digest between my uniform and my real clothes so I have something to do between the pregame and half-time shows.
What I really like is concert season. That's when I get to trade in my big, clunky, ordinary clarinet for my E-flat clarinet. Matt—that's my brother—used to call it the "shrunken clarinet," as if I had left it in the dryer too long.
I'm playing my shrunken clarinet in the living room, trying to chase away that oatmeal-dream feeling, when my mom comes in and stands right next to me. "Sara, we have to go,"  she whispers, even though my dad isn't there to hear her. She's not crying. She's calm. Matter-of-fact. As if she's asking me whether I want mayo or mustard on my sandwich. Except in secret.
I know it's time to go. I've known for a long time.
"You must think I'm an idiot for not getting us out of here sooner."
"It's O.K.," I say. I twirl my ponytail, like you do to turn off the faucet when the hose is spraying all over you.  I do that when I'm nervous. Or lying. Or both. "I'll go get my things."  I open the case and put away my clarinet.
"We'll leave at lunch tomorrow. I'll pick you up at the Dairy Dream."
Tomorrow? When you decide to do something you should just do it. Otherwise you might change your mind. Especially if you're my mom.
"Don't pack a lot. Just your duffel bag."
One bag? How do you put a whole life in one bag?
"Leave it under your bed. I'll stop and get it just before I come pick you up."
That's it? This is Mom's plan?
"Hurry. Before he gets home."
            On your mark, get set…
"Sara, we have to be careful. Your dad said –"
"Can't we talk later? Like, tomorrow in the car?"  I know what she wants to tell me. She forgets I was there.
***
WHAT SHE LEFT BEHIND, a 2012 release from Simon Pulse, Simon & Schuster, may be purchased through these retailers: Amazon, Barnes & Noble, Indiebound and Powell's.
***
About Tracy
Tracy Bilen is the YA author of WHAT SHE LEFT BEHIND (Simon Pulse/Simon & Schuster). She is a high school French teacher in Michigan where she lives with her husband and children. Tracy studied at the Sorbonne in Paris and taught Spanish at a high school ski academy. She loves biking, traveling, and red velvet cake. Stay in touch with Tracy through her website, www.tracybilen.com, and through Facebook and Twitter.
Save
Save
Save
Save
Save
Save
Save
Save