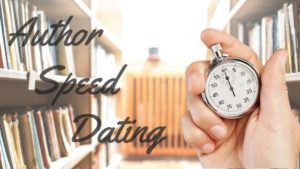 I love discovering new authors, so I wanted to my blog to be a place where readers and my author pals could come together. Only we like to do this Speed-Dating style. Check out a new author and her work here every Wednesday, and if the spark is there, you'll have a match.
This week's guest: Diane Burton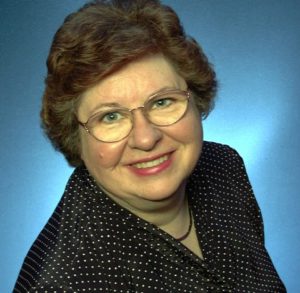 15 Questions
1. If you were a My Little Pony character, what image would be tattooed on your butt?
A shooting star, because I love sci-fi.
2. What was genre of the first piece you can remember writing, and how old were you when you penned this masterpiece?
A romance based on the TV show "77 Sunset Strip"; I was maybe 15. My girlfriend and I wrote and shared with each other only fan fiction. Only thing was we didn't know that's what it was called. LOL
3. Since all of November authors are Americans, name some dishes that are must-haves for your Thanksgiving dinner.
Sage dressing (cooked both in and out of the turkey), candied sweet potatoes (even though I'm the only one who likes them), pumpkin pie.
4. If you could write a novel containing any generally "off-limits" element, what would we find in your story?
I don't do "off limits." One of my sci-fi romances has an older woman/younger man romance. That's about as risqué as I get. LOL
5. Project Runway or Designated Survivor?
Neither. The only reality show I watch is "Dancing With The Stars."
6. Is social media a bad habit for you, and, if so, what is your favorite time drain?
Oh, yeah. Facebook and Triberr (because I stop and read the interesting blogs).
7. With no spending limit, if you could construct the most perfect writing space, what would it look like?
Big windows overlooking Lake Michigan; lots of shelves; a comfy recliner and my laptop; a Keurig coffee maker.
8. Sushi or pepperoni pizza with extra cheese?
My grandchildren (6½ & 9) took me out for sushi this summer. The 6 yo kept saying "try this, Nana, it's great." I'm glad I tried everything. I'd rather have pizza.
9. What book are you reading right now, and what is the best book you've read in a long time?
Just finished Pets In Space, an anthology of sci-fi romance short stories featuring pets. I have so many favorite books. I used to say Rebecca, but now I think The Hunger Games trilogy is the best I've read in a long time. Such powerful messages and a darn good story. Where were books like that when I was in high school?
10. How many full and partial manuscripts remain in your never-published collection?
Geez, I'm not sure. I've been writing for 20+ years and accumulated a LOT of rejections. I probably won't resurrect them—too out of date. I consider them practice writing.
11. Bob Dylan or Dylan Thomas?
Neither. Bob Dylan's okay, but I'm a Beach Boys girl.
12. Name your favorite hero or heroine from one of your books, and share what made that character special.
Celara from The Pilot, the first Outer Rim novel. She's a red-head, little, feisty, mouthy, and doesn't put up with anything from anybody. I wish I was more like her.
13. Who was the first person – besides your mom and dad – who told you that you could write?
I don't know. Certainly, not any of my teachers. My dad died before I became published. My mom was very proud of my first book. She passed away before any of the others were published. My husband is my biggest supporter. He doesn't read fiction but reads my books. When I wanted to give up, he encouraged me the most.
14. Dogs or cats? Pedigree or mutts?
Dogs. Mutts.
15. What is your favorite point while you are writing a new story?
The beginning. Everything is new, unless the MC was a secondary in a previous story. Love the rush of getting the words down and discovering more about the heroine and hero.
***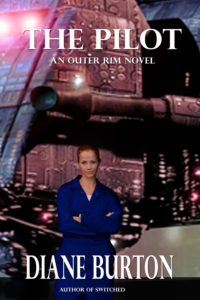 The Pilot
By Diane Burton
Celara pushed her chair away from the table and climbed up on it. "Quiet down, you Rimmer scum."
The patrons laughed then quieted.
She lifted her drink. "A toast, Rimmers. Let's hear it for the wonderful, fantabulous, Administrator Jovano. May he live long enough to enjoy good health."
To her surprise, silence met her toast. No one raised their glasses or mugs, even in jest. Everyone was looking at her, standing on the chair. No, they were looking past her. Only thing behind her was the door. Booted footsteps rapped on the rough-hewn plank floor then stopped behind her.
"Thank you for the compliments and the good wishes for my longevity." The baritone-and-chokiris voice sounded just over her shoulder.
If she ever needed a personal cloaking device, it was now. Or a magic ring with which to disappear. Sector Admin Trevarr Jovano stood behind her. Waiting. She swore she could feel him breathing.
Undaunted, she turned around. As the room tipped, she reached for the back of the chair. "Whoa, those mudslides sneak up on you."
Missing the chair, she grabbed the closest thing—Trevarr Jovano's black-clad shoulders. Beneath her fingers, the strong muscles contracted. "Hey there, Admin Man. Heard my toast, did you?" She grinned down at him.
He wasn't smiling. "You should sit down before you fall down. Or better yet, go home and sleep it off."
A dark fury swept away the sweet tranquility of two tall Kruferian mudslides. "I can't go home, you snake. You stole my home."
She swung a round-house punch at him, missed her objective and would have fallen ignominiously off the chair had he not caught her. For several long secs, he held her tightly against his chest, her feet dangling off the floor a good twenty-five centimeters. His green eyes caught hers and darkened.
The heat in the room rose ten degrees. Her heart tripped, the air leached out of her lungs. His eyes. She could drown in those green depths.
***
The Pilot is available from these online retailers: Amazon, B&N, Kobo, iBooks, ARe and Smashwords.
***
A Note from Diane
The Pilot's book birthday is this week. I love the concept of science fiction romances featuring strong women on the Outer Rim, the frontier of space. Currently, there are three books in the series. Each is a standalone, even though some characters from previous books can reappear. There are three books in the Outer Rim series and will be one more before I take off on another adventure in a different world.
***
About Diane
Diane Burton combines her love of mystery, adventure, science fiction and romance into writing romantic fiction. Besides the science fiction romance Switched and the Outer Rim series, she is the author of One Red Shoe, a romantic suspense, and the Alex O'Hara PI mystery series. She is also a contributor to two anthologies: Portals, Volume 2 and How I Met My Husband. Diane and her husband live in West Michigan. They have two children and three grandchildren.
For more info and excerpts from her books, visit Diane's website: http://www.dianeburton.com. Connect with her on social media through her blog or on Twitter, Facebook, Goodreads and Pinterest. Sign up for Diane's new release alert here.
Save
Save
Save
Save
Save
Save
Save
Save