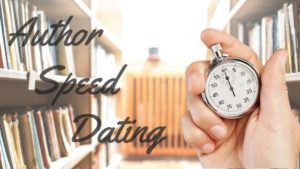 If there's one thing I enjoy almost as much as writing books, it's READING books. I love discovering new authors, too. So I thought my blog would be a perfect place to introduce my authors friends to potential new readers. Only to give it a twist, we're doing this Speed-Dating style. Check out a new author here every Wednesday, and if the spark is there, you'll have a match. The clock is ticking. Ready! Set! Go!
This week's guest: Joanne Rock


15 Questions
1. Which Disney princess (or prince) do you wish you were more like? And which one are you really most like?
Snow White. Jasmine.
2. Monopoly or Battleship?
Battleship.
3. How many books have you published, and how many are still tucked in a drawer somewhere?
Published: 83. Tucked in a drawer: None complete, but about 5 partials.
4. If you had no audience, and no regrets would follow, what midnight snack(s) would you be gorging on tonight?
Crème brulee. Bread pudding. Some cracked pepper kettle chips. Nachos and chicken wing dip.
5. Blahniks or Nikes?
Flats only for this arthritis sufferer, so Nikes.
6. Give the title of the first manuscript (published or unpublished) you ever wrote.
Moonrise.
7. If you were marooned on a deserted island with plenty of food and water but with only one book to read and re-read, which title would you hope for?
Marion Zimmer Bradley's Mists of Avalon
8. In which genres and sub-genres have you been published?
Contemporary Romance, Medieval Historical Romance and Young Adult fiction.
9. Pizza and beer or steak and Chianti?
All of the above.
10. How old were you when you had the first inkling you might be a writer, and what gave you that hint?
Age 10. I was obsessed with textbooks, reading and writing.
11. In 10 words or less, give your best writing advice to aspiring authors.
Trust your gut. Don't give up.
12. TED Talks or Cupcake Wars?
TED.
13. Which one of your own fictional heroes would you have taken home if you could?
Billionaire athlete Jean Pierre Reynaud from Secret Baby Scandal. Sweet, wealthy, and an athlete… Swoony.
14. What is your most ridiculous fear?
Spinach in my teeth.
15. If someone has never read one of your books, which title would you recommend she read first?
Nights Under the Tennessee Stars. I love that one!
***

Whispers Under a Southern Sky
By Joanne Rock
Returning from the grocery store to purchase supplies, Amy took the Partridge Hill Road slowly, climbing the sharp incline with a respectful speed. She was wary of the potholes and cavernous cracks in tarmac that looked like the town had been ignoring it for decades.
Her car was on its last leg, an eBay deal she'd snagged for next to nothing after her previous vehicle had died. A gray sedan built for efficiency and not comfort, the car was held together with duct tape, furnace cement, a few well-placed zip ties and a whole lot of You Tube video knowledge on DIY mechanics. She was proud she'd kept the thing running this long, but she wasn't about to risk her luck on one of those black holes.
Even if that meant she couldn't zip past the house where Sam Reyes was rumored to live.
She kept her eyes on the road so as not to risk any accidental sightings. Not that she wasn't curious, of course. Her long-ago boyfriend had been hot as a teenager when other boys were still gangly and awkward. Her imagination could fill in the blanks quite nicely to envision him as a man full grown. She didn't need that visual confirmed. Especially not after they'd had the world's most awkward non-breakup.
He had just up and disappeared. Vanished into thin air with Gabriella Chase, a particularly adorable majorette who probably would have been homecoming queen. If she hadn't left school to run away with Sam. His mysterious email—weeks later–claiming that he'd left to "help a friend" hadn't exactly eased her anger.
Thump!
The car dipped down into a rut she hadn't seen. The passenger side tire scraped something sharp, a grating noise against the wheel. She hit the gas on instinct since her vehicle was prone to stalling.
And yet, of course, her sedan died right there.
"Unacceptable." She closed her eyes. Willed the vehicle to life. "If not for me, you would be in a scrap heap."
Sadly, it wasn't her first dialogue with the vehicle. But for the first time, the cursed thing seemed to listen because it fired up again with a cough and a splutter.
"Yes!" She hit the gas hard, desperate to get out of sight from the last house on Partridge Hill Road.
She wasn't a woman who enjoyed being rescued and, thankfully, her closest neighbor would be saved from that role today. Racing up the rest of the hill, she dodged the remaining pits and crevices, flush with victory and the knowledge she had enough supplies to last her for the next two weeks. She wouldn't need to worry about seeing anyone until she felt well settled in and—
Oh. Crap.
A large man stood on the porch of the hunting cabin.
Dressed in black and wearing dark sunglasses, the figure stood with his back to her, his large shoulders bent over something he seemed to be examining on the front porch swing. A hit man deciding which weapon to use? Her brain churned out a whole series of crazy possibilities when he did not turn toward her as she slowed the car.
Fear crawled up her throat since no one should be here. Her sisters had promised her—promised—that they would let her decide when she wanted to see the family. No one else knew she was here. And the guy on the porch sure didn't look like he was selling something. Or trying to convert her.
Why hadn't the man noticed her yet? She debated backing down the road again. She could just slide it into neutral and she'd be at the bottom of Partridge Hill in moments. Then suddenly, even with her heart beating hard and the car's heater blowing on high, she realized she could hear the wail of an infant.
Even as she told herself that made no sense, the man on the porch straightened from whatever he'd been studying on the wooden swing. He held a baby in his arms.
But that wasn't nearly the most shocking thing about her uninvited guest.
Because the man in front of her was Samuel Reyes….
A September 2016 release from Harlequin Superromance, WHISPERS UNDER A SOUTHERN SKY is available from these retailers: Amazon , B&N, Harlequin.
***
About Joanne
Four-time RITA nominee Joanne Rock has never met a romance sub-genre she didn't like. The author of over seventy books enjoys writing a wide range of stories, most recently focusing on sexy contemporaries and small town family sagas. An optimist by nature and perpetual seeker of silver linings, Joanne finds romance fits her life outlook perfectly–love is worth fighting for. A frequent speaker at regional and national writing conferences, she enjoys giving back to the writing community that nurtured and inspired her early career. She has a Masters degree in Literature from the University of Louisville but credits her fiction writing skills to intensive study with fellow author and friend, Catherine Mann. When she's not writing, Joanne enjoys travel, especially to see her favorite sports teams play with her former sports editor husband and three athletic-minded sons.
Save
Save
Save
Save
Save
Save
Save
Save
Save
Save
Save
Save
Save
Save
Save
Save
Save
Save
Save
Save
Save
Save
Save
Save
Save
Save