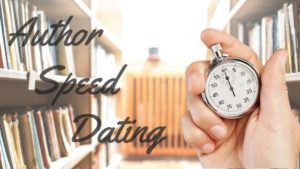 I love discovering new authors, so I wanted my blog to be a place where readers and my author pals could come together. Only we like to do this Speed-Dating style. Check out a new author and her work here every Wednesday, and if the spark is there, you'll have a match.
This week's guest: Alexandria Sure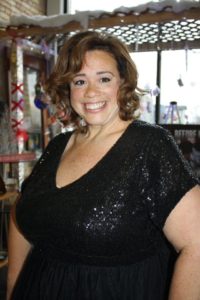 15 Questions
1. If you could revisit any favorite period in your life for a day, in approximately which year would you be found and what would you be doing?
March 25, 1994 – I was living in Miami at the time. Friends kidnapped me, blindfolded me and drove me to the Keys for a huge celebration. It was the best day/weekend.
2. Sure, it's like picking a favorite child, but which one or two of your titles do you secretly love just a little more than the others?
BEFORE HIM COMES ME.  Zara, the main character, came in such a vivid manner that it almost felt like we were connected. She was pushy to have me tell her story her way. I miss her.
3. Were you be glued to the screen during the XXIII Olympic Winter Games in PyeongChang, did you catch the recaps, or did you ignore the games completely? Any favorite events?
Skipped!!  I dislike all things snowy. Ironically, I live in Michigan. and it's nine degrees today and snowing.
4. Dogs or cats? Pedigree or mutts?
Dog all the way. Jack Russell Terrors. Rescue only!!!  #Adoptnotshop
5. How many books have you published and in how many genres and sub-genres?
I've released two books total … BEFORE HIM COMES ME and IN THE PURSUIT OF CHARITY. So far, I write New Adult – College. I've also completed two additional first drafts that are romance but not college-age.
6. Favorite female singer/rocker over 60: Tina Turner, Deborah Harry (Blondie), Stevie Nicks, Gloria Estefan or _________?
I'm a pretty big Stevie fan. Her lyrics gut me.
7. If you were marooned on a deserted island with plenty of food and water but with only one book to read and re-read, which title would you hope for?
GONE WITH THE WIND [by Margaret Mitchell]. First book, of my favorites, that popped into my mind.
8. What is the first thing you when you finish a book?
The very first thing I've done when completing a book is to text author Kasidy Blake. She is my biggest cheerleader. We happy dance together.
9. Which Disney princess (or prince) do you wish you were more like? And which one are you really most like?
Absolutely no clue to either question.
10. Who was the first person, besides your mom and dad, who told you that you could write?
Kasidy Blake. She was the very first person to read an excerpt of my first book. She is one of my rocks!
11. What are some of your non-writing talents that readers might find surprising? (Keep it PG please.)
Talents?  I'm learning to be crafty but I wouldn't call it a talent.
12. Names some things that have changed in publishing since your first book was published.
I'm a newbie to the author stage so this is difficult to answer. The first thing to pop into my head … Amazon's tools to upload ebooks. I've released two books, and it was completely different both times.
13. Have you ever, even for a moment, forgotten that one of your characters was…you know…fictional?
Short answer: No.
Long answer: I did write a story so close to my own relationship in college that I had to place the file in a drawer for several months. I needed time to determine if I was ready to release something so personal. The answer was YES and IN THE PURSUIT OF CHARITY became my second release.
14. Do you own at least one purse (or twenty) from a well-known fashion designer, or are you more the bag-to-carry-my-junk-in type?
I'm a Coach girl. Well, I was a Coach girl until they decided to re-brand and re-name themselves Tapestry. I am NOT a Tapestry kind of girl.
15. Offer a piece of advice to new writers that you wish someone had given to you at the beginning of your career.
I wish someone would have told me typing "The End" was only the beginning. I knew nothing about editing, formatting, marketing and selling. Actually, it's probably better I didn't know.
Better advice: Just don't give up!! 
***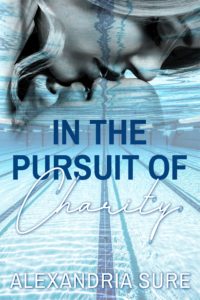 In the Pursuit of Charity
By Alexandria Sure
He expected her to recognize him.
He expected her to be seduced by his charms.
He expected her to fall for him.
Expectations are a funny thing …
When his parents named him Herbert Lincoln James, they already had expectations that Linc would attend an ivy league university and go into politics. Linc didn't. As captain of his swim team, he was expected to win the big relay to carry his swim team to the state championship for the first time in decades. Linc didn't. Society expected him to walk past her. He couldn't.
She expected him to see through her.
She expected him to make her into a joke.
She expected him to be cruel.
Expectations are a funny thing …
***
IN THE PURSUIT OF CHARITY, a June 2017 release from Beaumont Tower Press, may be purchased through Amazon US, Amazon UK and Amazon CA. Also available on iBook and Kobo. Coming soon to Nook.
***
About Alexandria
Alexandria Sure is from Michigan and adores her supportive family, her two rescue pups, and her mighty Spartans. Her coffee obsession leads her to writing in local coffee shops where characters come alive between salted caramel lattes and large cups of "cold brew extra cream two Splenda," which are usually on the counter when she walks in because the baristas know her car. (Thanks, Biggby!)
When she is not writing, she spends a great deal of her time perfecting her craft. She is an active member of Capital City Writers Association and attends several writing conferences each year.
Sure's first novel, BEFORE HIM COMES ME, is an unconventional romance of self-discovery, described by readers as "the first BDSM book with no sex."
Learn more about Alexandria through her website, www.alexandriasure.com, and check her out on Facebook, Twitter, her YouTube channel, Instagram and Goodreads.