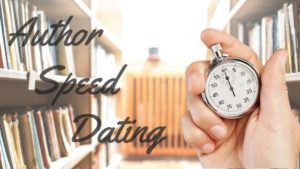 I love discovering new authors, so I wanted my blog to be a place where readers and my author pals could come together. Only we like to do this Speed-Dating style. Check out a new author and her work here every Wednesday, and if the spark is there, you'll have a match. 
This week's guest: Sarah Morgan


15 Questions
1. If you had the chance for front-row tickets AND backstage passes with any band, past or present, which one would you be jamming with? Explain your choice.
Beyoncé! Because she's Beyoncé. Enough said.
2. What is the one thing you wish someone else had told you before you published your first book?
That being published isn't the end of the journey.
3. Keith Urban or Adam Levine?
That's a tough question. Probably Adam Levine.
4. What are your go-to meals for the final week before deadline?
Whatever my husband decides to cook for me 🙂
5. Give the title of the first manuscript (published or unpublished) you ever wrote. What was the story about?
WORTH THE RISK – it was a medical romance, opposites attract, and it was the first book I completed (I had written several partials before that) and the first book that was published.
6. Books by George Orwell or Kristin Hannah?
Kristin Hannah. I love the way she writes about friendship and relationships.
7. At which time of day are you more productive as a writer, mornings or nights, and is caffeine a friend or foe?
I've trained myself to be productive whenever I need to be, but I definitely need the help of caffeine.
8. Which WIZARD OF OZ character were you most like during your junior high years?
Glinda, the Good Witch of the South. I used to be good at solving other people's problems (my own, not so much!)
9.  In addition to writing, what are your other outlets for your creativity?
Photography. I also love music.
10. What type of shopper are you: mall rat, online shopper, bargain sleuth, or none of the above?
Usually online because I don't plan far enough in advance.
11. Have you ever experienced misgivings as an author, and, if so, what are some of the ways you've tried to keep those feelings at bay?
All authors feel doubt at some point. The only cure is to keep writing.
12. Scandal or Pawn Stars?
Scandal.
13. How many books have you published, and how many are still tucked in a drawer somewhere?
I've written 82 books, and I don't have any completed manuscripts in a drawer, just a few stray first chapters that didn't feel right when I wrote them.
14. What was the most challenging revision you ever had to make in a manuscript?
I can't remember. Revisions often seem challenging to begin with, but I've learned that I need to take a couple of days to let them percolate before attacking the manuscript.
15. Sure, it's like picking a favorite child, but which one or two of your titles do you secretly love just a little more?
SLEIGH BELLS IN THE SNOW, because it was the first novel I wrote after writing series romance. It marked a change in direction for me, and that book is special to me for that reason.
***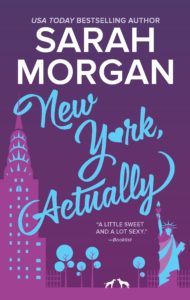 New York, Actually
By Sarah Morgan
"You don't need to worry." He leaned in and lowered his voice. "I promise to be gentle with you."
"Oh please—did you really just say that?" Because her hand shook, she sloshed tea over her leggings. "Ow!" She sprang to her feet and his smile turned to concern.
"Take them off."
"You're not funny."
"I'm not trying to be funny. I'm serious. Basic first aid for burns. The fabric will carry on burning your leg."
"I am not removing my pants in the park." But she tugged the Lycra away from her skin and sure enough the burning eased.
"I'm sorry." He sounded genuinely contrite.
"Why are you sorry?" She grabbed a handful of napkins and pressed them against her thigh. "I was the one who spilled my tea."
"But only because I made you nervous." His voice was soft, his gaze intimate, as if they'd shared something personal.
"You didn't make me nervous," she lied. "I'm not used to sexual innuendo this early in the morning. Or men like you. You're—"
"Cute? Irresistible? Interesting?"
"I was thinking more of annoying, predictable and inappropriate."
His smile promised fun and sin and a thousand things she didn't dare think about while she had hot tea in her hand.
"I made you nervous. And flustered. And if I were to analyze you, I'd say you're a woman who hates to feel either of those things."
Flustered? Oh yes, she was flustered. Being close to him made her feel light-headed and dizzy. She was agonizingly aware of every single detail, from the dark masculinity of his unshaven jaw, to the wicked glint in his eyes. But beneath the humor was a sharp eye for detail and that worried her more than anything.
She had a feeling he saw far more than people usually did.
It was like hiding in a cupboard and knowing that someone was right outside the door waiting for you to reveal yourself.
And that was closer than she ever let anyone step.
"Thanks for the tea." She threw the cup away and reached for Valentine's lead.
"Wait." He reached out and caught her hand. "Don't go."
"I have to work." It was true, although that wasn't why she was leaving. She knew it. He knew it. Conversation, a light flirtation—that was all fine. She didn't want more. "Goodbye, Daniel. Have a great day." She whistled to Valentine, put him back on his lead and took off through the park without looking back.
Tomorrow she was going to take a different route.
There was no way she was going to risk bumping into Daniel again.
No way.
***
NEW YORK, ACTUALLY, Book 4 in the From Manhattan With Love series, is a May 30, 2017, release from HQN Books. It may be pre-ordered through these and other retailers:  Amazon, Barnes & Noble, Books-A-Million and Harlequin.
***
About Sarah
USA Today bestselling author Sarah Morgan writes contemporary romance and women's fiction, and her trademark humor and warmth have gained her fans across the globe. She is a 2-time RITA ® winner, has written more than 80 books and has sold more than 15 million copies globally. Sarah lives near London, England, where the rain frequently keeps her trapped in her office.
Find out more about Sarah at her website, www.sarahmorgan.com, or follow her through these social-media channels:  Twitter, Facebook and Instagram.
Save
Save
Save
Save
Save
Save
Save
Save
Save
Save
Save