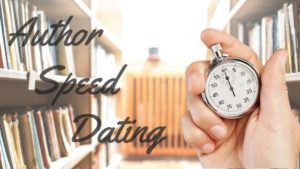 I love discovering new authors, so I wanted my blog to be a place where readers and my author pals could come together. Only we like to do this Speed-Dating style. Check out a new author and her work here every Wednesday, and if the spark is there, you'll have a match. 
This week's guest: Heatherly Bell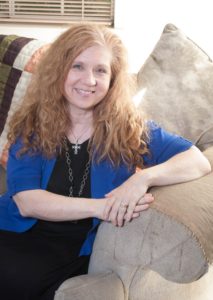 15 Questions
1. If a director made a movie about your life, which actress (living or dead) would you like to portray you, and which one would more likely be cast?
Like: Michelle Williams. Likely: Lucille Ball.
2. What are some of the things that have changed in the publishing industry since your first book was published?
Eleventy million little things; the combined list on the New York Times is just the latest thing.
3. Us Weekly or Newsweek?
Us Weekly.
4. As a reader, do you sneak a peek at the end of the book, or do you make yourself wait for answers until the very end?
The only time I've done this if I'm not reading a romance novel, where I'm guaranteed an HEA. Then I want to peek ahead and find out (and prepare myself) if I'm going to be crushed.
 5. Have you ever, even for a moment, forgotten that one of your characters was…you know…fictional?
Yes, definitely my heroines with the best clothes and fashion sense…I'd like to borrow stuff from their closet, or at least their shoes.
 6. In which genres and sub-genres are you published, and which others do you plan to add to the list in the next two years?
Contemporary and inspirational. If I ever find the time, I'd be interested in writing a contemporary YA or maybe some Women's Fiction. Someday.
7. Brad Pitt or David Beckham?
Brad Pitt.
8. If we imagine that a reader has lived on a desert island and missed the opportunity to read one of your books, which title do you recommend that she order as soon as she returns to civilization?
FOREVER WITH YOU, a first-love reunion story with a Marine hero, for a feel-good ride. (You've been through a hard time.)
9. Do you have a green thumb or black one, and, either way, how are you gearing up for spring planting season?
Black. I'm gearing up for the spring planting season by watching The Bachelor.
10. When and how did you first decide you wanted to be an author?
I wanted to be an author "someday" from the time I was in my high school English class and we had an assignment to write a short story.
11. Antique Roadshow or Law & Order: SVU?
SVU!
12. What is your favorite song of all time, and what do you do when it comes on the radio or when you stream it?
Having been in music for decades, asking me to pick my favorite song is like asking me to pick my favorite child. I can tell you that when Bruno Mars comes on with "Uptown Funk", I want to drop everything and dance!
13. What do you believe is your biggest strength as a writer, and what has been your approach to tackling some of your weaknesses?
Dialogue is a strength, I'm told, and I'm trying to tackle my plotting issues with a more detailed plan and road map. Good luck to me.
14. Regarding board games, Scrabble or Left, Right, Center?
Scrabble.
15. What is your biggest hope for a reader when she opens one of your books?
I hope she's able to escape for a while into a believable, but light-hearted world in which everything is possible.
 ***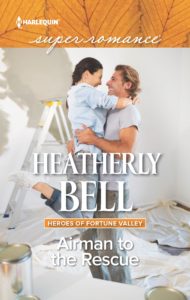 Airman to the Rescue

By Heatherly Bell
SARAH STUMBLED INTO the now dark living room, and found Matt lying on the couch, Shackles curled up at his feet. Through the sliver of moonlight shining through the window, she could make out that he had his shirt off, a pillow over his face. As if she'd given him a headache.
Wait until she got going. "Matt."
Under his pillow, she heard him groan.
"What's going on here?" She stood hands on hips and then decided that looked too accusatory for seduction, so she relaxed her arms at her sides.
"Go to sleep, Sarah."
"No."
He lifted the pillow from his face, one eye open. "I don't want to argue with you."
"I don't want to argue, either. I just want you to tell me what happened tonight."
"Guess if you don't know, I must not have done it right."
"You did everything right." Her voice softened. Now that she faced this—thing—between them her mouth was parched and dry. But she couldn't lose her nerve now. "The only thing you did wrong was stop."
"Wasn't my choice."
"But now it is."
He didn't move. "Go to sleep. Please."
"Well, since you said please."
"Seriously? That's all it takes?"
"No. I lied. I'll go to sleep, but not until you hear me out. I might be Stone's sister, but I'm also a grown woman and I know what I want."
"What do you want? Because I thought you wanted to fix this house and flip it. Sell it so you can get back to Colorado."
Couldn't a woman want more than one thing? "I want you, Matt. That's what I want."
"Do you? Be careful what you're asking for. Maybe you don't know me as well as you think you do."
"I know enough. I know you're one of the good guys."
He snorted. "Yeah."
"Do you think I'm going to fall in love with you? Is that it? Because that's not an issue. I don't believe in love."
At that he removed the pillow from his head. "You don't believe in love."
"Does that shock you? Why should it? I grew up as the child of a broken home and I've seen more divorces around me than I care to remember. You of all people should understand."
"Me of all people?"
"You're also from a broken home. And…you're a single father."
"That doesn't mean I don't believe in love. And I think it's pretty messed up that you don't, Sarah."
"Okay. What do you want? Is it me at all? Because a couple of hours ago you had me pretty well convinced, so if you've changed your mind you need to tell me now."
There. She couldn't believe she'd let all her thoughts spill out at last. Everything she'd intended to tell him for months had come pouring out of her lips, like the semidark of the room had given her added courage. In the ensuing quiet Sarah didn't think he would answer her at all. Worse, in the dark of the room she couldn't take a cue from his usually expressive eyes.
"I want you, Sarah." He finally spoke, the sound of his voice so naked and raw that Sarah's knees went boneless.
***
AIRMAN TO THE RESCUE, a June 2017 release from Harlequin Superromance, may be pre-ordered through these retailers: Amazon, iTunes, Barnes & Noble, Books-A-Million and Harlequin.
***
About Heatherly
Heatherly Bell drinks copious amounts of coffee, craves cupcakes, and occasionally wears real pants. She lives in northern California with her family. Stay in contact with Heatherly through her website, www.heatherlybell.com; and through these social-media channels: Twitter, Instagram, Facebook and Pinterest.
Save
Save
Save
Save
Save
Save
Save
Save
Save
Save
Save
Save
Save
Save