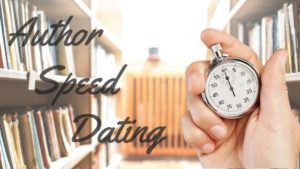 I love discovering new authors, so I wanted my blog to be a place where readers and my author pals could come together. Only we like to do this Speed-Dating style. Check out a new author and her work here every Wednesday, and if the spark is there, you'll have a match.
This week's guest: C.K. Brooke

 
15 Questions
1. Name the best New Year's Resolution you have ever broken, and how quickly did you fall off the wagon?
Once I made a New Year's Resolution not to put pressure on myself by making a New Year's Resolution…whoops.
2. Hottest "The Avengers" actor: Robert Downey Jr. (Iron Man), Chris Evans (Captain America), Mark Ruffalo (The Hulk), Chris Hemsworth (Thor), Scarlet Johansson (Black Widow) or Jeremy Renner (Hawkeye)?
Hey, how come Tom Hiddleston (Loki) isn't on here??
3. What are the highest and lowest moments you've had as a writer?
Highest = my first-ever offer letter in 2014! Lowest = the 164 rejection letters that came before that!
4. Please let us in on a few of your writing plans for the brand new year 2018. Any new books in the pipeline?
THE EMPEROR'S DAUGHTERS, the 4th book in my Jordinia series (Fantasy), is coming in 2018, along with an e-box set of the entire series.
5. If you could only have one type of candy for the rest of your life, what treat would be satisfying your sweet tooth?
Don't know about my tooth, but I'd gladly let Sour Patch Kids burn a hole through my tongue.
6. Which is your preferred writing location: home office with favorite music, coffee shop with white noise or library in total silence?
Home office with spa soundtrack…unless my husband and son are home!
7. What's the worst piece of advice your mother ever gave you?
I can honestly say the woman has never given me bad advice. (That's the correct answer, right?) 😉
8. In which sub-genres are you published, and what does the wide or narrow focus say about you?
 The romance sub-genres under which I'm published currently include fantasy and historical. I reckon it says I like to escape far beyond the here & now…and I like to take my readers with me!
9. Name two of your favorite authors, one living and one no longer with us. How have their books impacted your writing?
Marion Zimmer Bradley taught me the joy of epic historical fantasy. J.K. Rowling taught me that you're never too old for adventure. Both lessons translate into my writing of romantic adventures, be they historical or fantasy, every day.
10. When you are starting a new book, what are some of the activities you do to get know your characters and develop your plot?
Outline, outline, outline! I usually create an outline of at least 25 single-spaced pages, hashing out the plot and all the characters, before writing the first word of the story.
11. Preferred winter activities: ice skating, ice fishing and anything involving snow or Couch Potato Olympics?
Anything indoors – snow gives me the blues!
12. Which character from one of your books is most like or most radically different from your significant other?
The character of Orion in my YA fantasy romance, SECRETS OF ARTEMIS, is most like my husband – a gentle giant.
13. What is your most ridiculous fear?
Birds. The way their wings flap… *shudder*
14. What is your favorite social-media activity: watching cat or dog videos on Facebook, Tweeting #amwriting when you're not or Snapchatting your face with kitty whiskers?
Reposting "Stranger Things" memes. I seriously need a Chief Hopper intervention!
15. Who were some of the other authors who helped you on your writer's journey, and how did they make a difference for you?
I wouldn't have had the courage to become a published author if not for Michele DeLuca, NY journalist and author of FOREVER MORE: A LOVE STORY FROM THE EDGE OF ETERNITY. Her constant support, readership, and belief in me has carried me farther than I can express. Thank you endlessly, Michele! And thank YOU, Dana, for this fantastic interview! Wishing you all a vibrant and prosperous 2018!
***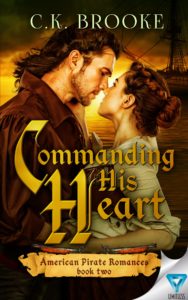 Commanding His Heart
By C.K. Brooke
They stopped in front of an unassuming door, and Commander Redding pulled the handle.
The first word that came to Em's mind when she stepped inside was minimal. Not that the room was so small. But it was simple, tidy—virtually empty. A wooden bureau stood to the left, its surface clean but for a dimly-lit oil lamp. And to the right sat a single cot dressed in plain, fading linens. A cabin trunk completed the picture, and that was all. The walls and floor were old and unadorned.
Commander Redding closed the door, shutting them in.
Although he hadn't yet granted his permission, Em assumed it safe to speak. "This isn't a place you occupy regularly, is it?" It was more of an observation than a question.
"No, it isn't." The jovial manner he'd performed upstairs was gone entirely. He stood before her, a full head taller, his expression uncharacteristically stern. "Miss…Winthrop, is it?"
Em nodded. It felt strange that the man who had behaved so familiarly with her just moments ago wasn't even certain of her name.
He opened his mouth, then closed it again. Sighing, he pinched the bridge of his nose. Em was reminded of the way it had tickled when he'd brushed it across hers above deck. She shoved the mortifying recollection aside.
"I'm at a loss," he confessed at last.
"You want to know what I'm doing here," she surmised.
"Yes, and why! And how you found me—!" He stopped, taking a breath to collect himself. Although he was understandably flustered, it appeared he was the sort of man who kept his temper in check. Em found she liked that.
"Sorry, but I had to leave Jamestown." She met his eyes, and was unexpectedly transfixed by the hue of the ocean in them, visible even in the low lantern light. "You were my only way out. I…trusted you."
His eyebrows came together. "You don't know me."
"Well," Em hugged herself, "given your title and disposition, I'd deemed you trustworthy. And up there," she cocked her chin, "you rescued me, did you not? Are you saying I've misjudged you?"
His tone was gentler as he studied her face. "You haven't."
She pursed her lips, her case made.
"But you've misjudged the situation. You never should have come here." He began to pace, his features wrought with anxiety. "This is no place for a young lady. It isn't safe."
A laugh loosed from her. "But Commander, why ever would I be unsafe with my own country's navy?"
He stopped in his tracks as though she'd thrown something at him. "Miss Winthrop, this is not a naval vessel. It is a pirate ship!"
***
COMMANDING HIS HEART,  a September 2017 release from Limitless Publishing and Book 2 in the American Pirate Romances series, may be purchased through these retailers: Amazon and Barnes & Noble.
***
About C.K.
C.K. Brooke is an award-winning author of over a dozen romance and fantasy novels and novellas. Her debut novel, THE DUCHESS QUEST, was selected by Shelf Unbound Magazine as a Top 100 Notable Indie Book of 2015, and her self-published YA novel, SECRETS OF ARTEMIS, received the Indie B.R.A.G. Medallion Award in 2017. She is also the author of THE WRONG PRINCE (48fourteen, 2016), a Global EBook Award Honorable Mention title, as well as the historical romance, CAPTURING THE CAPTAIN (Limitless, 2016), which was a 2017 RONE Award Nominee and a Finalist in the Mid-Michigan RWA Best Banter Contest. She lives in Washington, Michigan, with her husband and son. Visit her at www.CKBrooke.com and subscribe for a free eBook! Connect with her on Facebook, Twitter and Goodreads.