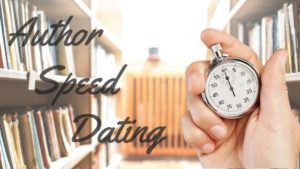 I love discovering new authors, so I wanted my blog to be a place where readers and my author pals could come together. Only we like to do this Speed-Dating style. Check out a new author and her work here every Wednesday, and if the spark is there, you'll have a match.
This week's guest: Betina Krahn

 
15 Questions
1. If you could revisit any favorite period in your life for a day, in approximately which year would you be found and what would you be doing?
1989. My boys would be in elementary school, and I would be welcoming them home on an icy Minnesota afternoon with hot chocolate and cookies and big warm hugs!!  [sniff, sniff]
2. Sure, it's like picking a favorite child, but which one or two of your titles do you secretly love just a little more than the others?
A GOOD DAY TO MARRY A DUKE. Seriously. I had such fun writing it.  And MY WARRIOR'S HEART, reissued by Bantam as THE ENCHANTMENT.  Vikings with a six-foot battle maiden.  What more can I say?
3. Will you be glued to the screen during the XXIII Olympic Winter Games in PyeongChang, will you catch the recaps, or will you ignore the games completely? Any favorite events?
Not much into the Games these days, but I still love the figure skating—see it when I can.  Always my fave!
4. Dogs or cats? Pedigree or mutts?
Definitely dogs.  Rescue dogs… pedigree or not.  Goldens, especially.  Like my Gracie.
5. How many books have you published and in how many genres and sub-genres?
Yikes.  At least 30.  ::blush::  I lost count.  All historicals… except SOLDIER'S RESCUE, which was out last September with Harlequin Heartwarming.  That's a contemporary.  All time periods: Medieval, Vikings, American Colonial, Elizabethan, Victorian…
6. Favorite female singer/rocker over 60: Tina Turner, Deborah Harry (Blondie), Stevie Nicks, Gloria Estefan or _________?
Probably Tina Turner.  Too bad Mama Cass [Elliot] and Janis Joplin aren't with us… they'd be over 60 now.
7. If you were marooned on a deserted island with plenty of food and water but with only one book to read and re-read, which title would you hope for?
Only one? Honestly, a C.S. Lewis or the  HOLY BIBLE.  But if I could have two… Judith Merkle Riley's A VISION OF LIGHT.  That book changed my outlook on women's lives entirely.
8. What is the first thing you do when you finish a book?
Hug the hubs deliriously and then SLEEP.  Champagne comes later.
9. Which Disney princess (or prince) do you wish you were more like? And which one are you really most like?
Anna, from "Frozen."  Plucky women are my stock and trade. But, I'm really more a Rapunzel ["Tangled"] … without the hair.
 10. Who was the first person, besides your mom and dad, who told you that you could write?
My crazy sister.  She was my very first reader.
11. What are some of your non-writing talents that readers might find surprising? (Keep it PG please.)
I can talk angry people down.  Not sure what kind of "talent" that is, but it's pretty useful in the medical field.  My staff gets a hot one and it's: "Get Betina!"
12. Names some things that have changed in publishing since your first book was published.
How much time have I got?  Independent wholesalers and bookstores have all but disappeared.  Publishers have consolidated into empires.  Everybody can (and does) publish on the Internet.  And, in general, books are so much better these days.
13. Have you ever, even for a moment, forgotten that one of your characters was…you know…fictional?
In the early days, my whole family talked about one of my heroines as if she were real.  Treasure.  I think the neighbors wondered if we had a kid we kept in a closet.
14. Do you own at least one purse (or twenty) from a well-known fashion designer, or are you more the bag-to-carry-my-junk-in type?
No great couture. I get a Dooney & Bourke or a Coach (usually as a gift), and I carry it until my sister says: "That thing looks like a feed bag.  An OLD feed bag."
***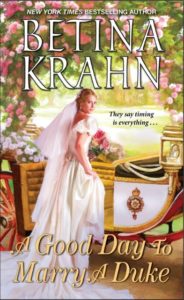 A Good Day to

Marry a Duke
By Betina Krahn
Looking into her reflection, she managed to settle two silk butterflies back into her hair and wrap the dangling threads of a third around some seed pearls in the flowers at her shoulder.  She must have groaned aloud, because her fashion critic laughed.  When she looked up, he stood nearby with a gold stickpin in hand.
"Try this."  His grin raised both hackles and gooseflesh.
"I couldn't possibly."  She dropped her gaze and found the butterfly she'd applied hanging to one side, as if it had expired from the indignity of having to appear on that dog's dinner of a dress.
"Well, I could," he said, taking the butterflies from her and stabbing both through with the stickpin.  She watched in disbelief as he pulled out the fabric of her bodice, jabbed the pin through a flower, and threaded it through from behind.
When the butterflies were secured, his hand remained in audacious contact with her liberally exposed skin.  He ran the backs of his knuckles slowly around the neckline of her bodice.
She should be kicking him like a Missouri mule, should be giving him a painful lesson in how American girls dealt with "bounders."  But, truth be told— tall, dark men with bad intentions had always been her weakness, and he was taller and darker than most and from what she could tell, his intentions were spectacularly bad.
Right now every muscle in her body was taut with expectation and her lips ached for contact of a sort she'd sworn to forego until she had spoken respectable vows.
"There," he said with a wry smile, lowering his hand.  "If you can overlook the fact that those two appear to be mating, you'll be fine."
"Mating?"  Her eyes flew wide as she realized what he'd done.  "You, you—" She caught herself before she uttered a curse and drew a fiercely controlled breath instead.  "What is her name?  This mama you slunk in here like a polecat to avoid."
His grin dimmed and he paused a moment, studying her.  She had caught him off-guard.
"A gentleman does not discuss the ladies in his life."
"Is that so?" she said, lifting her chin as she headed for the door.  "Well, I'm sure I'll recognize her when I see her.  She'll be the one with the shotgun" –she raked him with a look— "and the horse-faced daughter."
***
A GOOD DAY TO MARRY A DUKE, Book 1 in the Sin and Sensibility series and a November 2017 release from Zebra (Kensington Publishing Corp.), may be purchased through these and other retailers: Amazon, Barnes & Noble, Books-A-Million and Kensington.
***
About Betina
Bestselling author Betina Krahn is the creator of dozens of satisfying "happily-ever-afters."  Her many historical romances have received a coveted RITA Award from the Romance Writers of America, numerous reviewer's choice and lifetime achievement awards and have appeared regularly on bestseller lists. . . including the USA Today and The New York Times.
Her books have been called "sexy" "warm" "witty" and even "wonderfully wise."  But the description that pleases her most is "funny". . . because she believes the only thing the world needs as much as it needs love, is laughter.
Learn more about Betina through her website, www.betinakrahn.com.
***
BONUS!
Useful Quotes from A Good Day To Marry A Duke
Truth be told, tall dark men with bad intentions had always been her weakness.  And he was taller and darker than most and, from what she could tell, his intentions were spectacularly bad.
"Careful, Miss Bumgarten. Such remarks might lead one to wonder how you came to be such an expert on men."
It was a perfect opening.
"A body doesn't have to have been bitten to recognize a snake."
She had enjoyed it, damn it. Just like she knew she would.  She had reveled in it, right down to the way her toes curled in her boots.
And it danged-well couldn't happen again.  Ever.
"You think I couldn't make him happy."
His laugh came from deep in his chest and had a knowing edge.
"Sweetness, you could make a fencepost happy."
"It's a church, Daisy," he said leaning close. "I'm hardly apt to ravish you in the nave."
"You didn't seem to have any scruples about doing it in a library."
"Nor"—he smiled wickedly—"did you."