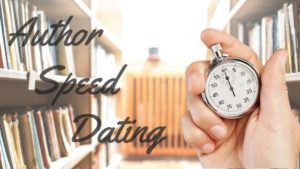 I love discovering new authors, so I wanted my blog to be a place where readers and my author pals could come together. Only we like to do this Speed-Dating style. Check out a new author and her work here every Wednesday, and if the spark is there, you'll have a match. 
This week's guest: Carla Cassidy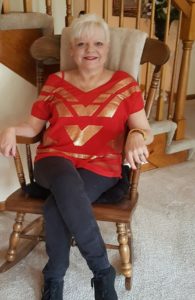 15 Questions
1. Picture yourself at an amusement park. Are you the rider on the tallest roller coaster, clamoring for speed; the only adult on the spinning ride with the kids, begging for it to stop; or the bench-sitter, holding the coats and waving?
I wouldn't be at the amusement park at all. These days I get my need for speed satisfied by sitting up too fast in bed. I get a dizzying high trying to remember why I'm in the room I'm in.  And those coats? I'd be wearing all of them because I'm cold all the time!
2. Name an author whose work you read and still think "I'm not worthy"?
Almost every book I read has some element that makes me think that.  For relationships, it's Nora Roberts. For psychological thrillers, it's Lisa Gardner, and for heart-pounding suspense, I enjoy Linda Castillo. I also love Dean Koontz, and that's just to name a few.
3. What was genre of the first piece you can remember writing, and how old were you when you penned this masterpiece?
I was about eight or nine when I discovered Mille the Model comic books. It wasn't long before I was writing my own adventures for the beautiful New York girl!
4. Are you traditionally published, self-published or a "hybrid" author, and why did you choose that path?
I guess I'm a hybrid author only because I wrote a book that didn't fit into my publisher's guidelines and decided to put it up myself. Going forward, I believe I'm going to enjoy being a hybrid author.
5. Which Star Wars character best describes your personality in regular life? What about on deadline?
I'm ashamed to admit that I've never seen a Star Wars movie. I can say I'm fairly driven on and off a deadline.
6. Was there ever a time before or after you were published that you considered quitting? If so, how did you convince yourself to try one more time?
I had been writing short stories and poetry and getting enough rejections to wallpaper a room. I finally decided I'd had enough. I packed up my typewriter (yes, it was that long ago) and took it to the basement. Two days later I got a check in the mail for selling a poem. It was like a sign from God. I shouldn't give up! That $8.00 check had me rushing back downstairs to get the typewriter. I was meant to be a writer!  
7. Celebrities aging beautifully: Mark Harmon or Sean Connery?
Mark Harmon – be still my heart!
8. Since all writers are readers, name your favorite hero or heroine from a book you've read. Has he or she had an impact in how you write the characters in your own books?
I can't answer this. Through the years I've read so many books and met so many wonderful characters, it's impossible for me to pick one.
9. Who was the first person – besides your mom and dad – who told you that you could write?
Definitely it was my husband.  He encouraged me every step of the way to becoming a published author.
10. Do you own at least one purse (or twenty) from a well-known fashion designer, or are you more the bag-to-carry-my-junk-in type?
Don't own any designer purses, I'm definitely a bag-to-carry-my-junk type.
11. Do you belong to a critique group, and how has that membership affected your writing?
I don't belong to a critique group anymore, but I do belong to Mid-American Romance Authors and love the members who are so supportive and fun!
12. What are some of the activities you were participating in when you came up with an idea for a book? (Note: Keep it clean.)
Activities? What's that?  In the shower is where a lot of my book ideas pop into my head.
13. Music: Pink or Taylor Swift?
Neither. Just give me good old rock and roll!
14. Do you write the synopsis before or after you write the manuscript?
Usually before, but there have been several books that I've written first and then written the synopsis afterward.
15. What is your biggest dream for your writing career? The New York Times bestseller list? A movie deal? Your own island in the Caribbean? All of the above?
I don't care about an island, but I would like to hit the New York Times bestseller list again, and I'd definitely love to land a movie deal.     
***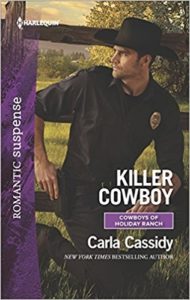 Killer Cowboy
By Carla Cassidy
Dillon didn't plan it, but before he knew it, Cassie was in his arms. As she raised her face he captured her lips with his. She tasted of chocolate and raspberry and white-hot desire, and her body was invitingly warm against his.
She curled into him as if wanting to get as close as possible. He stroked his hand through her springy, soft hair and deepened the kiss.
He finally tore his mouth from hers and peered down at her. "Was that just another mistake?" she asked as she raised a finger to her lower lip.
"Probably," he replied. "There's something about you that makes me want more, but I'm not looking for love right now in my life."
She tilted her head slightly, her gaze curious. "I'm not sure what I'm looking for, either. But then what are we doing?"
"I don't know," he confessed.
Be sure to check out the next book in this exciting miniseries: Cowboys of Holiday Ranch – where sun, earth and hard work turn men into rugged cowboys…and irresistible heroes!
***
KILLER COWBOY, a June release from the Harlequin Romantic Suspense line and part of the Cowboys of Holiday Ranch series, may be purchased through these and other retailers: Amazon, Barnes & Noble, Books-A-Million and Harlequin.
***
About Carla
Carla Cassidy is an award-winning,  New York Times bestselling author of over 150 books.  She loves Mexican food, reality television and writing stories to thrill and chill readers. Stay in touch with Carla through her website, www.carlacassidybooks.com, or through Facebook or Twitter.
Save
Save
Save
Save
Save
Save
Save
Save
Save
Save
Save