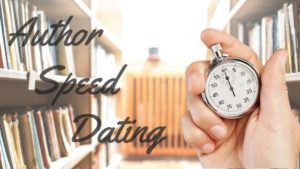 I love discovering new authors, so I wanted my blog to be a place where readers and my author pals could come together. Only we like to do this Speed-Dating style. Check out a new author and her work here every Wednesday, and if the spark is there, you'll have a match.
This week's guest: Donna Alward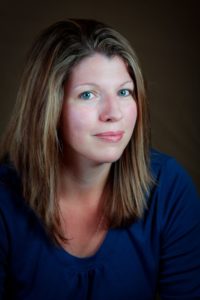 15 Questions
1. Which character in "Rudolph the Red-Nosed Reindeer" is your favorite, and what does that say about you?
Mrs. Claus. Because I feed people. "Eat. Eat. EAT."
2.   What are some of things you do to work your way through a plot problem?
Walk away and let my brain come up with it when I'm thinking about something else. Or I nag my inner circle, disregard their ideas, and go with my own anyway.
3. Name your favorite author who writes in a genre that you never write.
More than one…but Jennifer Robson, Mary Balogh, Suzie Enoch, Julie Ann Long. LOVE historical romance, particularly WWI and WWII and Regencies.
4. Cherry cordials or candy canes?
Candy Canes.
5. How many full manuscripts did you have to write before you were first published?
Nine – I sold my 10th.
6. In 10 words or less, give your best tip for aspiring authors.
Write, write, write, and take time to learn your craft.
7. Lifetime Christmas movies. Yea or nay?
Sometimes yes. But only if I feel like weeping.
8. What was the lowest point in your writing career, and how did you recover from it?
Being unable to write due to depression. I figured out I needed to get better first and hoped my creativity would rebound. It did. 🙂 But it was a rough 2 years.
9. Are you traditionally published, self-published or a "hybrid" author, and why did you choose that path?
Mostly traditional. I forgave myself for not enjoying the indie process and haven't looked back. People have to do what's right for them and what keeps them inspired and fulfilled.
10. "O Holy Night" (Josh Groban version) or "White Christmas" (Bing Crosby version)?
"White Christmas". I love Josh, but classic Bing…the only thing better is Nat King Cole's "The Christmas Song".
11. Which character from one of your own books do you wish you were more like?
Willow from Someone To Love (coming in March). She's so zen. Plus way more bendy than I am (yoga).
12. What is your strategy for writing over the holidays?
Not to. 🙂

13. Of all the delightful treats available during the holiday season, which one would you prefer to hide in a closet so you don't have to share it with anyone?
My mother-in-law's fruitcake. I know! Fruitcake? But it's soooo good.
14. Do you belong to a critique group, and how has that membership affected your writing?
Not a crit group per se, but a small group of writers. My writing and my life are so much richer for having them be a part of it.
15. What is your usual New Year's Resolution, and how quickly do you usually break it?
I gave up on resolutions. I can only promise to do better so many times before I just think…never mind. Carry on and do the best you can. 🙂

***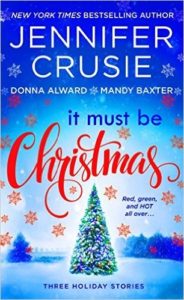 It Must Be Christmas
"Christmas at Seashell Cottage"
By Donna Alward
Charlie Yang had never considered herself much of a joiner. So it went without saying that she was surprised to find herself in the middle of setting up a nativity scene in front of the Jewell Cove church, stuffing scratchy straw into a crudely constructed manger. They'd had an early snow, and the layer of white covering the ground and the branches of trees and shrubbery added to the feeling of holiday spirit that had taken over since Thanksgiving.
Like a well-oiled machine, Gloria Henderson and her army of church ladies had taken charge of the volunteers and had assigned jobs to everyone. The men were tasked with anything requiring a ladder and heavy lifting—including lugging three wise men, Mary and Joseph, the shepherds and sheep and every last bit of the nativity to the front yard. Right now Bill—Charlie had forgotten his last name—from the service station was positioning the figures in the proper places, which were the exact same spots they occupied each and every year, apparently. Charlie gave a dry chuckle. You could always count on small towns, and Jewell Cove, Maine, was no different. It was practically steeped in saltwater traditions.
Still, it stung a little that the committee had taken one look at Charlie's attempt at the red-and-green velvet bows and suggested she might be better suited to helping with something else. She was a doctor, for heaven's sake. She could suture a wound and leave barely a trace of a scar. Surely her bows weren't that bad . . .
She'd been sent off to the front of the church with specific instructions: set up the manger, uncoil and string the lights, and put Baby Jesus in place. Charlie huffed. She'd been number three in her graduating class from med school. She could set up a nativity scene with one hand tied behind her back. She shivered against the cold, zipped her puffy jacket up the last three inches, and wished she'd thought to wear a hat to keep her ears warm.
"Manger, check." She wrestled the wooden structure into position by inches until it was in the middle of the nativity. "Straw, check." She took off her gloves for a minute and padded the bottom of the manger with a small brick of synthetic straw, pulling the pieces apart and fluffing them up. As soon as it was done, she hurried to put her gloves back on. "Now for Baby Jesus." Charlie looked around at the boxes of Christmas decorations that surrounded her. "Aha! Baby Jesus, check!" She retrieved a doll from a box, already wrapped and safety-pinned into swaddling clothes, and stared down at the straw padding the bottom of the crude manger. "This doesn't feel right," she murmured to the doll, whose eyes were closed. She looked in the box for a blanket or fabric of some sort. "I can't just put you down on the prickly straw. Surely the new Messiah deserves something softer to lie on."
After a few minutes of digging through the boxes for something that might suit, Charlie sighed. "Well, Baby Jesus, we'll just have to wait to put you in your manger until I can think of something to use to cover the straw. Until then, I need to get these lights untangled."
She sat down on the cold, wooden platform the church had set up to house the nativity scene. It was a lonely, solitary task and she found herself carrying on a one-way conversation with the doll just to break the silence. "I have skills, Baby Jesus. Specific skills. Skills that I should be using right now with my patients. Not sitting in the cold unraveling tangled lights." She sighed in frustration.
God, she was talking to a doll. A doll who was, at this moment, staring at her with unseeing, unblinking eyes. It was a little bit creepy, so she turned her attention back to the task at hand, working away at a stubborn knot, muttering to herself. Once again the gloves came off; there was no way she could straighten the knotted wires with the material in the way. She blew on her fingers and started again.
"You know," she continued, "when I agreed to help out, I'd thought it would be a good chance be a part of the community. Outside of work, I mean. And . . . here I am alone. As usual."
Charlie cursed under her breath as the knot let go only to reveal another. A burst of laughter drew her attention away for a moment, and she watched as a couple strolled along the sidewalk holding hands.
"Wanna hear something stupid, Baby Jesus? The closest thing to a romantic relationship I have right now is an infatuation with the man who works on the docks. You know?" She paused, studying the glassy eyes of the doll next to her. "Of course you don't know. You're a doll. And the Savior of all mankind, right? You have bigger fish to fry than my nonexistent love life." She laughed to herself. "I'm pathetic. But let me tell you, that man is hot. Tall, dark, and rugged." In her mind she could picture the look of him, long legs and broad shoulders, his strength evident even beneath work pants and the navy jacket he typically wore. She sighed. "I don't even know his name. How dumb is that?"
"Um, excuse me, but who are you talking to?"
She jumped at the sound of a deep voice behind her, a muted squeak bursting from her mouth, then spun around to find a giant of a man standing there, feet planted, arms crossed, and an amused expression on his face. Not just any man. The man.
Her cheeks flamed with embarrassment. "Baby Jesus?" she suggested weakly. Busted talking to a doll. She felt about three years old.
He chuckled. "Really?" He nodded at the bundle in her arms. "What were you going to do? Brain me with him?"
What? It took a few seconds before she realized that she'd grabbed the doll like a weapon and was currently holding it like she was a quarterback ready to go long. Charlie looked down at the doll's face and then tucked it more securely in her arms. "You startled me, that's all," she replied, emitting a breathy laugh. Holy crap. From afar he'd looked big, but her dream guy was over six feet for sure, probably closer to six four, big feet in big boots, faded jeans, and one of those plaid quilted jackets she'd seen a lot of the men around here wear when the weather was cold but not downright frigid. His arms were crossed, and the stance accentuated the muscles in his arms and shoulders. His hair was thick and dark, highlighting a face that sported a stunning set of brown eyes with long lashes, a strong jaw, and good cheekbones.
"I'm Charlene," she offered, only stammering a little, holding the doll in one arm and extending her other hand. "Charlie, actually."
***
The It Must Be Christmas anthology may be purchased from these retailers: Amazon, Barnes & Noble and Books-A-Million.  The novella, "Christmas at Seaside Cottage", is also available individually through these retailers:  Amazon, Barnes and Noble, iTunes and Kobo.
***
About Donna
While bestselling author Donna Alward was busy studying Austen, Eliot and Shakespeare, she was also losing herself in the breathtaking stories created by romance novelists like LaVyrle Spencer, Judith McNaught and Nora Roberts.  Several years after completing her degree she decided to write a romance of her own and it was true love! Five years and ten manuscripts later she sold her first book and launched a new career. While her heartwarming stories of love, hope, and homecoming have been translated into several languages, hit bestseller lists and won awards, her very favorite thing is when she hears from happy readers.
Donna lives on Canada's east coast with her family which includes a husband, a couple of kids, a senior dog and two crazy cats. When she's not writing, she enjoys reading (of course!), knitting, gardening, cooking…and is a Masterpiece Theater addict.  You can connect with her through her website, www.DonnaAlward.com, or on Facebook or Twitter. Join her mailing list here.
Save
Save
Save
Save
Save
Save
Save
Save
Save
Save
Save