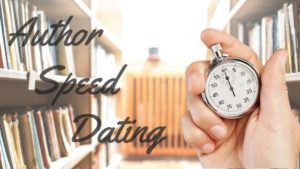 I love discovering new authors, so I wanted my blog to be a place where readers and my author pals could come together. Only we like to do this Speed-Dating style. Check out a new author and her work here every Wednesday, and if the spark is there, you'll have a match. 
This week's guest: Rachel Brimble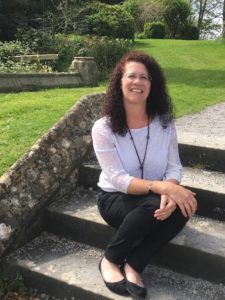 15 Questions
1. Picture yourself inside an airplane with the door open and a parachute on your back. Would you shout "whoo-hoo" and leap out or hold on for dear life and beg the pilot to land? Or is this question moot because you would be waving up at the plane from solid ground? 
Good lord, I'd hold on for dear life and beg the pilot to land! I only fly in the name of vacation, spending the entire flight thinking about my destination rather than the fact I'm thousands of feet in the air. *shiver* 
2. Name a character from one of your novels that is most like you. Now name one least like you. Explain why?
I'd say Kate from ETHAN'S DAUGHTER is most like me – she tries to care for everyone, worries for everyone and more often than not feels overwhelmed and unsure of her own abilities…but nothing stops her from forging forward!
Least like me is Sasha Todd from WHAT BELONGS TO HER – she is one woman who won't be messed with! She's gutsy and strong and takes no prisoners. She's least like me, but I would LOVE to be more like her. Love that woman!
3. What is your favorite writer's "uniform," and how much do you love that you get to pick it out?
My uniform is jeans, T-shirts or vests and flip-flops – I love that I can wear what I want, when I want, without having to dress up for work. I know some writers who stay in their pajamas all day. Wish I could do this, but I have to get dressed to get my head in 'work mode'.
4. Would you consider yourself an exercise fanatic, a couch potato or somewhere in the middle? And when you do get out to exercise, what is your favorite way to sweat?
I don't exercise at all! Having said that, I wouldn't consider myself a couch potato either. I walk my dog for at least an hour and half a day (split into two walks) and am constantly running around after my two teenagers/the house etc. I have absolutely no idea how many times I run up and down the stairs to my office every day! 
5. How many books have you written and in which genres and sub-genres?
I've written twenty-one books (18 currently published), and I have written mainstream romance, romance suspense, Victorian romance, romantic comedy and Edwardian romance. I'd like to try Georgian romance next!
6. In 10 words or less, give your best advice to aspiring authors.
Give yourself permission to write a crappy first draft. 🙂
 7. Name a talent you have that your readers might not know about? (Keep it PG, of course.)
Apart from multi-tasking at an incredible speed?? Um, I can pull an extremely exaggerated Elvis-style lip curl & no, I'm not attaching a pic, lol!
8. What are the steps you take when you start writing a new book? Character sketches? Extensive research? Fly by the seat of your pants and figure it all out later?
I start by browsing the internet for pics of my hero and heroine (and villain, if I have one) and then write character sketches and a 3-4 page synopsis. Then it's onto a chapter plan where I write a paragraph for each chapter.
The first draft I write from start to finish without looking back – I am definitely a plotter!

9. From the over-30-action-hero-hotties list: Will Smith or Chris Evans?
Ooh, as much as I wouldn't kick Will Smith out of bed…it has to be Chris Evans for me. I usually like my men clean-shaven, but any man who can carry off a beard like Chris can gets my hottie vote! 
10. If you had it all to do over again, what would you do differently in your writing career?
I would prepare myself for the amount of promo work needed on top of the actual writing. This side of the business never occurred to me! It wasn't until my fourth book was published that I started actively promoting.
Apart from that, nothing. I've loved and learned through every aspect of my journey and hope I get to write for many more years to come.
11. If you could have dinner with one living celebrity or world leader, who would it be, and what would be on the menu?
Oprah Winfrey – I think she's a great role model, and I find her very inspiring and empowering. As I don't cook, I'd have my husband prepare either his amazing Thai green curry or fish pie. Yum!
12. Preference for a great evening with your significant other: dinner out and possibly dancing or takeout and your control of the remote for Netflix?
Takeout and Netflix – as much as I love dinner and dancing, I am happiest in my pjs with my husband beside me, preferably watching something that makes us laugh. 🙂
13. Do you have a book that you been dreaming of writing for years, and what has kept you from writing it?
I would love to write a book about the slave trade that happened in my home city of Bristol during the 19th century. Bristol was one of the main harbors for importing slaves, and I am passionately against this atrocity and would love to create a story from a slave's point of view and a reluctant slave owner's wife. Philippa Gregory has already written a book along these lines. A RESPECTABLE TRADE is a phenomenal if, at times, a hard read.
14. Were there other authors who helped you along the way on your writer's journey, and how did they make a difference for you?
Far too many to name them all! They have helped me by supporting me through the times I thought I'd never write a book, hated the one I was writing or thought I wouldn't be published again. They have also helped with their ups and down, experiences and passing on what works and what doesn't. 
15. If we imagine that a reader has lived on a desert island and missed the opportunity to read one of your books, which title do you recommend that she order as soon as she returns to civilization?
HER HOMETOWN REDEMPTION for contemporary and WHAT A WOMAN DESIRES for Victorian – feisty, go-getting heroines and swoon-worthy heroes. What's not to like? 
***
Ethan's Daughter



By Rachel Brimble
On the other side of the front door, the kitchen/dining room stretched from the front to the back of the house. Even though it was in semi-darkness, Leah could see straight through to some French doors at the back, the only illumination coming from the overhead light of the stove as it glinted on steel toward the center of the room.
Snapping her gaze to Daisy, Leah's opinions on personal tastes flew to the wayside. The little girl's eyes were wide as she chewed her bottom lip. Leah frowned. "Are you all right, sweetheart? Do you want me to knock?"
Daisy nodded and raised her arms toward Leah as though asking to be picked up. "Yes, please. Daddy might be mad."
"Oh, Daddy won't be mad." Leah bent down and picked her up, hitching her onto her hip as Daisy's arms wound around her shoulders. "If Daddy's mad, I'll show him how to calm himself down real quick. Don't you worry about that." Leah lifted the brass knocker and let it fall a little harder than necessary.
No answer.
Narrowing her eyes, she knocked again.
She was readying to knock a third time when the door swung open.
"I told you to get the hell out of here and not come back." The man's dark hair sprouted from every angle, his raging eyes bulging and his right hand swathed in a blue and white­­––and bloodied––dishtowel. His gaze held Leah's for a split-second before he snapped his attention to Daisy. "My God, Daisy. What are you…" He cupped Daisy under her armpits, wincing slightly as he pulled her from Leah's arms to hold her close. He pressed a lingering kiss to her temple, his raging eyes hidden behind his closed lids.
Leah stared, completely stunned by this flannel-shirted, blue jeaned, incredibly good-looking man…despite the bulging eyes. She coughed in a bid to find her voice. "Mr. James?" She planted her hands on her hips. "You're Daisy's father, I presume?"
He opened his eyes and Leah stepped back.
Apparently when his eyes had softened and were filled with regret rather than rage, they looked good. Really good.
She stilled. Oh, good Lord. Be damned if those weren't the eyes of Templeton's reclusive novelist, Ethan James.
***
ETHAN'S DAUGHTER, an August 1, 2107, release from Harlequin Superromance and a part of the  Templeton Cove Stories miniseries, may be pre-ordered through these retailers: Amazon US, Amazon UK, Barnes & Noble, Harlequin and Kobo.
***
About Rachel
Rachel lives with her husband and two teenage daughters in a small town near Bath in the UK. After having several novels published by small US presses, she secured agent representation in 2011. Since 2013, she has had seven books published by Harlequin Superromance (Templeton Cove Stories) and an eighth coming in Feb. 2018. She also has four Victorian romances with eKensington/Lyrical Press.
Rachel is a member of the Romantic Novelists Association and Romance Writers of America, and was selected to mentor the Superromance finalist of So You Think You Can Write 2014 contest. When she isn't writing, you'll find Rachel with her head in a book or walking the beautiful English countryside with her family. Her dream place to live is Bourton-on-the-Water in South West England.
She likes nothing more than connecting and chatting with her readers and fellow romance writers. Connect with her through her website, www.rachelbrimble.com, and her blog. Find her on these social media channels:   Twitter,  Facebook, her Facebook Street Team, her Amazon Author Page and Goodreads.
Save
Save
Save
Save
Save
Save
Save
Save
Save
Save
Save
Save
Save
Save
Save
Save
Save
Save