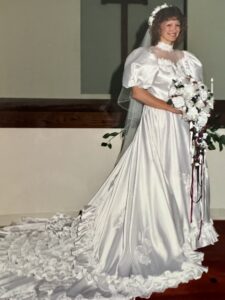 Isn't it funny how feelings and memories can become so carefully threaded into the fabric of an inanimate object that it's difficult to let go? That's the journey I traveled this year with my wedding dress.
Thirty-three years ago, I walked down the aisle in this Cinderella gown to meet my hero at the altar and vow to spend the rest of my life loving him. That garment of satin—ruffles, poofy sleeves, appliques and scalloped hemline—has traveled with us ever since, carefully stored in its protective box.
It has lived in four houses, in two states and four cities. It has witnessed the births, adolescences and launchings of three women I adore. And it has taken up valuable space in rotating closets.
That changed recently.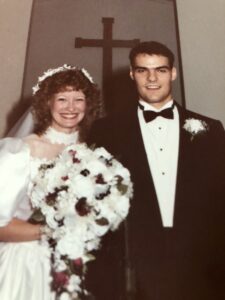 On New Year's Eve, my husband and I spent eight hours cleaning out our walk-in closet, the catch-all for our possessions that couldn't be stored in the attic or basement. (I know. New Year's Eve. We're clearly party animals, but that's a story for another day.)
During our purging session, we packed up clothes we never wore and treasures like my high school class jacket—not to be confused with a letter jacket—plus two unfortunate pillows that used to rest on my grandma's sofa and some pieces of wall art, purchased at garage sales that I should have avoided altogether.
Then I pulled out that big white box.
Now don't get me wrong. The idea didn't come out of the blue. I'd been thinking about it ever since I saw a post from my author friend, Elizabeth Bevarly. She wrote about donating her wedding dress to be made into angel burial gowns for infants. The idea spoke to me. Just a tiny kindness for parents, who'd lost their precious babies. Something to show them that others care while they endure the worst days of their lives.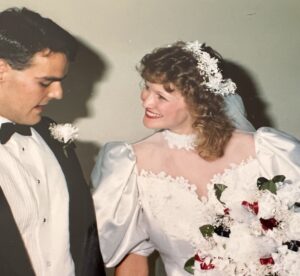 When I'd clicked on the link for the seamstress, who'd sewn the gowns using material from Liz's dress, I was surprised to find that Lisa Guernsey lives in Columbus, Indiana. The same Columbus where I worked my first post-college job as a newspaper reporter. Where I met my husband. Where I wore my wedding gown.
I'm not usually into signs, but this felt like one.
On closet-cleaning day, I announced to my husband that I would be donating my dress as well. Though he'd agreed to unload every other item in our "donate" pile, he cautioned me on this one, saying I didn't have to do that. But I was determined. I reached out to Lisa and arranged to ship her the gown for her personal charitable mission. All I had to do was put it in the mail.
My mistake was believing it would be easy.
Though my gown had been following my life in moving trucks for three decades, I still didn't believe I was all that attached to it. I thought of it as just another possession I no longer needed, something filling space I wouldn't have when we eventually downsize. Practical. Forward thinking. And harder than I thought.
So, the box sat. Next to my dresser. In the way. Waiting.
I hadn't changed my mind. I was still planning to un-box the dress, try it on one last time (as one does), repackage it and ship it off to its future use. I believed in the cause. My heart went out to those grieving families. I wanted to help.
But before I could do that, I had to convince the owner—uh, me—to open that box.
It was just a dress, I reasoned. One I'd worn once, though admittedly on a pretty significant day. Still, it was just Day 1 of a marriage that has spanned nearly 12,000 now. I wasn't worried that passing on the gown would make my memories fade, either. Not when after 30 years, I can still feel the heat of that August day, hear the rain on the church roof, and see my baby niece mouthing my full sleeve while I danced with her. Even the excuse that "my daughter might wear it someday" has lost its steam. Cinderella '90s wedding dresses are fashion don'ts these days. And no one would agree to wear the hoop I had to slip on under it.
I had to stop stalling.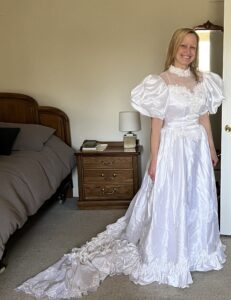 When one of our daughters visited in February, I decided it was time. While she and I were alone in the house, I told her, "I'm going to need you to help me." I guess I just needed someone with me to witness the moment. And maybe to acknowledge that it was hard.
But I was ready.
I ripped the seal off the box, pulled the gown out from the layers of light blue tissue paper and stepped into it. Then, holding my breath, I zipped. It still fit. Bonus! But even as I celebrated, I braced myself for the wave of emotions that were sure to follow. They came, but it was a slack tide, a little froth around the ankles. After our sweet daughter took my photo in the dress, I slipped out of it, carefully packaged it and taped the shipping box shut.
Seven weeks after I promised to mail the gown, I actually did. And I was relieved.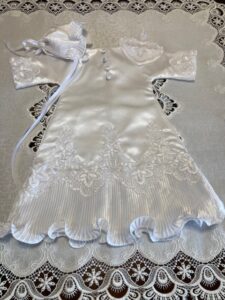 When I messaged Lisa to let her know that the dress was on its way, she told me she understood the delay. Some women even change their minds. "It's a very personal decision," she wrote. That made sense to me now.
A few weeks later, when she sent me a photo of the first angel gown from my dress, I cried. But not for me. Not for the loss of my dress. My heart ached for those parents whose child might one day be laid to rest in it. I can't begin to imagine that type of loss.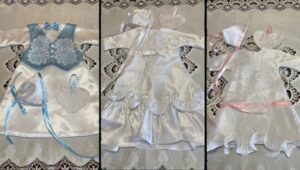 The outfits are all finished now. Lisa was able to make seven different angel gowns from my dress. She will donate them to a funeral home in her area. I pray that they are never needed, but if they are, I hope they will bring a moment of comfort.
Thank you, Lisa, for your precious mission and for allowing me to be a part of it.
I'm happy knowing that the dress that once made me feel like a beautiful bride can now provide a kindness for others. It seems so right that after I'd loosened the threads of my own attachment, my gown could be transformed into more sweet garments, all sewn with love.