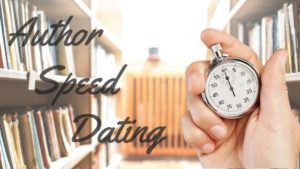 If there's one thing I enjoy almost as much as writing books, it's READING books. I love discovering new authors, too. So I thought my blog would be a perfect place to introduce my authors friends to potential new readers. Only to give it a twist, we're doing this Speed-Dating style. Check out a new author here every Wednesday, and if the spark is there, you'll have a match.
This week's guest: Elizabeth Heiter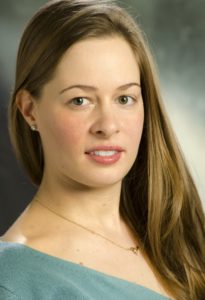 15 Questions
1. Ferrari or Ford F-150?
Ferrari.  Preferably on a closed racetrack.  I like a little speed!
2. What is your biggest fear as you are writing a story?
That it will all come together!  Doesn't matter how many I write, I always try to give myself a new challenge and I always fear I'll suddenly forget how to finish a book.  Writer neurosis, I suppose!
3. Name a TV you have either binge-watched or own on DVD.
Psych.  I love something funny to balance out my research when I have time for a break, and that show cracks me up every time.
4. What is the one thing you wish someone else had told you before you published your first book?
That it doesn't get any easier – the challenges just change!
5. Rolling Stones or Florida Georgia Line?
My taste in music is pretty eclectic, so both!
6. Name the most embarrassing concert you ever attended?
Hmmm…I'm not really embarrassed about it, but I went to a Bryan Adams concert where he played a lot of songs from the '90s.
7. What do you eat for dinner when you're all alone in the house, and no one has to know about it?
Dessert for dinner.  But let's be honest – I've done that in public, too.  My chocolate problem is well-documented.
8. Name your favorite gift you ever gave to someone else, and what made it special.
This isn't exactly a gift, but when my first book was finally published, I dedicated it to my mom and my critique partner.  It meant a lot to me to be able to publicly share how much they'd supported me and helped shape my writing over the years.
9. What is one of the biggest risks you've taken as a writer?
Honestly, in every book I try to tackle something that scares me a little.  But possibly one of the biggest was right from the start: I sold in two genres right away, and one was a genre and length I'd never written before I sold it.
10. Kurt Vonnegut or J.K. Rowling?
My taste in books is just as eclectic as my taste in music, so I'm going to have to say both here, too!  As a writer, I think it's really important to read – and to read widely.
11. What are your favorite activities outside of writing?
Downhill skiing – I haven't done it in a while and I miss it! (Maybe that's why I want to take a Ferrari around a racetrack, since I haven't flown down a hill on skis in a while!)  And of course, reading and spending time with friends and family.
12. How many books have you published, and how many had you written before you thought of yourself as a successful writer?
I have six books on shelves now and four more coming in 2017.  In some ways, I felt like a successful writer before I even sold (because I was proud of the work I put into the craft and the product) and in some ways, I'll probably never really feel like one because I'm always striving to improve and challenge myself in new ways.
13. What would you choose as your super power, and what would you do with it?
Maybe the ability to be two places at once.  I could be writing and skiing at the same time!
14. In which genres and sub-genres are you published, and which was the hardest and easiest to write?
I'm published in suspense and romantic suspense.  They're both challenging in different ways – suspense gives you tons of room to play with complicated twists and subplots, and romantic suspense (category) means entwining all the romance and all the suspense and keeping it under 60K.  Both are fun – I get to create a puzzle and (vicariously) kick some bad guy's ass!
15. Kardashians. Yes or no?
Nope.  Can't do it.  I prefer my drama in a book – with fewer paparazzi and more murder!
***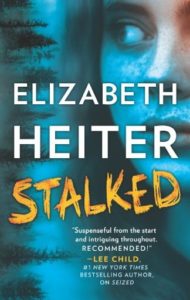 Stalked
By Elizabeth Heiter
"Where are you, Haley?" Linda whispered into the stillness of her daughter's room.
Today marked exactly a month since her daughter had gone missing. Since Haley's boyfriend Jordan had dropped her off at school for cheerleading practice. Since her best friend Marissa had waved to her from the field on that unusually warm day, watched her walk into the school, presumably to change before joining Marissa at practice.
She'd never walked out again.
How did a teenage girl go missing from inside her high school? No one could answer that for Linda. As time went by, they seemed to have fewer answers and more questions.
But Linda knew—with some deep part of her she could only explain as mother's intuition—that Haley was out there somewhere. Not buried in an unmarked grave, as she'd overheard two cops speculating when day after day passed with no more clues. Haley was still alive, and just waiting for someone to bring her home.
Linda clutched Haley's bright pink sweatshirt tighter. She fell against the bed, trying to hold her sobs in, and the mattress slid away from her, away from the box spring.
Linda froze as the edge of a tiny black notebook caught her attention.
The book was jammed between the box spring and the bedframe. The police must have missed it, because she'd seen them peer underneath Haley's mattress when they'd looked through the room, assessing her daughter's things so matter-of-factly.
Linda's pulse skyrocketed as she yanked it out. She didn't recognize the notebook, but when she opened the cover, there was no mistaking her daughter's girly handwriting. And the words…
She dropped the notebook, practically flung it away from her in her desire to get rid of it, to un-see it. She didn't realize she'd started screaming until her husband ran into the room and wrapped his arms around her.
"What? What is it?" he kept asking, but all she could do was sob and point a shaking hand at the notebook, lying open to the first page, and Haley's distinctive scrawl:
If you're reading this, I'm already dead.
 ***
 A popular girl goes missing, and everyone close to her has something to hide.  Follow FBI profiler Evelyn Baine as she tries to uncover which of Haley's secrets might have led to her disappearance in STALKED by Elizabeth Heiter. The fourth book in The Profiler series, STALKED will be available December 27, 2016, from MIRA Books.
STALKED will be available at many major retailers and from these online retailers: Amazon, Barnes & Noble, Books-A-Million and Harlequin.
***
About Elizabeth
Critically acclaimed and award-winning author ELIZABETH HEITER likes her suspense to feature strong heroines, chilling villains, psychological twists, and a little bit (or a lot!) of romance. Her research has taken her into the minds of serial killers, through murder investigations, and onto the FBI Academy's shooting range. Her novels have been published in a dozen countries and translated into seven languages, and her novels have also been shortlisted for the Daphne Du Maurier, Booksellers' Best and National Readers' Choice awards and won the RT Reviewers' Choice award.  You can learn more about Elizabeth at www.elizabethheiter.com or chat with her on Facebook or Twitter.
Save
Save
Save
Save
Save
Save
Save
Save
Save
Save
Save
Save
Save
Save
Save