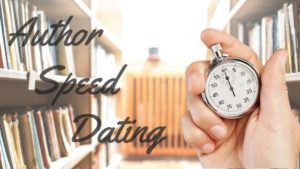 I love discovering new authors, so I wanted my blog to be a place where readers and my author pals could come together. Only we like to do this Speed-Dating style. Check out a new author and her work here every Wednesday, and if the spark is there, you'll have a match. 
This week's guest: Anna Sugden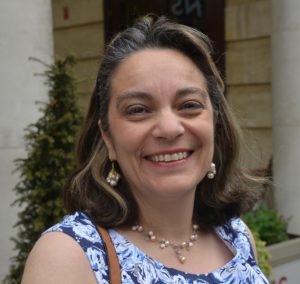 15 Questions
1. If you had the chance for front-row tickets AND backstage passes with any band, past or present, which one would you be jamming with? Explain your choice.
Queen – always regret I never got to see them before Freddie Mercury passed away. They are rock gods, and I think it would be one heck of a party!
2. What is the one thing you wish someone else had told you before you published your first book?
It took me so long to get published that I think I've heard it all, and it's all true! I think what I would tell people is that nothing really changes – you still get rejected when you're published!
3. Keith Urban or Adam Levine?
Don't know either of them well enough to choose, though as eye candy … yum!
4. What are your go-to meals for the final week before deadline?
Anything my lovely husband makes for me!
5. Give the title of the first manuscript (published or unpublished) you ever wrote. What was the story about?
"Paws for Love" – about a woman who owned a cattery and hated an arrogant businessman who boarded his cat with her! Included were some fun secondary characters — matchmaking elderly neighbours, a nasty ex- and some precocious cats.
6. Books by George Orwell or Kristin Hannah?
Definitely Kristin Hannah!
7. At which time of day are you more productive as a writer, mornings or nights, and is caffeine a friend or foe?
That's changed recently – I've learned I'm best first thing in the morning (before my mind gets distracted) and last thing at night because I'm a night owl. Friend – especially hot tea with milk (English breakfast – definitely not Earl Grey!) or Coke Zero.
8. Which WIZARD OF OZ character were you most like during your junior high years?
It's a bit corny, but I was very much a Dorothy – a dreamer, wanting adventures, living vicariously through books, especially romances. I was also a bit of a fish out of water in that I lived in the US (in northern Virginia), because my Dad was in the World Bank, but went to posh boarding school back in England. Two very different cultures and I didn't really fit in the posh boarding school one. If only I'd had a Toto with me! To this day, I have a split soul that misses the US when I'm living in England and vice versa. I'm lucky enough that I can still get the best of both worlds and consider both countries my home. And there really is no place like my two homes!
9.  In addition to writing, what are your other outlets for your creativity?
I love craft projects – cross stitch, crochet, knitting – as long as they're not too big.
10. What type of shopper are you: mall rat, online shopper, bargain sleuth, or none of the above?
These days, I'm  more of an online shopper. It's so easy to click and have things delivered, which you can then try on in the comfort of your own bedroom (and not those horrid communal changing rooms!). The main exception to that is a new pair of shoes – which I may have a bit of a passion for – prefer to do that in a real shop. Plus, most places do free returns now too, so you don't have the hassle of driving and parking and dealing with the mall crush. We even have our groceries delivered! However, you can't beat a day pottering around the shops with a girlfriend.
11. Have you ever experienced misgivings as an author, and, if so, what are some of the ways you've tried to keep those feelings at bay?
Always – I don't think there is an author out there who doesn't. "Am I good enough" haunts us all. My support crew (lovely hubby, dear writer friends, fab agent) boost me through the doubts. But at the end of it, writing is what I enjoy, so I write for myself and try not to worry.
12. Scandal or Pawn Stars?
I haven't watched either, but Pawn Stars intrigues me.
13. How many books have you published, and how many are still tucked in a drawer somewhere?
Five books and 1 anthology of short stories. As for those "in the drawer" (it's a virtual drawer – a special file on my computer) probably another 8-10 across contemporary and romantic suspense (my other love).
14. What was the most challenging revision you ever had to make in a manuscript?
All big revisions are challenging! Usually you get good direction as to how your editor wants you to go, but when you get a one line, broad comment, that's very hard. Finding the perfect beginning for A PERFECT DISTRACTION was probably the hardest to get right – I lost count of the number of different versions. I still have my favourite deleted scene – I should put it up on my website some time!
15. Sure, it's like picking a favorite child, but which one or two of your titles do you secretly love just a little more?
Ooh mean question!! A PERFECT DISTRACTION will always be special as it was the first book I sold and the one I fought so hard to have published, despite being told repeatedly that sports heroes don't sell. And who doesn't love Jake "Bad Boy" Badoletti? <swoon>. A PERFECT TRADE is also special as it features a heroine who used to be a puck bunny. Jenny has had a special place in my heart since she strode into a scene in the first Ice Cats book, and writing her story was tough! But my favourite is one that hasn't been published … yet. It's about a Texas cowboy who inherits half of an English sheep farm (and was a two-time Golden Heart finalist). Some day …
***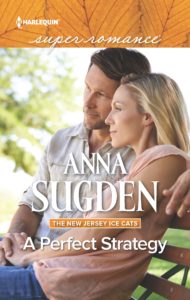 A Perfect Strategy
By Anna Sugden
As Sapphie made her way across the room, she spotted Scotty Matthews at the bar, nursing a drink. Sapphie had always had a fan-girl crush on the former Ice Cats captain. Her favorite player since she'd started following the team, he'd been a powerhouse on the ice and, from what she'd heard, a great leader and a mentor in the locker room. He was a nice guy but hard to get to know. She'd seen him at several Ice Cats parties and he'd seemed pretty self-contained. Watching everything, saying little.
She'd found it hard to be her usual chatty self with him. He'd look at her with those serious blue eyes and she'd become tongue-tied. Because she'd never been fazed by a gorgeous man before, she'd assumed it was because he was older than her—in his early forties. Though he'd never said anything overtly disapproving, she'd felt she never quite measured up to his standards.
Tonight he looked lonely.
He'd obviously come to the reception on his own. She'd heard about his divorce last year; hard not to when it had been splashed across the media.
As if he felt her studying him, Scotty looked up and their gazes met.
There was something about the recently retired captain that drew her to him. His dark hair, flecked with gray, was still short, like it had been when he was playing. His tanned face bore the scars of his career. The one that had always fascinated her was the white line that marred his otherwise perfect lips. Left side, near the corner. The result of a high stick—one that hadn't been penalized—it had taken twenty-five stitches to close the cut.
He gave a half smile, raised his glass to her, then returned his attention to his drink.
Suddenly, she wanted to make that half smile full-blown.
Sapphie sauntered to the bar and settled on the stool next to him. She was pleased to notice him checking out her legs as she crossed them.
"I suppose a dance is out of the question, Captain?" Her question came out slightly husky, giving it an unintentionally sultry note.
***
A PERFECT STRATEGY, a February 2017 release from Harlequin Superromance and part of The New Jersey Ice Cats series, may be purchased through these retailers: Amazon, Barnes & Noble, Books-A-Million and Harlequin.
***
About Anna
A former marketing executive and primary school teacher, award-winning author, Anna Sugden, loves reading and writing happy endings as much as hockey (where she prefers a happy ending for her team)! When she's not researching hockey players (for her books, of course), she makes craft projects and collects penguins, autographs and memorabilia, and great shoes.
Anna lives in Cambridge, England, with her husband and two bossy black cats. Learn more about Anna, her books and her shoes at www.annasugden.com . You can also follow her on Facebook, Twitter and Pinterest.
***
Bonus!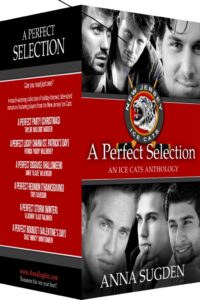 For lovers of The New Jersey Ice Cats series, or those who'd just like to meet the guys,  Anna Sugden offers a collection of bite-sized romances featuring popular players from the series. The anthology is offered for free until the 2017 Stanley Cup is won. Get y0ur copy here.
Save
Save
Save
Save
Save