Welcome to My Website
I'm so glad you're here. You might not know this about me, but I come from a newspaper background. For this reason, I am happiest when offering the biggest news on Page 1. So here it is. Count on my Home Page for up-to-date news on my book adventures. (Some movie stuff, too.) Read on and sign up for my newsletter if you'd like to get the news first.
♥
Louisville Book Festival is almost here!
I'm thrilled to be participating in this year's Louisville Book Festival on Nov. 10 and 11 at the Kentucky International Convention Center. The event, sponsored by Louisville Book Festival and Louisville Free Public Library, will be from 10 a.m. to 6 p.m. both days. Admission is free and open to the public. In addition to opportunities to meet more than 100 authors and purchase signed copies of their books, attendees may attend presentations on books and publishing, stroll through exhibits and greet book characters like Pete the Cat.
On Saturday, Nov. 11, from 1 to 1:50 p.m., I'll be joining author pals Toni Blake, Isabelle Drake and D.A. Henneman in "What's Not to Love – Romance Panel Discussion." Hope to see you there!
♥
Agent Colton's Secret Investigation available now
I'm so excited for the release of my newest book in the Colton world: Agent Colton's Secret Investigation.
I had so much fun researching this story, from taking a virtual drive on the same highway Deirdre Colton travels in Wyoming to revisiting some of my favorite spots in New York City. I love redemption stories, so I had a great time writing Deirdre's. It was fun returning to all the FBI research that I completed for Her Dark Web Defender. (Thanks to my high school friend, who is a retired special agent for those details.) I even had the chance to research alpacas for this one. (It's a tough job, but someone has to do it. :))
I loved getting to write Micah as beta heroes are my favorite. And who can't fall in love with a rancher single dad?
You may purchase your copy of Agent Colton's Secret Investigation through these and other retailers: Amazon, Barnes & Noble, Books-A-Million and Harlequin. Enjoy!
♥
To Trust a Colton Cowboy available now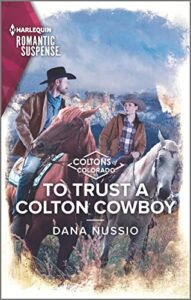 In TO TRUST A COLTON COWBOY, Book 11 in the Coltons of Colorado continuity series, independent ranch hand Kayla St. James must risk trusting the most unlikely partner as she faces off against the escalating threats of a cyber stalker. Co-owner of the Gemini Ranch, Jasper Colton, has tried to keep his distance from Kayla, who's off-limits to him for two reasons: he's her boss and his corrupt judge father sent her dad to prison, where he died. But when Kayla admits she's been receiving threatening texts from someone, who claims that Kayla has information on some hidden item, Jasper knows her safety comes first. He insists that she move into a spare room, where he and his dog, Bandit, can protect her while they search for answers about whoever is targeting her. Can a loner, who has every reason not to believe in others, trust a Colton with her heart and find the family she has always longed for?
I loved collaborating with my fellow authors in this 12-book series. I hope you enjoy all the books.
You can find a copy at your local store along with these online retailers: Amazon, Barnes & Noble, Books-A-Million and Harlequin.
♥
Update on my WIP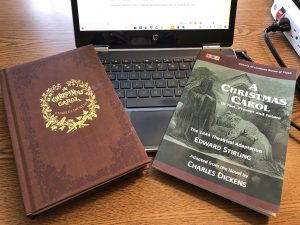 I don't want to give too much away about my WIP (Work-in-Progress), but I can tell you it's beginning to look a lot like Christmas around here. I love writing Christmas books, which you might have guessed by looking at my Books Page. This one is a blast to write. I created fun Pinterest boards for it and even built a Spotify playlist.
Here are some of my fun research materials for this one. Write on!
♥
Returning to the world of Colton
I'm thrilled to announce that I'll be writing for a third time in the Colton World, this time in the Coltons of Colorado: Ultimate Justice series for Harlequin Romantic Suspense. My story, Book 11, in the series of 12, will be released in December 2022, just in time for Christmas. I'll let you know more about this one when I know more.
♥
Colton Nursery Hideout available now
COLTON NURSERY HIDEOUT, Book 3 in the Coltons of Grave Gulch continuity series, is the story of two executives for whom one night of passion changes everything. Announcing her pregnancy to her co-CEO is the last thing Tatiana Davison expected to do on her first day at Colton Plastics. Especially since Travis Colton is both the baby's father and the man who rejected her. Travis in no more shocked by the news than by his fierce feelings of protectiveness over Tatiana, who brings danger, along with her technical skills, to his growing company. Presented with the family he never knew he wanted, can Travis guard his heart while shielding Tatiana from the media, her serial-killer father, and the copycat killer threatening her and their unborn child?
I had so much fun collaborating with my fellow authors in this 12-book series. I hope you enjoy the books too.
You can find a copy at your local store along with these online retailers: Amazon, Barnes & Noble, Books-A-Million, and Harlequin.
♥
Fun surprise for Christmas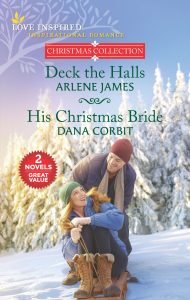 Christmas came early in 2021 with the Love Inspired re-issue of my holiday book, HIS CHRISTMAS BRIDE, alongside DECK THE HALLS, by Arlene James.
The collection will be sold in stores and through online retailers. Oorder your copy here:
Amazon, Barnes & Noble, Books-A-Million, Harlequin, and Target.
♥
A Hickory Ridge Christmas reissues in time for Christmas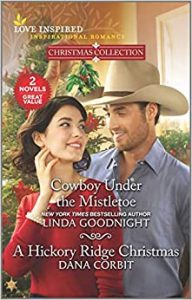 Just in time for Christmas, one of my favorite novels, A HICKORY RIDGE CHRISTMAS, has been reissued in a 2-in-1 Christmas Collection from Harlequin Love Inspired, alongside COWBOY UNDER THE MISTLETOE by New York Times bestselling author, Linda Goodnight. If you love reunion romances, you're in luck with both of these stories. I have had so much fun revisiting the heartbreak and the healing of Hannah and Todd's romance.
Here's the back-cover blurb for A HICKORY RIDGE CHRISTMAS.
Hannah Woods had been the talk of Hickory Ridge five years ago. Her daughter was the light of her life, though Hannah was unable to forgive the one who'd loved her—and then left. Now Todd McBride was determined to find the woman he still adored and ask for a second chance. But Hannah's secret—a child he'd never known about—threw his plans into a tailspin…
Get your copy in stores or through these and other online retailers: Amazon, Barnes & Noble, Books-A-Million, Harlequin, Target, and Walmart.
♥
In Colton's Custody makes Publishers Weekly bestseller list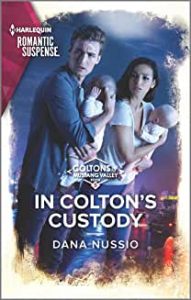 I was thrilled to learn that my March Harlequin Romantic Suspense, IN COLTON'S CUSTODY, made the Publishers Weekly Bestseller List. The story came in at #24 on the Mass Market Frontlist. It was such an honor to have my story listed alongside books by great authors including Debbie Macomber, James Patterson, Raeanne Thayne and Dean Koontz.
IN COLTON'S CUSTODY is the story of two single parents, whose worlds are upended when they learn the possibility that their infant daughters were switched at birth. The possibility rocks Asher Colton, the manager at Rattlesnake Ridge Ranch, as it's the second time such a claim has been made in his family, and the first turned out to be true.  The only worse thing for daycare center owner Willow Merrill than dealing with the possibility of losing the child she loves is learning that the parent of the other infant in question is a Colton, the family she has every reason to despise.
This book was released March 1, 2020, and is available from these and other retailers: Amazon, Barnes & Noble, Books-A-Million, Harlequin.
♥
Novella released as TV movie, Baby in a Manger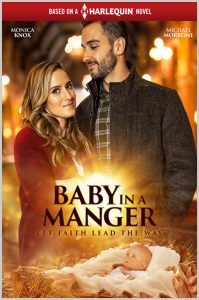 It was such a wild ride watching BABY IN A MANGER, the TV movie from Canadian studio, Brain Power Studios, based on my Harlequin novella, "Child in a Manger." The story, part of the two-in-one novel, A FAMILY FOR CHRISTMAS, from Harlequin Love Inspired, was directed by Justin G. Dyck and adapted for the screen by Keith Cooper.
This was a Bucket List moment for me as an author as I finally had the chance to see one of the stories from my imagination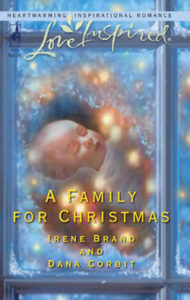 played out out on the small screen. I even have a writing credit on the International Movie Database.  (Another check on the Bucket List.)
I had so much fun getting to know the lovely Canadian actors, Monica Knox, Michael Morrone and Caylin Turner. Monica and Michael even helped me to promote the U.S. premiere of the movie.
The trailer is below. Copies of the movie DVD are still available for order here: Amazon, Walmart.
https://www.youtube.com/watch?v=u99ZmmZuvwM
Save
Save
Save
Save
Save
Save
Save
Save
Save
Save
Save
Save
Save
Save
Save
Save
Save
Save
Save
Save
Save
Save
Save
Save
Save
Save
Save
Save
Save
Save
Save
Save
Save
Save
Save
Save
Save
Save
Save
Save
Save
Save