Welcome to My Website
I'm so glad you're here. You might not know this about me, but I come from a newspaper background. For this reason, I am happiest when offering the biggest news on Page 1. So here it is. Count on my Home Page for up-to-date news on my book adventures. (Some movie stuff, too.) Read on and sign up for my newsletter if you'd like to get the news first.
♥
A Hickory Ridge Christmas reissues in time for Christmas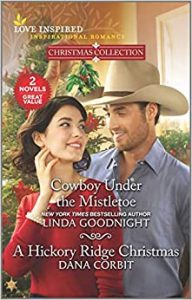 Just in time for Christmas, one of my favorite novels, A Hickory Ridge Christmas, has been reissued in a 2-in-1 Christmas Collection from Harlequin Love Inspired, alongside Cowboy Under the Mistletoe by New York Times bestselling author, Linda Goodnight. If you love reunion romances, you're in luck with both of these stories. I have had so much fun revisiting the heartbreak and the healing of Hannah and Todd's romance.
Here's the back-cover blurb for A Hickory Ridge Christmas.
Hannah Woods had been the talk of Hickory Ridge five years ago. Her daughter was the light of her life, though Hannah was unable to forgive the one who'd loved her—and then left. Now Todd McBride was determined to find the woman he still adored and ask for a second chance. But Hannah's secret—a child he'd never known about—threw his plans into a tailspin…
Get your copy in stores or through these and other online retailers: Amazon, Barnes & Noble, Books-A-Million, Harlequin, Target, and Walmart.
♥
In Colton's Custody makes Publishers Weekly bestseller list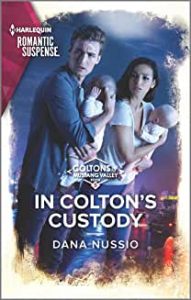 I was thrilled to learn that my March Harlequin Romantic Suspense, IN COLTON'S CUSTODY, made the Publishers Weekly Bestseller List. The story came in at #24 on the Mass Market Frontlist. It was such an honor to have my story listed alongside books by great authors including Debbie Macomber, James Patterson, Raeanne Thayne and Dean Koontz.
IN COLTON'S CUSTODY is the story of two single parents, whose worlds are upended when they learn the possibility that their infant daughters were switched at birth. The possibility rocks Asher Colton, the manager at Rattlesnake Ridge Ranch, as it's the second time such a claim has been made in his family, and the first turned out to be true.  The only worse thing for daycare center owner Willow Merrill than dealing with the possibility of losing the child she loves is learning that the parent of the other infant in question is a Colton, the family she has every reason to despise.
This book was released March 1, 2020, and is available from these and other retailers: Amazon, Barnes & Noble, Books-A-Million, Harlequin.
♥
Novella released as TV movie, Baby in a Manger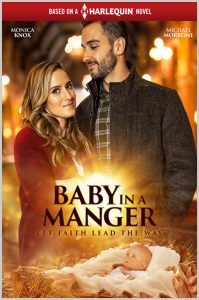 It was such a wild ride watching BABY IN A MANGER, the TV movie from Canadian studio, Brain Power Studios, based on my Harlequin novella, "Child in a Manger." The story, part of the two-in-one novel, A FAMILY FOR CHRISTMAS, from Harlequin Love Inspired, was directed by Justin G. Dyck and adapted for the screen by Keith Cooper.
This was a Bucket List moment for me as an author as I finally had the chance to see one of the stories from my imagination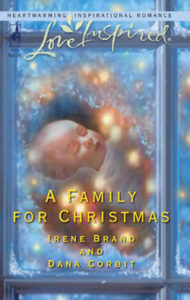 played out out on the small screen. I even have a writing credit on the International Movie Database.  (Another check on the Bucket List.)
I had so much fun getting to know the lovely Canadian actors, Monica Knox, Michael Morrone and Caylin Turner. Monica and Michael even helped me to promote the U.S. premiere of the movie.
The trailer is below. Copies of the movie DVD are still available for order here: Amazon, Walmart.
Save
Save
Save
Save
Save
Save
Save
Save
Save
Save
Save
Save
Save
Save
Save
Save
Save
Save
Save
Save
Save
Save
Save
Save
Save
Save
Save
Save
Save
Save
Save
Save
Save
Save
Save
Save
Save
Save
Save
Save
Save
Save