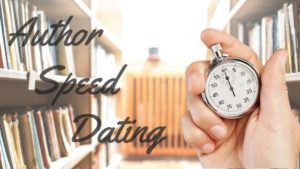 I love discovering new authors, so I wanted my blog to be a place where readers and my author pals could come together. Only we like to do this Speed-Dating style. Check out a new author and her work here every Wednesday, and if the spark is there, you'll have a match. 
This week's guest: Stella MacLean


15 Questions
1. Picture yourself at an amusement park. Are you the rider on the tallest roller coaster, clamoring for speed; the only adult on the spinning ride with the kids, begging for it to stop; or the bench-sitter, holding the coats and waving?
I'm the only rider on the spinning ride with the kids, cowering in the seat while screaming louder than the kids for the spinning to stop.
2. Name an author whose work you read and still think "I'm not worthy"?
Easy question. Kristin Hannah. I read her books and wonder why I can't be more like her—even for one of my books. She's such a great storyteller.
3. What was genre of the first piece you can remember writing, and how old were you when you penned this masterpiece?
I wrote a story about visiting my grandmother. I was eleven, and I loved her pantry that contained a cookie jar always filled with sugar cookies. To this day, I close my eyes, and I can smell that tiny space with its baking pans and along with all the ingredients needed to make bread, rolls, cookies and cakes.
4. Are you traditionally published, self-published or a "hybrid" author, and why did you choose that path?
I'm a "hybrid". I started out with Harlequin, and in between contracts, I published three indie books. Both have their challenges, and both are fun to do.
5. Which Star Wars character best describes your personality in regular life? What about on deadline?
I like to think I'm a clone of Obi-Wan Kenobi. When on a deadline, I'm the perfect match to Anakin Skywalker.
6a. Was there ever a time before or after you were published that you considered quitting?
After a really bad rejection letter, a heartbreaking epistle from a long-ago editor that nearly crushed me, I felt there wasn't any point continuing if I was really that bad. 
6b. If so, how did you convince yourself to try one more time?
If so, how did you convince yourself to try one more time? I didn't. I got a cat, a beautiful Maine Coon cat named Emma, and I pouted for about a month.
7. Celebrities aging beautifully: Mark Harmon or Sean Connery?
I have a confession to make. I LOVE Mark Harmon at any age. I named my latest cat after his NCIS character—Leroy Jethro Gibbs. I have watched every episode of NCIS at least three times. What can I say? I'm addicted.
8. Since all writers are readers, name your favorite hero or heroine from a book you've read. Has he or she had an impact in how you write the characters in your own books?
For me, it's always been GONE WITH THE WIND. I have an early edition of the book that belonged to my Aunt Doris. And my favorite character is Rhett Butler. There's a little Rhett in all my heroes. There is something so essentially male about Rhett, a quality I've been trying to capture in each of my books.
9. Who was the first person – besides your mom and dad – who told you that you could write?
I don't remember anyone telling me I could write. I just remember always wanting to write, and then life intervened and offered me the opportunity.
10. Do you own at least one purse (or twenty) from a well-known fashion designer, or are you more the bag-to-carry-my-junk-in type?
I have 22 purses, but if you tell anyone….
11. Do you belong to a critique group, and how has that membership affected your writing?
I belonged to a critique group many years ago, but I found I was trying to follow everyone's advice and losing the story I had in my head. An editor kindly pointed that fact out to me when I sent her my manuscript that had been the product of being in a critique group.
12. What are some of the activities you were participating in when you came up with an idea for a book? (Note: Keep it clean.)
I was a newbie nursing supervisor, my first shift on the job when, due to a paper work mix up, it appeared that I had lost a body in the morgue. That was the beginning of UNIMAGINABLE, my first book in my women-in-danger series.
13. Music: Pink or Taylor Swift?
Without involving myself in the ongoing "discussion" between Taylor and Katy, can I say Katy Perry?
14. Do you write the synopsis before or after you write the manuscript?
I always write a detailed synopsis before I start. I like having a story map as I call it.
15. What is your biggest dream for your writing career? The New York Times bestseller list? A movie deal? Your own island in the Caribbean? All of the above?
Definitely all of the above. My personal philosophy is that if you're going to dream, make it a big one.
***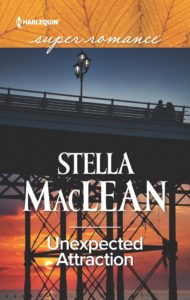 Unexpected Attraction
By Stella MacLean
Andrea soaked in Jake's touch, feeling calmed. "A few days ago I would have yelled at you instead of saying what I felt."
"You should give yourself credit for your honesty about how you feel. You could have stopped me from asking questions. I have no right to be invading your personal life."
Surprised and pleased by his comments, she faced him. "While we're on the subject of behavior, I want to ask something. How did you cope with your sisters as teenagers and not remember how moody they can be?"
"I remember quite well how unpredictable they could be," he said, his gaze on her, unnerving her.
"Can we call a truce?" she asked, leaning closer, absorbing his scent.
"I didn't know we needed one."
"Let's not talk about problems, please."
He touched her hair, ran his fingers along her cheek. "Excellent suggestion," he whispered, his lips moving slowly, purposefully along her chin to her mouth. He kissed her, wrapping her in his embrace.
Lost in his arms, she clung to him, never wanting this moment to end.
His kiss so gentle yet so possessive, had opened up a whole new world. She felt different in a way she couldn't describe. As he stroked her cheek and looked into her eyes, she knew she would remember this moment long after today.
"We probably should get going," he said, still holding her close.
His touch distracted her, and she struggled to answer. "I suppose so."
She could still feel his lips on hers as he loaded the trunk. She'd never been kissed the way he kissed her. Never with such care and tenderness. She felt adrift in a place of beautiful sensation.
She was finely attuned to him—his easy grace as he moved to open the car door for her, his confidence, his patient acceptance. It all held her spellbound. As if in a trance, she got in and fastened her seat belt. The feeling of intimacy in the narrow space after he climbed in swept all worries and troubles from her mind….
***
UNEXPECTED ATTRACTION, a June 2017 release from Harlequin Superromance, may be purchased through these retailers: Amazon, Barnes & Noble, Books-A-Million and Harlequin.
***
About Stella
Stella MacLean loves creating contemporary romances in which the characters find love and fulfillment while learning to live in the moment. She draws her story ideas from her life as a wife, mother, grandmother and friend, and from her professional background as a nurse and accountant. Stella is an avid gardener, taking great pleasure from digging in the dirt and watching seeds she has planted add beauty and grace to her gardens.  Stay in touch with Stella through her website, www.stellamaclean.com, or on Facebook or Twitter.
Save
Save
Save
Save
Save
Save
Save
Save
Save
Save
Save
Save
Save
Save
Save
Save
Save
Save