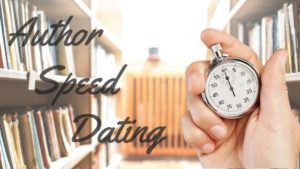 I love discovering new authors, so I wanted my blog to be a place where readers and my author pals could come together. Only we like to do this Speed-Dating style. Check out a new author and her work here every Wednesday, and if the spark is there, you'll have a match.
This week's guest: Jessica Jefferson


15 Questions
1. Name the best New Year's Resolution you have ever broken, and how quickly did you fall off the wagon?
This year, I wanted to have a better relationship with my almost-13yr-old. Four hours after writing that resolution, I checked my Comcast app that tells me how much data's been used on her cell phone, and I could see that she'd been using the phone all night, despite being told to hang it up right after midnight.  I may have lost my cool and grounded her forever.  Real constructive.
2. Hottest "The Avengers" actor: Robert Downey Jr. (Iron Man), Chris Evans (Captain America), Mark Ruffalo (The Hulk), Chris Hemsworth (Thor), Scarlet Johansson (Black Widow) or Jeremy Renner (Hawkeye)?
I may have wanted to have Chris Hemsworth's baby. Or current tense, want.
3. What are the highest and lowest moments you've had as a writer?
They happened in the same week!  Thanksgiving 2013…there I was, my first book came out and it was on the Amazon historical romance top 100 list. I was wedged somewhere in between two ridiculously famous authors and I was over the moon with excitement.  Then Thanksgiving morning I received my first one star review. It was so harsh I gave a little spiel about it in the monthly Romance Writers' of America publication. That reader eviscerated me and I think about that review every time I publish.
4. Please let us in on a few of your writing plans for the brand new year 2018. Any new books in the pipeline?
I have a contemporary that I would love to sell. It's part of a series, Bliss and Bourbon. I am also in the final stages of writing REVEALING MISS TISDALE, the last book in my Regency Blooms Series. I have a book to follow up on my Second Chance novella in the pipeline as well.  In 2016, I had a lot of life-altering things happen, and in 2017 I lost my mom after 8 months of in and out of hospital care, so I'm just happy to be getting back to writing again. 

 5. If you could only have one type of candy for the rest of your life, what treat would be satisfying your sweet tooth?
Reese's Peanut Butter Eggs.  The kind that come out at Easter. I hoard them.
6. Which is your preferred writing location: home office with favorite music, coffee shop with white noise or library in total silence?
I have kids so I'm not sure what this silence is you speak of. I have an office that I conduct business in, but I also camp out on the end of my sofa just so I can be there to make sure the house doesn't burn down or the kids don't hurt each other.
7. What's the worst piece of advice your mother ever gave you?
I now realize she was right about pretty much everything. I honestly can think of no bad advice.
8. In which sub-genres are you published, and what does the wide or narrow focus say about you?
I am very narrow – small town romance and Regency-era. This says that I don't have time to learn about anything else right now. Also, I love to read Regency, and am from a small town, so…
9. Name two of your favorite authors, one living and one no longer with us. How have their books impacted your writing?
Kathleen Woodiwiss is my favorite romance author who has passed on. I remember seeing her books on my mom's shelf and thinking they were so big, I'd never get through one. But as soon as I picked up that first book, I was hooked. I still have those old copies – they're held together with brown packing tape. I also have newer copies, but I still go back to the older ones.
As for living authors, Judith McNaught is probably at the top of my list. She hasn't had a book out for a while, and I really would love it if she could put out about twenty more. PARADISE was the first book I read of hers, and it made me think, wow – I need to write like her.
10. When you are starting a new book, what are some of the activities you do to get know your characters and develop your plot?
I write a lot of Post-it notes. I write who they are, who their family members are, map out their world. I also start a Pinterest page for each of my books and pin pics of what I envision each of the characters looking like.
11. Preferred winter activities: ice skating, ice fishing and anything involving snow or Couch Potato Olympics?
I am a gold-medalist in most consecutive episodes of Outlander consumed in a single sitting during the winter months. Winter – I'm not a fan.
12. Which character from one of your books is most like or most radically different from your significant other?
This is one of those questions that could get me in trouble. I have yet to write a hero that is like my husband. My character Jason St. Regis is cocky and a total rogue, easily a fan-favorite.  I only get emails about that guy, and he isn't even a hero in any of my books (will be in REVEALING MISS TISDALE). Total opposite of my husband.
13. What is your most ridiculous fear?
I have come to the realization that I'm a big baby about most everything. I am terrified of flying. So much so, I made author Gina Conkle drive with me to Atlanta this year for the Romance Times Convention.
14. What is your favorite social-media activity: watching cat or dog videos on Facebook, Tweeting #amwriting when you're not or Snapchatting your face with kitty whiskers?
I love to live-Tweet during television shows. My most recent discovery is Love After Lock-Up. If you haven't watched an episode yet, you're welcome.
15. Who were some of the other authors who helped you on your writer's journey, and how did they make a difference for you?
I had entered my first book into a contest, but somehow my payment never made it. Sonali Dev was the contest chair, and she reached out to me. Now, she could have just forgot about me, but she allowed me to re-submit, and I ended up being a finalist.
Author Violetta Rand was the first author to reach out.  At the time, we were both with Soul Mate Publishing, and she reached out to congratulate me and give me some advice. We still talk today.
Victoria Vane invited me to be on her blog, Embracing Romance, and the networking opportunities were awesome. She's also given me so much advice. Collette Cameron has pointed me in the right direction a couple times. Gina Conkle has been a huge help to me and really brought my writing to a different level, and Judy Myers is like a sensei of writing. Kathryn Le Veque gave me a chance with her publishing company.
I belong to the Mid-Michigan Romance Writers of America, so I can safely say that I feel like I have dozens of great influences. They're all so awesome, I don't want to name names because I'll leave someone out. The only ones I'll mention here is Julie McMullen, Annie O'Rourke, Alyssa Alexander, and Dawn Barley because they let me bunk with them at our yearly Retreat.
And of course, Dana – because I remember you talking about a scene you were writing during one of those Retreats, and I thought, holy cow, I hope I can know my characters so well. [Host is blushing.]


Thanks for having me!!
***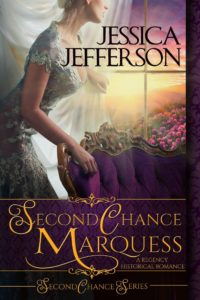 Second Chance Marquess
By Jessica Jefferson
"Fine." He looked away first, turning his attention back to the items he'd collected upon his desk. "If you want to join me, then you may."
She squared her shoulders and stood a bit straighter having won their duel of wills. "Good."
Without another word or a single glance, Chesterton left the room.
Not one to be left behind, Wilhelmina hurried after him, through the study and up the stairs.
"Where are we going?" she asked once they'd reached the top, breathless from the burst of activity.
He strode down the corridor, seemingly unaffected by the brisk climb. "To my bedroom."
She immediately stopped. "Your bedroom? Why ever would we go in there?"
Chesterton turned back to her, one sardonic eyebrow arched high. "To change," he answered. "You didn't expect me to head out in this, did you?" He turned and continued toward the room, looking back at her before entering. "Are you coming?" he asked, voice smooth as warm chocolate.
This wasn't the first time she'd been lured into George's bedroom. He'd been an earl, the courtesy title bestowed upon him at birth, but more than that, he'd been a gentleman. Apparently, he'd lost that when he'd inherited the Marquisate. His bedroom was no longer an inviting sanctuary, and this invitation was not one of love as it had once been, but a lewd proposition, tenderness replaced by cruelty, as he watched expectantly for her reaction.
"I don't think that'll be necessary," she stuttered, trying in vain to remain calm and collected as he started to untie the sash about his waist holding his robe closed. He let it fall to the ground and the robe opened, revealing his chest and torso in all its naked glory.
And it was indeed glorious.
She quickly averted her glance, whipping her head around and staring attentively at the painting on the wall.
"Is something the matter, Mrs. Turner?"
She was not about to play this game. She didn't have the time, and he didn't deserve the enjoyment it would undoubtedly bring him to see her suffer so. And most importantly, she couldn't play because she knew good and well that she had no chance of winning.
***
SECOND CHANCE MARQUESS,  Book 1 in the Second Chance series and a March 2017 release from Dragonblade Publishing, Inc., may be purchased through these retailers: Amazon,  Barnes & Noble and Books-A-Million.
***
About Jessica
Jessica Jefferson makes her home in Almost-Chicago with her husband, two young daughters, French bulldogs Hamilton and Lulu, and English bulldog Pete.  When she's not busy trying to find middle-ground between being a modern career woman and Suzy-Homemaker, she loves watching "Real Housewives of [insert city here]" and performing unnecessary improvements to her home and property.
Jessica writes Regency-era historical romance with a modern twist where she invites her readers to fall in love with romance again. Learn more about Jessica through her website, www.JessicaJefferson.com, and the group blog, http://www.embracingromance.com. Connect with her on Facebook, Twitter, Goodreads and Pinterest.