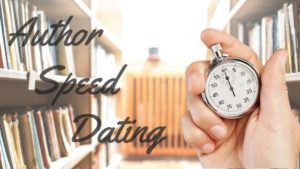 I love discovering new authors, so I wanted my blog to be a place where readers and my author pals could come together. Only we like to do this Speed-Dating style. Check out a new author and her work here every Wednesday, and if the spark is there, you'll have a match.
This week's guest: Maris Soule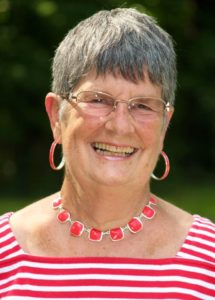 15 Questions
1. If a director made a movie about your life, which actress (living or dead) would you like to portray you, and which one would more likely be cast?
Actress I would like to portray me? Why, Audrey Hepburn, of course.  There I am on screen: slender, beautiful, and poised. The one most like to be cast? Okay, if I'm honest…Betty White.
2. What are some of the things that have changed in publishing since your first book was published?
Ha, my answer is EVERYTHING. My first book was typed on a typewriter (which is what all of us used at that time), I had to make Xerox copies to mail to the publisher, and any communication was done either by mail or phone. Back then (in the "olden" days), publishers actually promoted you. My first book was advertised in women's magazines, and I was sent to a readers' party. On the negative side, romance writers were considered part of Harlequin's "stable" of writers. The Harlequin line was important, not the writer. Some writers had to change their name to one owned by Harlequin.
3. Us Weekly or Newsweek?
I really don't know. I don't read either. I barely find time to read the books assigned for the two book clubs I belong to, do research for what I'm writing, or actually write. Being "retired" doesn't leave a lot of spare time.
4. As a reader, do you sneak a peek at the end of the book, or do you make yourself wait for answers until the very end?
Oh, I try not to. Really I do. But sometimes, when it's late at night, and I know I can't keep my eyes open any longer, and I just have to know who done it…I peek. But when my will power is stronger, I actually do force myself to wait until the very end.
5. Have you ever, even for a moment, forgotten that one of your characters was…you know…fictional?
They're not real? Oh my gosh. Are you sure they're not real?
6. In which genres and sub-genres are you published, and which others do you plan to add to the list in the next two years?
I started out writing straight romance, but I've always loved reading mysteries/suspense/thrillers, so some (quite a few) of my romances have a mystery or suspense included. Finally, I decided to switch to mysteries with a side story of romance. The book I have coming out this month (March 2017) is a thriller with barely a suggestion of romance. As for the next two years, I don't know. Right now I'm working on a follow-up of my seventy-four-year-old widowed grandmother who was an assassin in her younger years and keeps getting called upon to use her skills.
7. Brad Pitt or David Beckham?
I'd take either, but at my age, Sean Connery or Harrison Ford are probably better matches. (Or maybe all four of these men?)
8. If we imagine that a reader has lived on a desert island and missed the opportunity to read one of your books, which title do you recommend that she order as soon as she returns to civilization?
I think that would depend on the age of the reader. If she's 20-50, I think she would love HEIRESS SEEKING PERFECT HUSBAND. Older than 50, I'm sure she would love A KILLER PAST.
9. Do you have a green thumb or black one, and, either way, how are you gearing up for spring planting season?

If you're talking about house plants, I definitely have a black thumb. Outdoors, most plants manage to survive in spite of me (as long as the deer and rabbits don't get them). I do love flowers, so I'll be planting some in the small space we have around our condo.
10. When and how did you first decide you wanted to be an author?
I wanted to be a writer when I was twelve, but the English classes in high school and college discouraged me. I thought I never could write as well as the authors we were required to read. Then, when I was forty, trying to decide what I wanted to be when I grew up, I read a romantic suspense that was good, but not great, and I thought: I could write something like this. It took me almost four years, but I did it, and I've been writing ever since.
11. Antique Roadshow or Law & Order: SVU?
Again, decisions, decisions. I enjoy Antique Roadshow for the expressions on peoples' faces when they find out how much something they've treated as junk is worth. I love Law & Order: SVU for the procedure and stories.
12. What is your favorite song of all time, and what do you do when it comes on the radio or when you stream it?
"Hotel California." I don't know why, but the moment that song comes on, I start smiling. And if I'm by myself, I start singing. (Which, considering I can't carry a tune, is why I should be by myself.) Maybe it's because I grew up in California. Maybe because…I really don't know, but I love it.
13. What do you believe is your biggest strength as a writer, and what has been your approach to tackling some of your weaknesses?
Early on I was told I wrote good action scenes. My weakness is writing the love scenes. That's probably one reason I have moved from writing romances to writing mysteries.
14. Regarding board games, Scrabble or Left, Right, Center?
I love Scrabble, but I'm a terrible speller, so I'd probably go for Left, Right, Center.
15. What is your biggest hope for a reader when she opens one of your books?
I hope the reader hates me at one a.m. when she knows she needs to put the book down and go to bed, but she just can't stop reading.
***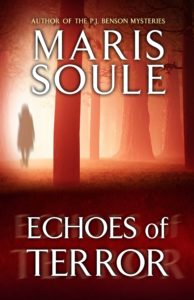 Echoes of Terror
By Maris Soule
"He's here," Alice said, her voice barely above a whisper. "And wait 'til you see him." She fanned herself, and grinned. "He wants to talk to the officer in charge. At the moment, that's you."
Katherine supposed with Gordon out of the building that was true. She also assumed this smoking hot "he" was the guy Crystal Morgan's husband had sent.
She took a moment to straighten her uniform, then followed Alice back to the office area. Her first impression was that Crystal had been right; Vince Nanini did look like he could be a bodyguard. He certainly didn't fit the computer geek stereotype. He had the bald head and swarthy complexion like Vin Diesel, but he was bigger than the actor. Not just in height, but in the width of his shoulders and the size of his biceps.
His white T-shirt stretched over a solid chest and flat abdomen, then disappeared beneath the waistline of a pair of tan khakis. Nikes covered his feet. He wore no jewelry, no heavy chains, rings, or earrings. Nothing custom made or terribly expensive, except, perhaps, for the watch on his right wrist. Katherine had a feeling it cost a small fortune. Definitely more than her trusty Timex.
"Mr. Nanini?" she said, holding out her hand.
He didn't offer his.
"You're the officer in charge?" The scowl he gave her was accompanied by a quick up-and-down look.
From behind the counter, Alice answered for her. "This is Officer Katherine Ward. Our chief is in the hospital, and Sergeant Landros is out of the office at the moment."
"I am the officer handling this case," Katherine added, letting her hand drop back to her side. She knew some men still held chauvinistic views about women police officers. She'd learned the best way to correct that was to take control. "May I see some identification?"
He pulled out a passport and a business card and handed her the two. "My partner and I specialize in computer security," he said. "Tomoro Industries is one of our clients. Thomas Morgan, the president and owner of that business, is also a personal friend, which is why I'm here. It appears Mr. Morgan's teenage daughter has run off with a guy she met through the Internet."
"So I've heard." Katherine looked at his business card—which identified him as Vincent Nanini, President of VR Protection Services—and then at his passport. Actually, his full name was Vincent Dominic Nanini, age thirty-eight, height six feet two and weight one-ninety. Those pounds were all muscle, from what she could see. His address was in Seattle, Washington.
She handed back his passport but kept the business card. "Crystal said you worked for the FBI. May I also see your badge?"
"I'm not an agent," he said. "I did work for the bureau for a while as a consultant."
"Are you presently with any law enforcement agency?"
"No, we—"
She waved off his explanation. "Then I'll be asking the questions."
***
ECHOES OF TERROR, a March 22, 2017 release from Five Star Publishing, will be available in e-book and hardcover form and may be pre-ordered from these retailers: Amazon and Barnes & Noble.
Notice: Maris would like her fans to know that ECHOES OF TERROR is grittier than her P.J Benson Mysteries or even A KILLER PAST and may not appeal to all of her readers. – DN
***
About Maris
Maris Soule started her career writing romances (25 published, of which 2 were RITA finalists.) She then switched to writing mystery/suspense. So far she's had 4 traditionally published. (3 in the P.J. Benson mystery series and 1 stand alone, A KILLER PAST). ECHOES OF TERROR, a thriller, will be her 30th book.
Originally from California, Maris graduated from U.C. Davis as an art major and received her secondary teaching credential from U.C. Berkeley. While attending U.C. Santa Barbara, Soule met and married her husband, and two years later, they moved to Climax, Michigan, where they raised two children and a slew of animals before ending up owning a boat and moving near Lake Michigan. Although Soule taught art and math for 8 years, reading and writing have always been her passion. She and her husband now divide their time between Michigan and Florida. She's a member of RWA, MWA, Sisters-in-Crime, and Florida Writers Association.
For more information, visit her website, www.marissoule.com and her blog. Connect with her through these social media channels: Facebook profile, her Facebook author page, Twitter, Goodreads and Pinterest.
Save
Save
Save
Save
Save
Save
Save
Save
Save
Save
Save
Save
Save
Save
Save
Save
Save
Save
Save
Save
Save
Save
Save
Save
Save
Save
Save