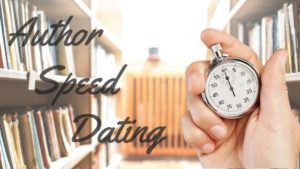 I love discovering new authors, so I wanted my blog to be a place where readers and my author pals could come together. Only we like to do this Speed-Dating style. Check out a new author and her work here every Wednesday, and if the spark is there, you'll have a match.
This week's guest: Kathy Kalmar


15 Questions
1. Name the best New Year's Resolution you have ever broken, and how quickly did you fall off the wagon?
I made the resolution to stay away from my bad boy love. It lasted until the next time he called─about 5 minutes later.
2. Hottest "The Avengers" actor: Robert Downey Jr. (Iron Man), Chris Evans (Captain America), Mark Ruffalo (The Hulk), Chris Hemsworth (Thor), Scarlet Johansson (Black Widow) or Jeremy Renner (Hawkeye)?
Robert Downey, Jr.: hubba hubba!
3. What are the highest and lowest moments you've had as a writer?
When an editor for Baby Talk magazine rejected "Discipline is part of loving too", that was depressing. I guess yelling at your baby was a poor parenting strategy. When BEYOND THE BEACH was published, that was an all-time high! Oh yeah and my doctoral dissertation!! That made all the difference.
4. Please let us in on a few of your writing plans for the brand new year 2018. Any new books in the pipeline?
I plan to extend my Mountain Series which is set in the Great Smoky Mountains. MOUNTAIN SKYE, THE PREQUEL is going through first edits.  MOUNTAIN HOT and MOUNTAIN CHRISTMAS are out. I'm playing around with a Cape Cod Series… we'll see. I still have the Beach Series going – BACK TO THE BEACH, PROMISES ON THE BEACH.
 5. If you could only have one type of candy for the rest of your life, what treat would be satisfying your sweet tooth?
King-sized Reese's Peanut Butter Cups are my weakness. I am a raging chocoholic.
6. Which is your preferred writing location: home office with favorite music, coffee shop with white noise or library in total silence?
All of the above; but, I prefer my Smoky Mountain round house which burned up in the Chimney Tops 2 wildfire of 2016. We just approved the blueprints for our Comeback Chalet. Now, I write in the dining room looking out the backyard window pretending I'm in the mountains or Hawaii!
7. What's the worst piece of advice your mother ever gave you?
"I think marrying Jim (1st husband) would be a struggle." I wish she'd said it would be a catastrophe. But it's given me tons to write about and the best children and grandchildren in the world. A struggle sounded so challenging, spicy and romantic. Geez.
8. In which sub-genres are you published, and what does the wide or narrow focus say about you?
Contemporary romance, inspirational, children's , women's, non-fiction education articles. It says I'm a Gemini.
9. Name two of your favorite authors, one living and one no longer with us. How have their books impacted your writing?
Catherine Marshall, TO LIVE AGAIN. It got me through my divorce. Inspirational. Helped my faith grow and develop.

Janet Evanovich and Elin Hilderbrand; one makes me laugh, the other takes me to Nantucket which I pretend is Cape Cod.
10. When you are starting a new book, what are some of the activities you do to get know your characters and develop your plot?
I take notes, snatches of thought, descriptions, lines, scenes that come to me. The characters come full-blown. The challenge is to show them being who they are not telling who they are.
11. Preferred winter activities: ice skating, ice fishing and anything involving snow or Couch Potato Olympics?
Hot tubbing is my competitive winter sport. So is summer hot tubbing, spring…
12. Which character from one of your books is most like or most radically different from your significant other?
Wolfe is an old…boyfriend… and I nailed but good him in PROMISES ON THE BEACH. All my heroes are…opps that would be telling.
13. What is your most ridiculous fear?
That I'll live too long or not long enough-as if I have any say. Ridiculous.
14. What is your favorite social-media activity: watching cat or dog videos on Facebook, Tweeting #amwriting when you're not or Snapchatting your face with kitty whiskers?
Kitty videos have me in stitches. Any animal shots that show love and kindness.
15. Who were some of the other authors who helped you on your writer's journey, and how did they make a difference for you?
Kathleen Woodiwiss made me wordy and maybe horny. JoAnne Delmanico, wonderful island stories. Hers take me back to Cape Cod. I like Dean Koontz– master wordsmith.
***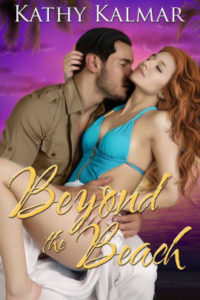 Beyond the Beach 1
By Kathy Kalmar
She stood there a long time listening to the comforting sound of the surf. It was constant and reassuring balm to her aching, bruised heart. The divorce had taken its toll. Exhausted, she drifted into the bathroom and took a hot bubble bath. When she was done, she opened her garment bag, searching for her white gauze nightgown but finding seersucker instead! Her fingers flipped rapidly through the unfamiliar clothing. This garment bag held men's clothing. Good grief.
In her need to put some distance between her and Chance, she must have grabbed his bag! She found his huge tee shirt. Wisely, she didn't even try the boxers. That seemed futile and too risqué for her. Finding she had the opportunity to get inside some man's pants – safely, no risk involved- she passed on it. She could make do with what she had in his bag, but he would have no such luck. He'd have to rough it in the buff. Hugging the shirt closer to her, knowing it had covered his body too, she drew in his scent. She sat on the chaise stretching out her bare legs. She giggled. If he could see me now. Strolling to the mini bar, she poured herself a drink and carried it to the lanai…
Meanwhile Chance thought Hope she likes surprises. Over-balancing he fell at her feet in a heap. Hell!  "We really have to stop meeting like this, you know." he said from the floor.
Caren jerked, spilling the wine against her breasts. The red liquid spread making a large wet spot that made the thin white fabric cling. She recovered from her shock as she realized who it was. "Falling appears to be habit forming," she agreed ."Ever think of knocking?"
***
BEYOND THE BEACH, Book 1 in the Beach Series and a January 2017 release, may be purchased through these retailers: Amazon and Barnes & Noble.
***
About Kathy
Kathy Kalmar was born in Detroit, Michigan, and lives with her husband, Larry. She feels her life has gone something like a bad country song since her Smoky Mountain cabin retreat burned down, her girlie inside parts were removed and her beloved Bichon-Maltese mix dog, Valentino, died. She's the mother of two adult children and Grammie to three. Love and family influence her writing. Like her heroines, she got her second chance to love when she married Larry in 1981. She writes non-fiction for teachers and parents and children's fiction. She reads widely but prefers contemporary romances and enjoys writing them. She prefers to write in her Smoky Mountain cabin in Tennessee, which she is rebuilding after the 2016 Chimney Top Two fire. Although she enjoys reading, walking, and writing, she excels in hot tubbing, chocolate, and in sampling generous glasses of wine, preferably on Waikiki Beach. She enjoys mai tais and butterscotch moonshine too! Learn more about Kathy through her website, www.kathykalmar.com.