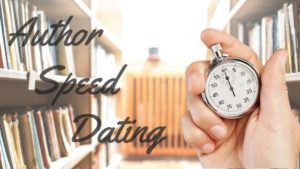 I love discovering new authors, so I wanted my blog to be a place where readers and my author pals could come together. Only we like to do this Speed-Dating style. Check out a new author and her work here every Wednesday, and if the spark is there, you'll have a match. 
This week's guest:

A.J. Norris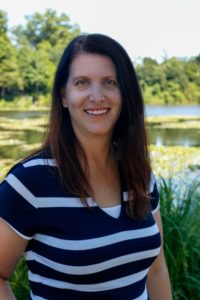 15 Questions
1. Which ALICE IN WONDERLAND character would best describe you when you're writing on deadline?
"Oh dear! Oh dear! I shall be too late!"  The white rabbit.
I normally don't write on deadline, but I'm currently writing a Christmas story with a deadline. I feel like I'm scurrying around, even though I have plenty of time.
2. Have you ever based a character, at least in part, on a real person you knew, and was that person able to see himself/herself in your story?
Um…yes and man, I hope not. 
3. Hot rockers over 50: Lenny Kravitz, Bruce Springsteen or Bono?
I'd say Lenny Kravitz because he doesn't look 50.

4. What is "dressed up" for you: a designer dress and stiletto heels or clean yoga pants, a sweatshirt and tennis shoes without holes?
I'm a jeans and T-shirt gal. I do own dresses and heels, but I try to avoid wearing them for the most part. "Dressing up" takes me out of my comfort zone, but so does wearing sweat pants.
5. What was the most unusual comment you've ever received in a fan mail letter or a review?
I don't know if this would be considered unusual, but I got a random request for an autograph from someone in another country. I was so flattered that I sent off a couple signed posters of my book covers right away.
6. What do you do when you're in the middle of a book and a new idea pops into your head?
I immediately write that new idea down. I have an app called Evernote that I use to store story ideas.
7. If you could invite three of your favorite authors over for a summer barbecue, who would be chowing down on hamburgers and brats (or veggie burgers) in your backyard?
J.R. Ward: I love her, and she's the reason I started writing.
Stephen King: I don't necessarily subscribe to his writing methods, but he's so creative, and I can imagine he would be very interesting to talk to.
Gena Showalter: Love her, nuff said.
8. How old were you when you had the first inkling you might be a writer, and what gave you that hint?
When I was about 37, I was wanting to deal with some old baggage that kept creeping up on me. So, I decided to write a fictionalized story of some things that happened to me. The book was more of what could've been if I'd made different choices. The experience wound up being cathartic, and I've been writing ever since.
9. Do you ban all pets from your house, tolerate them for your family's sake or are you a pet lover, typing with a dog, cat and maybe a bird sitting on your lap right now? And if you are a pet lover, list your brood.
I've loved dogs for as long as I remember. I've never considered myself a cat person, even though my husband and I have had a couple of cats in the past. We now have two Yorkie mixes named Reese and Rollo. They are often snoozing in my office when I write.
10. If you could write a novel containing any generally "off-limits" element, what would we find in your story?
I want to write a horror romance, even though I can't watch horror films. LOL. Is there such a thing?
11. Name a hero or heroine from one of your books you loved a little more than all the others. (Yes, it's like picking a favorite child.)
I love Harry Hunter from TATTOO KILLER, Book 1 of the Tattoo Crimes series. He was the hero of that book although not the romantic hero. Harry is a 55-year-old, two-fisted coffee drinker and a grumpy but loveable police detective. I loved him so much I wrote book two in that series, INKED KILLER, about him. (Note: INKED KILLER releases in October 2017.)
12. Name the most unique vacation you ever took, and what was your favorite thing about it?
Yikes! I don't vacation much. So, any vacation is unique for the simple fact that I took a vacation. I recently went to Orlando for the RWA national conference and brought my husband and son along, and I enjoyed traveling with them. It was also my son's first trip to Disney, and he was so excited. I loved that I could give him this trip.
13. What book are you reading right now, and what is the best book you've read in a long time?
At this moment, I'm not reading anything. I also work full-time and have many writing projects I want to finish before the end of the year. This leaves very little time for anything else, and my family comes before reading.
14. Which of your books gave you the most trouble, and what helped you make it to "the end"?
They all gave me trouble. Sometimes the characters don't want to do what I tell them to do. I'm a pantser for the most part. However, whenever I get to about the 20k – 30k word mark, I tend to hit a wall. Although I never start writing a story unless I know the ending.
What helps me make to the end is plotting out the climax of the story and working backward.
15. What has been your scariest moment as an author?
Release days are always the scariest moments. You never know if readers will connect with your characters or give you a bad review.
***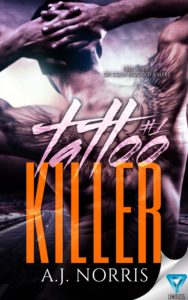 Tattoo Killer
By A.J. Norris
The expression on his face melted her insides. His eyes burned for her. She swallowed hard. That crooked smile of his made an appearance. The tiny bathroom grew larger and suddenly he seemed so far away. An easy fix. She removed her shirt and stepped closer to him, then slid her jeans down her thighs. Now it was his turn to undress. Luckily for her, he was only wearing gray plaid flannel pajama bottoms.
He gripped the waistband and ripped them down his legs.
***
TATTOO KILLER, Book 1 in the Tattoo Crimes series and an October 2016 release from Limitless Publishing LLC, may be purchased through these retailers: Amazon US, Amazon Canada and Amazon UK.
Bonus:
TATTOO KILLER is also part of a boxed set, MY SECURITY: PROTECTION AT ITS FINEST, from Limitless, featuring stories from seven romantic-suspense authors.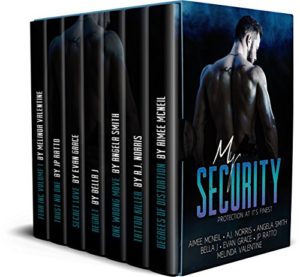 ***
About A.J.
A.J. Norris is a romantic suspense and paranormal romance novelist. She began writing as a way to dim down the voices inside her head. She enjoys being able to get inside someone else's head, even a fictional one, and see what they see. Watching how her characters deal with difficult situations or squirm with the uncomfortable ones make the hard work of writing all worth it.
She is a movie buff, especially book adaptations, loves watching her son play baseball and communing with other writers. She lives with her family who are extremely tolerant (at least most of the time) of all her late nights behind the computer.

Stay in contact with A.J. through her website, www.ajnorrisauthor.com, and on Facebook and Twitter.

Save
Save
Save
Save
Save
Save
Save
Save
Save