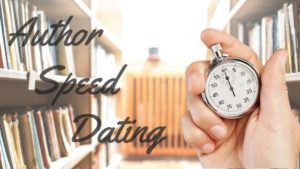 I love discovering new authors, so I wanted my blog to be a place where readers and my author pals could come together. Only we like to do this Speed-Dating style. Check out a new author and her work here every Wednesday, and if the spark is there, you'll have a match.
This week's guest: Sylvia Hubbard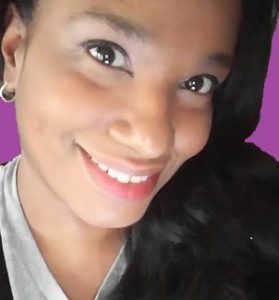 15 Questions
1. Are there any traditional Thanksgiving dishes that you can easily resist or dishes you refuse to even sample during your family's holiday meal?
If there is the stuffing, I can't resist. I'll get a plate right by itself of stuffing, and then I even bring extra containers because I'm ghetto like that. (And proud of it.) What I won't eat… chitterlings. Not in a infinity will those things ever touch my lips.
2. As a reader, name a few of your favorite books of all time. How have these books influenced your writing?
DESPERATION, by Stephen King; SECRET FIRE, by Johanna Lindsey; and BELLE AND THE BEAU, by Beverly Jenkins. My all out favorite is PRIDE AND PREJUDICE by the Godmother of Romance, Jane Austen.
 3.Which Scooby Doo character are you most like? Bonus: How are you at solving mysteries?
I'd be Fred, the leader of the group. I don't think I'd be as cool, but I'd definitely be the leader and be able to put together all the clues. I'm pretty good at solving the crimes, but I don't count myself as smart as Velma.
4. In which genres and sub-genres are you published, and which was the hardest and easiest to write?
I'm published in Romance Suspense. The sub-genres would be psychological, crime, drama, contemporary and erotic. The hardest is contemporary straight romance. I love the characters just falling in love, but then I get bored and always have a really saggy sappy middle. I'm so tempted to throw a murder or drama in there, but I fight it and finish the book.
5. If you could serve as a roadie for any band, past or present, for which group would be you be schlepping speakers and testing audio equipment?
Jill Scott. Omg, her music makes me want to write love scenes until the cows come home. And I know she's not a band, but she's really the only one I'd be a roadie for just so I could go to her concerts over and over again.
 6. If someone has never read one of your books, which title would you recommend she read first?
DARK FAÇADE. I seriously think that would definitely get you to understand how I make sin look good. And you'll meet other characters that pop up in other books and really get an understanding you're not in for a regular read.
 7. As a shoe shopper, are you all about the shoe warehouse where more is better, a discriminating shopper of only designer brands or a devotee of comfort with little concern for fashion?
I was raised by my father. He wasn't much of a shopper for anything except when we went into the hardware store. We spent hours in there, but everything else it was in and out. I'm just a devote of comfort with little concern for fashion. If it fits, it's comfortable and I look decent in it, I'm wearing it.
8. Favorite octogenarian actor: Robert Redford, Judi Dench, Diahann Carroll or Morgan Freeman?
Oddly enough, I've had a crush on Robert Redford since "The Sting" That was the movie that made me fall in love with deceit, con artists and sweet talkers.
9. Which one of your own fictional heroes would you have taken home if you could?
Lethal Heart, if I could.
10. What would you choose as your super power, and what would you do with it?
Infinite Wisdom. EVERYTHING!
11. In 10 words or less, give your best advice to aspiring writers.
Don't stop, get it, get it.
12. Sitcom in reruns: Seinfeld or Friends?

Seinfield.
13. What would you consider your strengths and weaknesses as a writer? What have you done to become a better storyteller?
My strengths are my abilities to weave erotic romance around a crime suspense. My weakness is procrastination. It takes me forever to sit in a chair and get it done. To become a better storyteller, I study my craft every year by taking a class or reading a book.
14. Preferred activity in the fall: outside at the apple orchard or a leaf tour while inside a warm car?
I love to see it snow, but I really hate being outside in the cold. I will tour leaves and Christmas light displays all within the warmth of my car in a heartbeat, with a warm cup of Starbucks Macchiato extra whip and caramel.
15. Name your favorite compliment you ever received from a reader or reviewer.
"I burned dinner for two nights in a row because I couldn't put your book down. My husband was angry but I didn't care. I just needed to know what was going to happen next." That was so the sweetest. That came from a reader who had picked up HIS SUBSTITUTE WIFE…MY SISTER.
***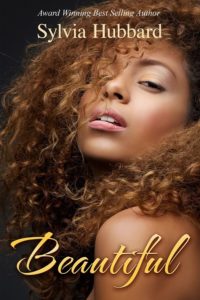 Beautiful
By Sylvia Hubbard
Running to the bus stop, she missed the first bus and groaned, knowing she was going to have to wait for the second one.
"Psst," someone hissed behind her.
She looked and gasped at the Lincoln, which was parked perpendicular on the side of the abandoned buildings. Turning around quickly, she pretended she hadn't heard a thing.
In the past, Nikki told her Detroit was strange and to be careful.
"Psst," the driver said again.
Madison tried to fight not looking, but being able to see the driver close up was what she had longed for.
Her curiosity won out. She turned to him and took in his features as she warily walked up to the car.
He was handsome. Too handsome.
"I shouldn't talk to strangers," she said sternly.
The stranger cajoled, reaching out to touch her sleeve innocently. "What's the harm in talking?" His hand moved down to her hand and rubbed on her knuckles.
He was touching her. Were his eyes bad? She wondered. She looked down at her hand where his fingers rubbed against her fingers. "N-No, harm, I guess."
"How old are you?" he inquired.
Looking back at his face, she answered. "Twenty-eight. Umm, my birthday's coming up next week."
She didn't know why she told this stranger personal information, but she hadn't told anyone about her birthday coming up, and rambling through her nervousness with a cute guy looking at her so closely made her less anxious.
He licked his thick bottom lip slowly. "Really?" he sounded fascinated by that information. "You on your way to school or work?"
Too nervous to talk, she only nodded.
He chuckled. It was a sensual sound that made her ear drums tingle. "Which one, little girl?"
"S-School… College," she said trying to correct herself and not seem so nervous.
He gently started to massage her hand. His touch felt like warm electricity. "I could give you a ride," he offered.
***
BEAUTIFUL, a July 2017 release, may be purchased through these retailers: Amazon, Barnes & Noble, iBooks, Kobo and Smashwords.
***
About Sylvia
Detroit Author & Founder of Motown Writers Network, Sylvia Hubbard has published over 40 books in suspense romance. As a happily divorced mother of three, Ms. Hubbard has received numerous awards and recognition for her work. An avid blogger, Ms. Hubbard has had five #1 Best Sellers on Amazon. Her current work is called BEAUTIFUL, and she has two more books coming out before the end of 2017. Learn more about Sylvia through her website, www.sylviahubbard.com, and through these social-media channels: Facebook, Twitter, Instagram , YouTube, Periscope, Snapchat and Goodreads.