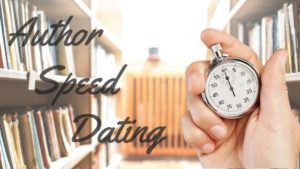 I love discovering new authors, so I wanted my blog to be a place where readers and my author pals could come together. Only we like to do this Speed-Dating style. Check out a new author and her work here every Wednesday, and if the spark is there, you'll have a match.
This week's guest: Sage Spelling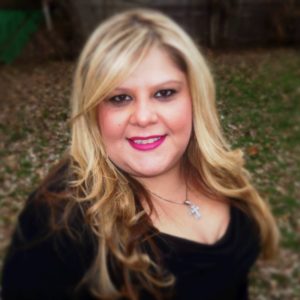 15 Questions
1. Are there any traditional Thanksgiving dishes that you can easily resist or dishes you refuse to even sample during your family's holiday meal?
Yes – I'm really don't care for pumpkin or sweet potato pies.
2. As a reader, name a few of your favorite books of all time. How have these books influenced your writing?
Out of the classics, JANE EYRE [Charlotte Bronte] and PRIDE AND PREJUDICE [Jane Austen]. I loved the brooding male that becomes a mush for the lady he loves, and I like using that in my stories. Though they are all different in genre, all of Kristan Higgins books and J.R. Ward's Black Dagger Brotherhood series have influenced my writing with the relatable characters, heart-wrenching stories and gratifying endings. J.K. Rowling's Harry Potter series because she reminded me that love conquers all and everything is always better with a little magic.
3. Which Scooby Do character are you most like? Bonus: How are you at solving mysteries?
Fred – Because I tend to believe in crazy legends.
Bonus: Fact – I'm the queen of conspiracy theories, and they're only right about 20 percent of the time.  
4. In which genres and sub-genres are you published, and which was the hardest and easiest to write?
I'm published in Erotic Romance and New Adult – I think I find writing Erotic Romance the easiest because my characters tend to drop their guard when they drop their pants.
5. If you could serve as a roadie for any band, past or present, for which group would be you be schlepping speakers and testing audio equipment?
New Kids on the Block – They (the entire band) were my first real crush.  
6. If someone has never read one of your books, which title would you recommend she read first?
HIGH STAKES.

7. As a shoe shopper, are you all about the shoe warehouse where more is better, a discriminating shopper of only designer brands or a devotee of comfort with little concern for fashion?
Shoes have to be cute as well as comfortable. Sometimes I am a little discriminating with shoe brands and will buy certain designer brands because they are both fashionable and comfortable.
8. Favorite octogenarian actor: Robert Redford, Judi Dench, Diahann Carroll or Morgan Freeman?
I love Morgan Freeman!  
9. Which one of your own fictional heroes would you have taken home if you could?
Dex Cane in "Inked Hearts" from the MY SEXY VALENTINE anthology.
10. What would you choose as your super power, and what would you do with it?
Power to move objects with my mind. I'd use it to clean the house and do the laundry.
11. In 10 words or less, give your best advice to aspiring writers.
Learn. Nurture your craft. Write the stories you would love to read. Believe in you. Never give up. 
12. Sitcom in reruns: Seinfeld or Friends? 
Friends! #WeWereOnBreak #PoorRoss.

13. What would you consider your strengths and weaknesses as a writer? What have you done to become a better storyteller?
I've attended countless writing workshops and attained my BA in English and Creative Writing. Still, grammar will be the death of me – thank God for editors!
14. Preferred activity in the fall: outside at the apple orchard or a leaf tour while inside a warm car?
Apple Orchard – cider donuts, spiked cider, and hayrides! Oh, baby!
15. Name your favorite compliment you ever received from a read or reviewer.
I was recently told that my stories are like Hallmark movies with sex. Since I'm obsessed with Hallmark movies, I was thrilled!
***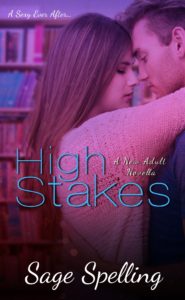 High Stakes
By Sage Spelling
Blake refused to let me walk back to my dorm on my own when we left the bar. My one-hour dinner had turned into three hours alone with Blake. He walked really close to me, and I enjoyed the warmth of his body shielding some of the gruesome wind. He insisted I wear his scarf again, and his scent made my insides warm. When we reached my door, I stood one step above him so we were at eye level. I took off his scarf and wrapped it around his neck.
"You can keep it." he insisted, placing his hand over mine.
"Thank you, but you have a long walk yourself."
"No, it's not that far."
"Aren't you at the frat house?"
"Nope, I have a condo right down the street with Miles and two other roommates."
"Oh." I stared down at his chest, too embarrassed to look him in the eyes. He lifted my chin with his finger and his stare burned into mine. My heart pounded in my ears. He was so close I could smell the mixture of beer and mint on his breath, and the sensation of the warm air of his mouth on my chin made my stomach do that flip-flop thing again.
"Are we ever going to talk about the night of the party?" His question took me by surprise. I'd been hoping he wouldn't bring it up.
"No."
"Was I that bad of a kisser?" he whispered.
"No . . . it was a mistake, Blake, and since I'm your tutor now, it can never happen again."
"So you liked kissing me?"
He was so close I couldn't think straight. "Yes . . . I mean . . . Blake, please, can we forget about that night?" Heat flushed my face.
"Anything you want, Supergirl."
He leaned in and kissed my cheek. "Goodnight."
"Night," I managed to mumble. My legs wobbled toward the door and I looked back to see him still there, waiting for me to be safely inside. I gave him a small wave and closed the door behind me. I leaned against the door and attempted to catch my breath. There was some serious chemistry between us, and even with my inexperience, I sensed it. And it scared the hell out of me.
***
HIGH STAKES, a March 2016 release, may be purchased through these retailers: Amazon, Barnes & Noble and iBooks.
***
About Sage
Sage Spelling's love affair with romance started when she was a child and her mother told tall tales of faraway worlds filled with magic, mystery and happy endings. Whatever hardship the characters suffered, in the end they were granted a happily ever after. It was guaranteed, and she knew her investment in the characters and the story was going to be rewarded. Growing up in a strict Chaldean Catholic family, she found freedom in-between the pages of a novel. While she read, she wasn't confined to her family's rules and principles. She could be anyone . . . anywhere.
Though Sage loved reading, she hadn't found her passion for writing her own stories until she was an adult. She remembered that very moment when her world felt completely out of her control and she found herself rewriting her own story. Nowadays, she tells tales of the happily ever after, but with a sexy and passionate twist. A believer of love at first sight, and that love conquers all, she aims to create stories and characters that are three-dimensional and investment worthy.
Sage obtained a Bachelor's Degree in English and Creative Writing with a concentration on Fiction from Southern New Hampshire University and is a contributing blogger for Heroes and Heartbreakers. During the day, she analyzes boring spreadsheets and can't wait to get home to work on her steamy stories. Stay in touch with Sage through her website, www.sagespelling.com, and through these social-media channels: Instagram, Twitter, Facebook, Goodreads and Pinterest.

Save
Save
Save
Save
Save
Save
Save
Save
Save
Save
Save
Save
Save
Save
Save
Save
Save
Save