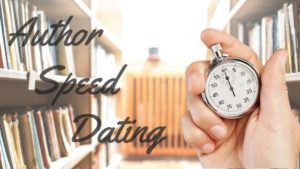 If there's one thing I enjoy almost as much as writing books, it's READING books. I love discovering new authors, too. So I thought my blog would be a perfect place to introduce my authors friends to potential new readers. Only to give it a twist, we're doing this Speed-Dating style. Check out a new author here every Wednesday, and if the spark is there, you'll have a match.
This week's guest: Isabelle Drake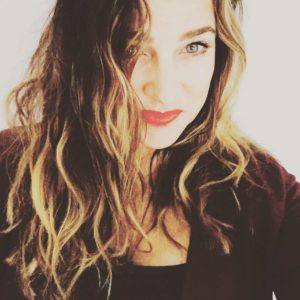 15 Questions
1. Which Scooby Doo character best describes you in high school?
The Witch Doctor in "Decoy for a Dognapper". I didn't kidnap any dogs, but I did have a wild streak and wore some wild clothes.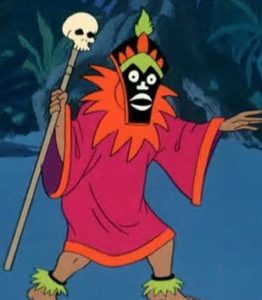 2. How many rejections did you receive before you sold your first book?
About seven year's worth. But I sold short stories in the meantime.
3. Bon Jovi or Tim McGraw?
Tim McGraw. He's the chauffer, driving me to dinner with Jason Mamoa.
4. In which genres and sub-genres have you been published, and what does your narrow or sweeping focus say about you?
Sweet romance, Erotica, Romantic Suspense, Chick Lit, Erotic Horror, Young Adult Romance, Young Adult Thrillers, Short Stories, Young-Adult Thriller and Zombie Noir. (Is that a genre?) What does this say about me? I love stories. Writing them, reading them, living them.
5. When you give into a craving for fast food, what's your drive-thru destination, and what would be found in your bag?
Hamburger Happy Meal from McDonald's with milk and apple slices. Mikey D's has the best toys.
6. Which is your preference to write: love scenes or murder scenes?
How about a love scene that ends in murder? Okay. Just kidding. Both! But I usually write love scenes at night and murder scenes during the day.
7. Jane Austen or Stephen King?
Jane Austin, for the humor.
8. What is your best advice to a writer who has just received a rejection?
Aside from the very common advice, keep writing, I'd add, have fun. Once you sell, you won't have as much time to enjoy the process.
9. Are you more dangerous in a bookstore or a shoe store?
Shoe store. I plan my book purchases ahead of time and order from my local bookshop. Shoes are totally impulse. (Dana actually already knew my answer to that question. Ask her about the gorgeous, strappy Diane Von Furstenberg sandals I "made" her buy in San Francisco.)  
10. Which heroine from one of your books is most like you?
Victoria from Cowboy for Hire. She's fixing up a dude ranch, doing her best to make her dream come true. She's not afraid of hard work and not afraid to make mistakes. Also, she's determined to do "it" (whatever it is that's she trying to do) on her own. I know, being stubborn isn't necessarily a good trait, but it is one of mine.
11. The Bachelor or Sons of Anarchy?
Well…I like the idea of  The Bachelor, but I don't have regular TV. I only have Netflix. Yeah, I know I could probably watch The Bachelor on streaming or old episodes on Netflix, or Prime, but it's really too late. Everyone has already talked about what happened. So, Sons of Anarchy. I'd argue that the driving character, the one person the story line centers on, is the mom. So that's neat. She's terrible but with good motives, so very dynamic and compelling.
12. What is the first thing you do when you finish a book?
Clean my office!
13. Name one thing you wish you could change about yourself.
Sometimes I wish I could sit still and relax "like a normal person." But alas, I am always wanting to be doing at least one thing, if not two or three simultaneously.
14. Does your perfect vacation involve high-altitude and the word "jump" or umbrellas drinks at poolside?
Umbrellas and drinks. But I'll be doing day trips that include hikes or bike rides. Then, while I'm at the pool, I'll probably be writing or reading.
15. Sure, it's like picking a favorite child, but which one or two of your titles do you secretly love just a little more?
Servant of the Undead, read it free on Wattpad!, for its raw complexity. And the setting – a Boston  blizzard. Unfinished Business, from Totally Bound, for its sweet intensity. And the setting-Detroit.
***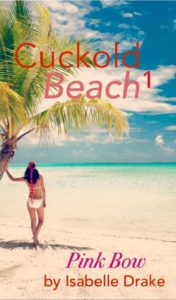 Cuckold  Beach 1: Pink Bow
By Isabelle Drake
Troy didn't say anything as we passed through the towns along the water. It wasn't the kind of quiet when he's upset, but the kind when he's excited or anxious or just considering something important. So I didn't worry about him not talking. I looked out the window and tried not to think about the fact that only a tiny layer of fabric separated my bare pussy from Troy's view.
As we went farther down the coastline, the buildings became smaller and closer together but it was obvious that everyone who lived along the coast was loaded. The yards were landscaped with flowers, beach grasses and fan palms, and lit with soft spotlights. Many of the houses were tall and narrow, with parking garages on the ground level and living spaces above. It was a neighborhood way out of our price range, that was for sure.
Another thing I was sure of—we didn't know anyone who lived here. Or maybe it was just me who didn't know anyone, otherwise why would Troy bring us here?
After a long while, Troy turned off the main road and started checking the map on his phone. My curiosity was making me so jittery, each minute dragged, but finally he parked. Once he cut the engine, he turned to me and put his hand on my leg. "You know how much I love you, right?"
"More than the moon loves the stars," I said, repeating our special phrase.
"That's right. And I always will." He slid his hand up my leg. "I know about the porn."
My mind went blank.
Was that what he'd been thinking about during the drive? Heavy silence settled between us until I broke it with words, even though I didn't know exactly what I wanted to say. I explained about a girl at work telling me to check out a particular site and how the site made me curious, so I kept looking… And I kept babbling, telling most but not all of the truth, until he cut me off.
"It's okay. I love you, Abby. And I know what you need—so I'm going to make sure you get it."
I started to talk again, telling him how much I loved him and that he always satisfied me, but he cut me off a second time by kissing me firmly on the mouth. His hard kiss stirred up all that lust that had brewing since he'd told me to change clothes. Within a minute, I was panting and reaching for his belt. He guided my hands away with a smile and laugh.
"No, no. Tonight is going to be different. For one thing, you aren't in charge."
"What else?" I asked, eager to know.
He shook his head and climbed out of the car. "Follow me and find out."
***
Read a longer excerpt of Cuckold Beach 1: Pink Bow here: Sample on Amazon . Purchase a copy here: Amazon buy link.
***
About Isabelle
Isabelle Drake got her start writing confession stories for pulp magazines like True Confessions and True Love. Since publishing those first few stories, she has written in many genres, but tends to write about everyday people in extraordinary situations.
During the day, she is a Professor of English and Writing. When away from the keyboard and classroom, she likes watching classic horror films, especially Hammer films such as the Karnstein Trilogy, and reading (of course). An avid traveler, she'll go just about anywhere – at least once – to meet people and get story ideas.
Connect with Isabelle on social media at these locations: her website, http://isabelledrake.blogspot.com/; Facebook; Instagram; Twitter;  Pinterest; Amazon; Tumblr; Goodreads; YouTube; Wattpad; and Snapchat @isadrake.
Save
Save
Save
Save
Save
Save
Save
Save
Save
Save
Save
Save
Save
Save
Save
Save
Save
Save
Save
Save
Save
Save
Save