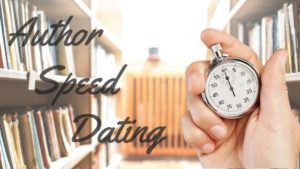 I love discovering new authors, so I wanted my blog to be a place where readers and my author pals could come together. Only we like to do this Speed-Dating style. Check out a new author and her work here every Wednesday, and if the spark is there, you'll have a match.
This week's guest: Diana Stout
 
16 Questions
1. If you celebrate, name a holiday food you would eat your weight in if you could do it guilt-free.
 Halloween candy pumpkins.
2. Give the title of the first manuscript you ever wrote. How many years ago did you pen this masterpiece, and whatever happened to it?
"Choose for Happiness," a non-fiction how-to article that I wrote and sold in 1979 for $52.
3. If you could keep only the possessions that would fit in one suitcase, and you were limited to two books – one you wrote and one by someone else – which titles would you tuck inside your bag? Explain your choices.
GRENDEL'S MOTHER (I wrote) and POWER VS. FORCE, written by David Hawkins.  GRENDEL'S MOTHER because it's a book about survival and being true to yourself. POWER VS. FORCE because it shows why one needs to live in peace without stress; example, "Force is arrogance; power is characterized by humility….Power serves others…force is self-serving."
4. In the winter, would you rather be zipping through powdery snow on skis or a snowmobile or escaping to a sandy beach? Now how do you really spend most of your winter?
Snowmobile, only because I hate the heat and I don't ski, don't want to.  In truth, I'm a house plant in all seasons. I'm writing, reading, or watching movies.
5. Which character in "Rudolph the Red-Nosed Reindeer" is your favorite, and what does that say about you?
The narrator snowman, Burl Ives. I loved his roles.
6. In which genres and sub-genres are you published, and which others do you plan to add to the list in the next two years?
Contemporary romance (novel, novella, short story & play).  Epic fantasy (GRENDEL'S MOTHER).  I'll be adding screenplays of romance/suspense, family/Christmas romance (definitely a Hallmark movie!), and romance/comedy.
7. If you could visit the studio and hang out with any visual artist, past or present, whose creative space would you be invading? Why?
Claude Monet for landscapes or Norman Rockwell for the stories told.
8. Do you listen to music when you're writing? If so, name some of the artists whose work you use to get you creative juices flowing.
Sometimes. Movie soundtracks, nature sounds, Dean Martin, Lionel Ritchie, Barbra Streisand, Lou Christie, plus I have a playlist I put together of various favorite singles that include the Barry Manilow, Bee Gees, Bing Crosby, The [Canadian] Tenors, Il Divo, Chad & Jeremy, Jefferson Airplane, Rod McKuen, Shania Twain, and Kenny G.
9. What are you reading now, and what is the best book you've read in a long time?
Best book in a long time, hands down was THE MARTIAN, by Andy Weir. Read in a single sitting. I rarely finish books unless they're really good. Currently reading Dan Brown's, ORIGIN, and THE HIDDEN LIFE OF TREES by Peter Wohlleben (nonfiction).  Plus a couple more. I'm always reading several books at the same time.
10. What is your strategy for writing over the holidays?
Because my girls and their families spend time with in-laws or other relatives, I'm home alone…writing, reading, going to a movie theater or watching on TV. People feel sorry for me, but I enjoy it! Usually eat pizza or some other fun food.
11. Name three things that are in your purse or pockets right now.
Kleenex tissues, money, lip gloss.
12. Do you write a synopsis before you write a book, and, if so, does your finished product look anything like that road map?
I'm a plotter. I create an outline that's anywhere from 5-25 pages long. Yes, my book generally follows that road map. I do a lot of character journal writing while I'm plotting. By the time I'm done, I know a lot about my characters that has nothing to do with physicality and everything to do with wounds, secrets, and emotions.
13. Are you a fan of reality TV, or could the current Bachelor marry every contestant on Cake Boss and then sing his lungs out on The Voice for all you care?
Do survivors lose weight? Huge fan of reality TV. I so wish they'd do a Bachelor or Bachelorette for seniors!!!!  I don't dare list all the shows I watch.
14. What is your biggest dream for your writing career? The New York Times bestseller list? A movie deal? Your own island in the Caribbean? All of the above?
To win an Oscar for best original screenplay. To have Hollywood producers and actors beating down my door wanting me to write for them.
15. What is your biggest hope for a reader when she opens one of your books?
That they can't put it down and that they didn't want it to end. I do hear it, and I never get tired of hearing that.
16. Are you more a Times Square-ringing-in-the-New Year-type on New Year's Eve, or will we find you at home, tucked into bed by nine o'clock?
I don't like large crowds, so it'll be the latter. Even though I'm up late, I rarely see the ball drop. I'm usually watching a movie or catching up on my DVR recordings.
***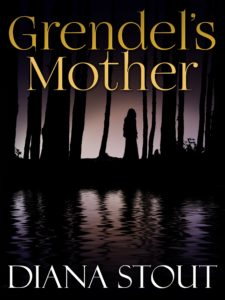 Grendel's Mother
By Diana Stout
All journeys begin with a single step. I could say my journey began when I was made dead, a no-name ghost in the woods. Or when I first met the dragon when I was too young to be afraid. Or maybe my journey began when the pains started, soon after the last thread of light disappeared in a horizontal sliver crushed between dark ominous clouds fast filling the sky and the earthly boundaries of both my chains and comfort as deemed by the gods:  the raw wilderness. Was it only less than a year ago that I was a naïve child, believing that the life ahead of me was mine to choose? So innocent. So lost in my own little world of supposed freedom.  Self-centered as only a child knows at the time. What a difference a year makes.
At the moment, I am working within my wilderness, attempting to catch a wild pig. The temperature has dropped, with late, major winter storm clouds moving in too quickly. I need major sustenance for the next couple days, if not weeks, and this yearling can satisfy that need. My spear is ready. I hold my breath, waiting. Now all I need is for the pig to turn parallel to me, so that I have a broader target, where I can hit a major organ.
I'm cold and don't relish hunting in the dark but I have no choice. I let go of my discomfort. Up until now, I've been able to ignore the pains, the tightening of my mid-section. Thankfully, the clouds aren't covering the full moon high in the sky…yet. The moon provides enough light for me to hunt. My hands, face, and any other exposed skin are blackened with mud, and I wear enough fur that I smell like the forest and the animals within.
The pig turns. I throw my spear. It hits right where I aimed—its heart. It squeals loudly, takes a couple steps, and drops. I get up from my kneeling position, where I was hidden in the tall grass, moving far slower than I want. My huge belly makes me awkward and slower than I like. I gasp as my belly tightens, again. Mentally, I count. Finally, the muscles relax. I need to hurry.
***
GRENDEL'S MOTHER, an epic fantasy, can be purchased through Amazon. To learn about its creation, read Part I – Grendel's Mother: Its Genesis and Development and then Part II.
***
About Diana
An award-winning writer, Diana Stout has written in multiple genres, fiction long & short, non-fiction for adults & children, as a playwright, columnist, blogger, author, and screenwriter. She's served as an academic reviewer, contest judge for multiple writing organizations, and is a former English professor. Today, she's returned to her creative writing roots and invites you to learn more through her Sharpened Pencils Productions website. Current projects include romance novellas, reprints of novel romances, publishing screenplays (thriller/suspense, Christmas, and drama), a writing how-to series of books, and a historical based on a true story. Learn more about Diana through her blogs –  Only for the Brave writing blog,  Into the Core intuitive blog and Behind the Scenes  – and connect with her on Facebook, Twitter, Pinterest, Goodreads and Instagram. Subscribe to her newsletter here.
***
A Note from Diana
Thanks for much for asking me to speed date with you, Dana! Happy Holidays to everyone and a prosperous new year.