If there's one thing I enjoy almost as much as writing books, it's READING books. I love discovering new authors, too. So as I planned my new blog, I decided this could be a perfect place to introduce my writer friends to new readers and introduce my reader friends to some of their new favorite authors. Only we're going to do this Speed-Dating style. Just 15 getting-to-know-you questions, a little bit about the author and an excerpt from one of her stories. Check them out right here each Wednesday, and if the spark is there, you'll have a match…or two…or three.
Let's get ready to Author Speed Date. The clock is ticking. Ready. Set. Go!
  This week's guest: Nancy Gideon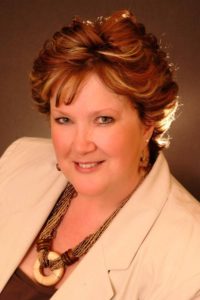 15 Questions
Which Disney princess (or prince) do you wish you were more like? And which one are you really most like?
Cinderella-my first exposure to Disney. Really was into that waiting for my prince stuff. But really, I'm more the Elsa in Frozen type.
Monopoly or Battleship?
Battleship. Bring it!!
How many books have you published, and how many are still tucked in a drawer somewhere?
59 published, another full three in a drawer, countless body parts on flash drives!
If you had no audience, and no regrets would follow, what midnight snack(s) would you be gorging on tonight?
A pint of Ben & Jerry's – something with coffee-flavor, nuts and caramel swirl . . . or anything salty!
Manolo Blahniks or Nikes?
Nikes . . . Just do it . . . later.
Give the title of the first manuscript (published or unpublished) you ever wrote.
China (something). One of those in the box somewhere. A publisher actually read it once, but I don't think 750  pages of wandering cast and ninjas is worth revisiting.
If you were marooned on a deserted island with plenty of food and water but with only one book to read and re-read, which title would you hope for?
I'd pack my COMPLETE WORKS OF WILLIAM SHAKESPEARE from college and have it all: drama, romance, comedy . . . and being stranded in a Tempest. I could play all the parts.
In which genres and subgenres have you been published?
Most of them! Regency, historical, contemporary romance and suspense, paranormal, non-fiction and even a screenplay or two!
Pizza and beer or steak and Chianti?
Steak on the grill and beer.
How old were you when you had the first inkling you might be a writer, and what gave you that hint?
Fifth grade when I first saw my name in print under a fractured fairy tale in my school's newspaper. It was awesome! Never wanted to be anything else.
In 10 words or less, give your best writing advice to aspiring authors.
"Butt-in-chair-hands-on-keys."  Stolen from Nora Roberts who also said, "You can't edit a blank page."
TED Talks or Cupcake Wars?
Supernatural reruns??  I do like Cupcakes Wars. Food Channel rocks!
Which one of your own fictional heroes would you have taken home if you could?
All my favorite heroes are dark, damaged and dangerous . . .being sensible, I'd have to say . . . any of them, though right now, my current hero, Colin Terriot, a shape-shifter prince, no less, is leading the pack (the six-pack!). Besides, they all live with me anyway.
What is your most ridiculous fear?
That my outfit and jewelry won't match. I've been late to work trying to find the right second earrings!
If someone has never read one of your books, which title would you recommend she read first?
Any of them would give a reader the feel for my style:  Fast-paced, sometimes gritty, sizzling with added sass and humor. Probably REMEMBERED BY MOONLIGHT from my "By Moonlight" dark paranormal shape-shifter series because it sets up the off-shoot "House of Terriot" books I'm currently writing. Or if you're a contemporary reader, TOTALLY YOURS, written under my pen name Dana Ransom – now on sale for just $1.99!
***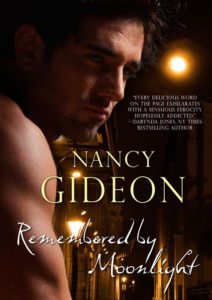 REMEMBERED BY MOONLIGHT
by Nancy Gideon
The deadly leader of a shape-shifter clan with no memories of who he is and a dedicated cop hiding a heart-breaking secret face impossible odds in steamy New Orleans that conspire to pull them apart. Because the enemy they pursue . . . might be him.
Had she expected it to be easy having him here so close and yet so agonizingly far away? Bad enough watching him in that antiseptic clinic cell, a prisoner of his own panicked madness, raving, raging, out of control. Worse was having him here in the lush, sexy surroundings he'd built for them to share, temptingly near yet impossible to reach.
A bargain made in heartbreak hell.
Though she might be tortured by cherished memories, he was not. She was nothing to him but a protective port in his emotional storm, and that knowledge was driven home like a stake through the heart every time they were together, every time he stared at her through those cool green eyes without the slightest flicker of response. Every time he took that distancing step back to evade the casual graze of her hand. Every time he lay next to her in the night and silence created a force field of discomfort.
Tripping over him every minute of the damned day only emphasized how much she wanted, needed him back.
And underlined how far away he was.
***
Praise from Publisher's Weekly for the "By Moonlight" series:
"A paranormal romance series with intriguing characters and zippy action . . . Gideon masters the tension required to keep her complex and engaging story moving." (Starred Review)
"Vivid writing, plot twists and a satisfying ending will keep readers coming back to Gideon's magical NOLA."
 "Rich and complex. Enticing new dimensions to the Shifter world keep things fresh. Gideon delivers well-crafted prose and page-turning tension."
REMEMBERED BY MOONLIGHT available on Amazon.
***
About Nancy
Nancy Gideon is the award-winning author of over 59 romances ranging from historical, regency and series contemporary suspense to dark paranormal, with a couple of horror screenplays tossed into the mix, and is currently testing the "Hybrid author" waters.  She works full time as a legal assistant in Central Michigan, and when not at the keyboard, feeds a Netflix addiction along with all things fur, fin and fowl. She's also written under the pen names Dana Ransom, Rosalyn West and Lauren Giddings and is a member of the Mid-Michigan, PAN and FF&P Chapters of RWA.
Website, Blog, Facebook, Twitter, Pinterest, Goodreads, Goodreads "Nancy Gideon by Moonlight" group, Amazon
Save
Save
Save
Save
Save
Save
Save
Save
Save
Save
Save
Save
Save
Save
Save
Save
Save
Save
Save
Save
Save
Save
Save
Save
Save
Save
Save
Save
Save
Save
Save
Save
Save
Save
Save
Save
Save