FALLING FOR THE COP is here!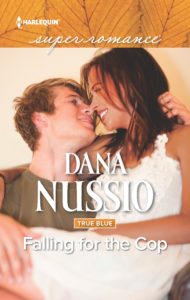 I'm so excited that my second book with Harlequin Superromance, FALLING FOR THE COP, was released March 1.  I had such a good time returning to the lives of my characters from the True Blue miniseries for this story about recovery and forgiveness. I love writing emotional stories about the lives and loves of the men and women from a Michigan State Police post.
I'm in love with the cover of this book! The Harlequin art department did a great job of sticking to my character descriptions for Trooper Shane Warner and physical therapist, Natalie Keaton. I based Shane's looks on the hunky actor Chris Evans, a la Captain America, and I imagined Natalie to look like lovely actress, Meghan Markle, best known for her role in "Suits" and for her own romance with a certain Prince. Take a look and see if you agree that the cover comes pretty close to my vision.
Just so you know, though, Shane Warner never wears a Superhero cape or has a symbol emblazoned on his chest in my story, but he is every bit a hero and does wear a uniform – or at least he will again if he can heal from his injury. Natalie might be just the person to help him, if she can get past her own scars and her resentment toward anyone wearing a badge.
For those looking ahead, I'm working on new True Blue stories. I can't wait to announce the release of future titles and to share more stories about these true American heroes.
FALLING FOR THE COP is available in print and e-book forms from these retailers: Amazon, Barnes & Noble, Harlequin and Books-A-Million.
***
Thanks for the fun at the 9th Girls' Night Out Book Signing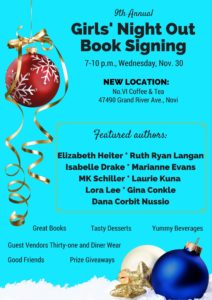 Thanks to all of you who joined us for the 9th Annual Girls' Night Out Book Signing, on Wednesday, Nov. 30, in Novi, Michigan! We had a great night at  No.VI Coffee & Tea. It was so nice seeing so many of you, many who attended the event for the very first time. Thanks to Maria
I so appreciate my fellow authors, MK Schiller, Laurie Kuna, Lora Lee, Marianne Evans, Ruth Ryan Langan, Elizabeth Heiter, Isabelle Drake, who helped make the event so much fun. (Sorry Gina Conkle had a family issue and was unable to attend.) Thanks also to our vendors, Staci Scott, of Thirty-one Gifts, and Kathy Steck, of DinerWear. We are also so grateful to Maria Plaud, owner of No.VI Coffee & Tea, for putting up with all of us. She has already agreed to host us again next year!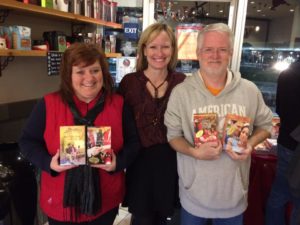 My own special thanks goes to my friends, Scott and Paula Gray, who drove four hours from Indiana to be with us. Scott and I were friends at Taylor High School in Kokomo, Indiana, and we hadn't seen each other in more than 30 years.
Congratulations to the winners of the "We Love Our Readers" baskets from all of the authors: Claire Walthall and Anne Barrett.  Also congrats to the winners of the vendor giveaways, Beena Parashar and Paula Gray.
I've been collecting event photos. Pop by my Appearances Page and have a look.
Save
Save
Save
Save
Save
Save
Save
Save
Save
Save
Save
Save
Save
Save
Save
Save
Save
Save
Save
Save
Save
Save
Save
Save
Save
Save