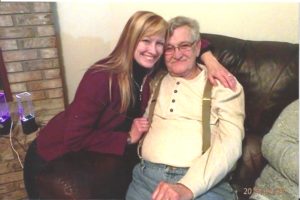 On this, the first anniversary of my father's passing, I am sharing an essay I wrote on the flight home after what I thought would be the last time I ever saw him. While waiting for the plane to reach cruising altitude so I could use my laptop, I started scribbling in a little spiral notebook, and I just couldn't stop. Once the piece was written, I wasn't sure what to do with it. Put it away? Publish it somewhere? I couldn't decide. It was so personal. But as we completed this year of firsts – first Father's Day, Thanksgiving, Christmas and Easter without Dad – and approached this solemn anniversary, I realized I was ready to share these words. I'm sure so many of you will be able to relate to my experience of love and loss.
The Obituary
By Dana Corbit Nussio
Feb. 16, 2016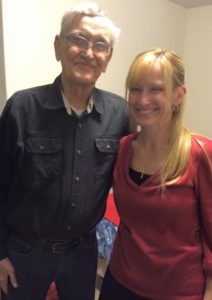 I wrote my dad's obituary last night. Even saying it now sounds strange. Wrong. After all, he's still very much alive. I kissed him good-bye only twenty-five hours ago. He was walking slowly, carefully, but under his own power, as he pushed that rolling walker down the hall of his assisted living facility toward a dinner he would probably enjoy but wouldn't really taste or be able to recall tomorrow.
I kissed him good-bye twice, I remember now, once in his tiny apartment that was really just a bedroom and once in that circular main area near the dining room. That place where some of the women gather every time I visit, none of them talking to each other.  Just waiting and watching for guests who never come. I could feel their curious gazes on me as I crossed the room to him and reached out for one more kiss on that stubble-roughened cheek. One more chance to say "I love you." Not caring if all of them heard me say it but praying he would since he seldom hears me now when he can't read my lips.
I squeezed his frail shoulders once, not too tightly, and then let go because I had to, turning away quickly so he couldn't see the tears in my eyes. Even though it might have been the last time I ever hugged him.
I wrote my dad's obituary last night. I know that's the same for everyone, though the order of events is fluid. There are no guarantees of a tomorrow for any of us. But for Dad, the promise of many sunrises and sunsets is becoming as weak as his lungs. Cancer inside them is pillaging any remaining healthy tissue, killing him, breath by labored breath. My sister is in Tennessee watching the whole sad process and doing most of the work, while I'm three states away, filled with guilt because I can't be there.
My daddy. Was yesterday the last time I'll ever see him? Ever see that spark of humor in his eyes? Hear him tell me he's proud of me when I've been misguidedly chasing his approval most of my life.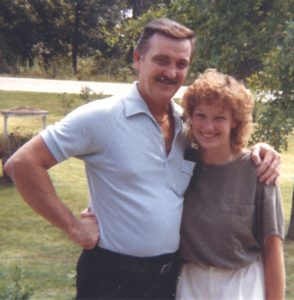 He left a touch of his cologne on my coat. I remember that now from my seat at thirty-six-thousand feet, the "Fasten Seatbelts" sign lit above me, the sunset bleeding orange over the western horizon outside my window. I grab my coat from the empty seat next to me.  I sniff at the collar. And sniff. Can I still smell him there? Is the mark of the first man who ever cradled me in his arms, the first man I ever loved, still there? I don't know. I'm not sure. Is it really there, or am I just willing it to be?
Desperate, I inhale once more, hoping to catch a lingering whiff of my childhood, memories probably edited to make them a little less sad for those who read my stories. For myself as well. I recall them with a child-like innocence that a writer must conjure, just like the characters born in my mind.  Deleting some of the less pleasant moments for my own sake.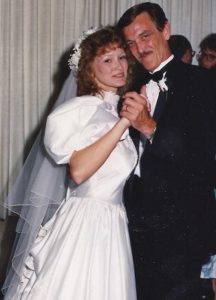 I wrote my dad's obituary last night. A simple recollection of an ordinary life that will be remembered without fanfare by precious few except his two daughters, the very people he hurt sometimes, but loved the best he could. The abbreviated notice doesn't even contain the whole story. The twists and re-directions. The lifelong battle with demons inside twelve-ounce cans and tissue-searing packs of twenty. The arrivals and departures of stepmothers and step-siblings. Promises made and broken like the twist of a turnstile. Even one tragic passing in that awkward chasm of divorce.
Those are the things I couldn't tell inside that formulaic collection of words I'd written for so many strangers during my newspaper-reporter days. Were the obituaries I wrote for those other people as empty as this one, just as devoid of the truth in the lives they recorded? I'm not sure, but I know these are the true puzzle pieces that marked my father's life. And my sister's. And mine.
I wrote my dad's obituary last night. I wrote it, but I won't show it to him, though it is perfectly pleasant and sterile and kind. Unless he asks. And he's not asking a lot of questions right now, except how his body will be transported back to Kokomo, Indiana, for burial. To the city where a scared little boy and his family made that journey from Arkansas for work some sixty years ago. To the place where he lived most of his life and to the cemetery spot next to his late wife and where the unofficial plot of all our relatives looks like a family reunion.
I wrote my dad's obituary last night. After promising him I would be there to see him when I could get off work again in seven weeks. And after making hotel reservations that were guaranteed refundable, just in case. He counted the weeks on his fingers against his two-month predicted death sentence, considered for a few long seconds and then shrugged.
"I plan to still be here," he said with a small smile.
I hope so, Dad. I hope so.
***
I was blessed to have one last visit with my father before he passed away. It felt like a gift, and it was. 
Still missing you, Dad. See you soon!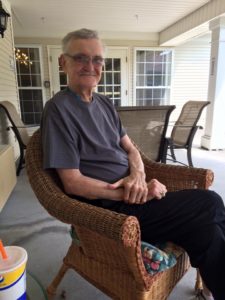 Save
Save
Save
Save
Save
Save